How to delete your account from WhatsApp on Windows 10 Mobile
How do I clear my WhatsApp history and delete my account on Windows 10 Mobile?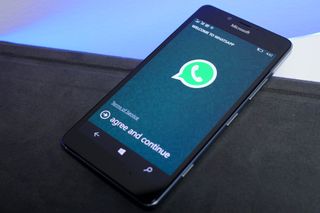 (Image credit: Windows Central)
You heard great things, you downloaded the app, you gave it a shot, but decide WhatsApp isn't for you. It's cool. No need to make this breakup long and drawn out. Time for you both to move on with your life! But who gets to keep the cat?
WhatsApp makes deleting your account easy, but it is a permanent action. You can always download the app again, but when you reinstall you'll be starting over from scratch — all of your settings and chat histories will be gone forever.
How to delete your account from WhatsApp on Windows 10 Mobile
Launch WhatsApp from the Applications List on your Windows 10 Mobile phone.
Tap the more button to launch a pop-up menu. It's the three dots in the bottom right corner.
Tap settings from the pop-up menu.
Tap account.
Tap delete account.
Tap the phone number text field.
Enter the phone number associated with your WhatsApp account.
Tap the next arrow at the bottom of the screen.
Enter any feedback you would like to share with WhatsApp about your experience (optional).
Tap the next arrow at the bottom of the screen.
Tap the trashcan icon to delete your account. It's located at the bottom of the screen.
That's it! Your account is now deleted from WhatsApp. Your message history, groups, and WhatsApp contacts are now gone from your phone. If you decide to sign up for WhatsApp again on this phone or a new phone down the road, you will not have any of your previous WhatsApp chats available and you will have to re-add your contacts and groups to WhatsApp.
Windows Central Newsletter
Get the best of Windows Central in in your inbox, every day!
Better than never, though.

Lol that wp7 on the delete account screen...

What's going on with these WhatsApp how to articles?

Probably the best write-up so far... Hhmmm

It means they have only just woken up after the weekend and there aren't any news items yet......................

Yumen exactly what is happening to the news? The number of news articles are low in quantity now.

Seems they are going for quality over quantity looking at recent posts... /s

The writer is a new Windows Phone user. Welcome

I think, something serious happened to WC, after seeing those posts on Whatsapp FAQ.

At the WC their is always something seriously happening. Stinky too! While the short name for it should be at least "W.Central", this new articles made me understand why people shorten windows central name, to WC.

Is this supposed to be a joke? Because it's been around one week and I've been waiting for the anniversary update. But all I get is some weird articles about the old WhatsApp. Windows Phone is not only died But gone bat crap crazy.

They wrote an article that their inside sources tell them it's targeted for tomorrow for unlocked and a week after that for carrier specific phones. What else can they write about anniversary update for phones. A reminder every other hour for those who do not read the news they are interested in and instead only comment on others?

They wrote an article stating release dates

Are u fukcing kidding me..? Tell me how to uninstall Windows Central app in next article..

Eagerly awaiting for the next article to know how to text chat and make vioce calls using whatsapp!!

Don't trust Facebook to actually delete the data though.... Once they have it I'm sure they keep it. Have they ever been audited?

I guess I did well to install MSPowerUser and just leave WC as a "just in case" app (small tile at the bottom of my home screen). Almost no news and now this :/

First give the solution for the issue where I don't get WhatsApp notifications at all. I have to open the app every time to check for messages. As soon as I lock the screen, all the functions of WhatsApp are stopped.
You can write an article on this if you want...

Welcome to win10 buggs. Howerever, just to pin point a problem you may have (or not) is the background agent. Go to privacy settings, then background apps and see if whatsapp is turned on. Even tough, this function never worked on me since win 10. Cause it did not matter if i had the agent turned off, i could still recieve messages. Problem i never had in win8.1.

Next stop: How to slice a banana in Fruit Ninja game! You see it falling and falling, then, right when is at the midle of the screen, you cross the finger over that crazy sh*t and their you go. The banana got sliced! If you want to know how to make orange juice in this game, please come back for the next article.

This is what happens when you use Internet Explorer.

I had no idea that monkeys were in charge of WC. These articles on WhatsApp must be a mistake right?

Well, normaly in charge of the WC are the sanitation companies. They have humans, tough, that do the job. But they never write about it!

Thanks, this is useful info.

I'll send a link to this tutorial to all my friends who still use WhatsApp. After deleting you WhatsApp account, download a decent messenger (e.g., Threema) that repects your privacy.
Windows Central Newsletter
Thank you for signing up to Windows Central. You will receive a verification email shortly.
There was a problem. Please refresh the page and try again.