Want to decorate your VR headset? You need some googly eyes.
You thought putting googly eyes on your VR headset would be easy? It's a bit tricky if you don't know which ones to buy.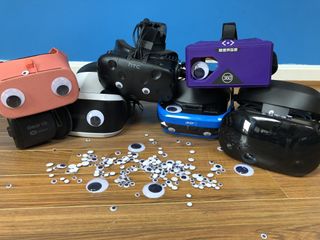 Googly eyes are an excellent accessory to add to your VR headset. While you're off in your virtual world, your friends and family still get a bit of a treat watching the eyes bobble around.
Unfortunately, you can't just buy any set of googly eyes for your headset. Some VR devices don't have enough space for large eyes, while others have material that requires special care. Here's your guide to getting googly eyes onto your VR headset.
Gear VR
While the Gear VR does come with a plastic back cover, you have to remove it to place your phone into the device. Additionally, you can't use a case while using Gear VR because your phone has to fit into the Gear VR's port and holder. This restricts what you can stick to your Gear VR, but there are still some options, though you'll have to get a bit creative.
Unless you want to affix googly eyes to the back of your Samsung Galaxy, you'll want to use pipe cleaners (opens in new tab) in combination with your googly eyes. You can wrap the pipe cleaners around the head strap of the device and bend them to meet around the front of the device. You may want to bend the pipe cleaners over, doubling them up in thickness, to increase stability.
Luckily, with this setup, you can use just about any googly eyes (opens in new tab) that you'd like as long as they aren't too heavy. Just use an adhesive to stick them to the pipe cleaners and watch the eyes dance around.
Daydream
The Daydream is a sleek looking device, but the fabric that makes it so attractive also makes it a hassle when it comes to attaching googly eyes to it. If you want to be able to remove the eyes without damaging the headset, you'll have to go with either Velcro or hot glue.
You can purchase Velcro in various shapes, including circles, which are sticky on one side and Velcro on the other. Instead of using the sticky end on the headset, attach the Velcro side of the coin to the headset and then attach the googly eyes to the sticky side.
Alternatively, you can use a hot glue gun, but make sure you use just a dab.
When it comes to the eyes themselves, the Daydream has enough real estate that you can go with a number of eyes. You might as well go nuts with a variety pack (opens in new tab) and see which one you like best.
Since the Daydream also comes in some fetching colors, you may also want to check out colored googly eyes such as these (opens in new tab).
Smooth-backed devices
If you have a device with a smooth back, whether it be a PlayStation VR or a Windows Mixed Reality headset that doesn't have a horizontal bar across it, you have the easiest task ahead of you. You can opt for any sized self-adhesive googly eyes for your headset, within reason of course.
The largest you can go without running into an issue is about 2 inches, though you should measure your headset before ordering anything. For example, the PlayStation VR has a smooth back but is also curved quite a bit on the sides, so you don't have as much area to decorate. This pack of 8 (opens in new tab) should let you deck out all of your devices.
Uneven-backed devices
If you have a headset where the back isn't smooth, such as the HTC Vive with its bumps or Windows Mixed Reality devices like Acer, Lenovo's, and HPs, you have some googly eye restrictions. Because the uneven texture of the back of the visor, you have to use relatively small googly eyes.
Depending on your headset, you might have to go as small as these 4mm eyes (opens in new tab), but you can go with a variety pack (opens in new tab) of eyes from 20mm to 2 inches to get the right fit.
There's one unique headset that has a particularly uneven back, the Merge VR. With this headset, you'll have to either opt for a cyclops look with one eye in the middle or invest in an eyepatch because there is an open hole on the device when it's in use that you can't put an eye over.
Get creative
These are just some of the options you have for decorating your VR devices. Let us know in the comments how you've made your device your own.
Windows Central Newsletter
Get the best of Windows Central in your inbox, every day!
News Writer and apps editor
Sean Endicott brings nearly a decade of experience covering Microsoft and Windows news to Windows Central. He joined our team in 2017 as an app reviewer and now heads up our day-to-day news coverage. If you have a news tip or an app to review, hit him up at sean.endicott@futurenet.com (opens in new tab).
SMDH.. 😂😂😂😂........ or eyes.

I use these on my refrigerator

You have a VR enabled fridge? Wow, you're really living in a futuristic wonderland and no mistake.

Indeed, so good that Dell pretty much provides this feature OOB.

Best content on this site for years