How to enable double-tap to wake on the Lumia 950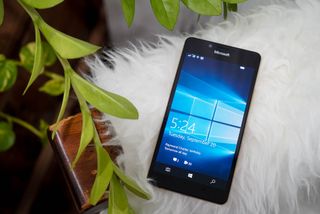 The 'Double-tap to wake' feature is now more readily available to Lumia 950 users, including AT&T subscribers in the United States. A recent firmware update brings the new feature, but it's not enabled by default — here's how to turn it on:
Update your Lumia 950 to the latest firmware
Open Settings.
Tap on Update & Security.
Tap on Phone Update. Your phone will automatically check for available updates.
Tap on Download.
Tap on Install. The update will install and your phone will reboot.
Enable double tap to wake on your Lumia 950
Open Settings.
Tap on Extras.
Tap on Touch.
Under Gestures, turn on the option for "Wake up phone when I double tap on the screen."
How to use double tap to wake on your Lumia 950
With the phone's display off, tap the screen twice. The lock screen will appear.
Swipe up to unlock your phone.

If you have Windows Hello Iris login enabled, this will happen automatically.
If you are using a PIN code for security, you will have to enter it now.
That's it! Enabling the 'Double-tap to wake' option means you no longer have to press the power button on the side of the Lumia 950 to wake up the phone. You can now simply double-tap the display to see the lock screen. It's not a big difference, but we have notice that pressing the power button will wake the phone slightly faster that a double tap on the screen. But if it's just sitting on your desk and you want to check the time right or your next appointment with Glance right quick, just double tap away.
As a long-time Lumia user, I and many others missed this feature from the Windows Phone 8.1 days (the drivers had to be rewritten for the transition to Windows 10 Mobile and did not make the initial release for new Windows 10 phones). Will you be using 'Double-tap to wake' or do you prefer to use the power button? Let us know in the comments!
Isn't it either there or under Settings - Personalize - Lock Screen ?

A little off topic question would prefer 950 users to answer !! Is 950 a good to go currently I know many times it has been answered but I want to ask it regarding the quality of apps too !! I tried the instagram and fb app by fb they are quite slow to function !! Instagram fail to even upload my dslr pics whereas i have an ipad even it doesn't !! so a sincere question is it worth to go for it ?

I think it is personally. It's a good phone for the money. If you're in the UK you can get it for £249.99 with a display dock - If you buy through the Microsoft Store via Top Cashback you can get £40.40 in cashback from the purchase. The effective price of the phone is then very low - I don't think you can get a better Windows 10 Mobile at that price point, effectively getting it for £210 ish after cashback. It depends if you are the kind of person who has to have the latest model to be satisfied. The Instagram and Facebook apps aren't bad IMO, but they aren't perfect and they DON'T run as well as the iOS originals - That's just a fact, but there are many other compelling things about the phone. It's not perfect, but at that price you won't get a more feature packed W10M brand new

Okey !! Well in India here for the sane prize I found one plus 3 lucrative ! M a Lumia 720 user and want to upgrade from my 3 year old buddy !! Well will consider the Lumia 950 :)

If comparing against Android phones my advice isn't necessarily the same - My statements really are based on you wanting a phone with W10M, if you definitely want W10M then you won't get better at this price - The XL and HP Elite X3 are both better unless you really don't like big screens but they are £100 - £450 more so you have to weigh up what matters to you personally. Even if MS bring out a new phone similar to the Elite X3 it's not going to be £249.99

Okay !! Well I love windows 10 but this time m considering a change but leaving the windows ship I dint feel like leaving but lets see !! Will give 950 a go of possible it will get more cheaper here and be more lucrative :)

Get a 950 XL.
You will want nothing else.
Has a better processor and the extra screen space without the bulge in size.

Lumia 950 XL is still expensive here for around 530$

930 is a beautiful phone and can still be bought new very cheaply

Dan, I wish more folks posted with your etiquette. Very helpful and sincere. I, for one, appreciate it.

With the Anniversary Update, Windows 10 Mobile feels like it's finally left beta and hit 1.0. It is, in short, not too bad. I still prefer 8.1 in many ways, but it's now pretty stable, fairly performant, and gets decent battery life. However, this has done little to help the app situation, which remains dire. There are almost no high-quality apps available for Windows Phones. As you note, even major companies like Facebook cannot be bothered to code high-quality apps for the platform, and frequently don't bother to make one at all. Given that there is no obvious future for the platform, either, this situation is likely only to get worse. Therefore, and it saddens me to say so, I would have to advise you to steer clear of the L950 and the Windows Phone platform overall. At this point, I can think of nothing in particular to recommend it.

Facebook still has a ways to go but it's come a long way, as well. It used to be night unuseable, but now it's actually pretty good with a few things that still need to be done (like loading time and further improved scrolling).

To each their own but it the best Windows phone I have used by a wide margin I have had several going back to Windows mobile 6.5. If there is going to be a Surface phone or some other killer phone from another OEM in the future including The HP Elite with future software upgrades, the 950 will suit me fine for the foreseeable future. I've had mine since last Christmas. I just got the AT&T firmware upgrade so that combined with the Anniversary the 950 is better than ever

It's under lock screen settings for me. The Extras settings are all legacy AFAIK, and it is there on some older devices that now support W10M but should be where you said on phones that came with W10M

I don't think so. I found the toggle under the extras settings with my AT&T Lumia 950.

It was under extras on mine (unlocked 950) but after a hard reset moved to lock screen settings. I think it might depend on if you got the firmware before anniversary update or after

Mine was under Extras before I did a factory reset (cell data issues, intermittently working), then it moved to Lock Screen settings. I hope this doesn not become standard practice (factory reset) everytime a new update is rolled out :-/ Happy to report the reset fixed my data issue though :)

Like I say. This is not to wake up screen. But for lock(off) screen. Duble tap right or left from arrow and screen go off.

I'm not sure what you are getting at? This article is about double taping to "wake up" the screen and show the lock screen, and on my phone the setting to do this is under Lock Screen settings. There is a separate setting under navigation bar to "Double-tap the navigation bar to 'turn off' the screen" On a UK 950 running Anniversary, neither of these settings are under Extras > Touch, which was my point but not sure what you mean? Can you elaborate?

Yup, its there under lock screen settings.

USA version of 950XL, unlocked......... Under Settings>Personalization>Lock Screen> it is called "Double-tap to wake up phone" and it is a toggle button Under Settings>Extras>Touch it is called "Wake up the phone when I double tap on the screen" And again, is a toggle button So, I am not in front of my 950, but I am guessing that they do not both share the same exact results?

They are exactly the same.

That is double tap the nav bar to sleep. Entirely different.

You are right. Anyway I was thinking that the article should be updated since using double tap to wake AND double tap to sleep is the perfect combination. Now I only use the power button like once a month to reset the phone.

Unbelievable. Damn noobs.

Yup it's nice to see how a tutorial guide for a one step setting can be wrong. It was in extras in old versions and it has been moved. Fail :)

It's in both places on my Lumia 950 (AT&T 14393.189).

On my 950, the setting is under Settings-Personalize-Lock Screen. If I go to Settings-Extras-Touch the only option I get is to toggle vibrate when I tap the navigation keys.

Same here w/AT&T Lumia 950 running 14393.189.

For some odd reason It's not working on my att L950. I did the update, set the double tap to awake on and it doesn't work. I tried turning off glance and it still doesn't work.

On my Lumia 950 the setting isn't under extras....This is actually a legacy settings page. For me, it is under Settings > Personalisation > Lock Screen and then scroll to the bottom you'll see "Double-tap to wake up phone"

I have the dttw setting both in personalization and extras in my non-at&t L950.....! Weird to say the least!

On my XL I have the setting in both places.

Oddly, on mine, it's just under Personalization.

I have OS build 10.0.14393.189. You must have a different build.

Same here with my unlocked L950, some one pls help

I'm in the UK and had this for a while now. It's not in Extras and then touch though for me. For me, it is under Settings > Personalisation > Lock Screen and then scroll to the bottom you'll see "Double-tap to wake up phone"

Another way to quickly check the time on a 950 or other Glance enabled W10M phone is to just wave your hand over the light sensor at the top of the phone. This will show the glance screen in the same way it does when you take the phone out of your pocket - I think this used to be called "Peek" mode in WP 8.1 but now is just the standard way Glance works, don't think you can turn off that auto glance option in W10.

Depending on your build. Latest Insider ring builds have screwed it completely up on the 950XL.

Why do you remain an insider if you get bugs like this?

In UK on EE and its in the Touch section for me and works well

That's odd. So you go to Settings > Extras > Touch ? If you look in the bottom right corner on this page, are there 3 coloured dots? These are usually just on the legacy settings screens. I am running the latest Anniversary Build, so not sure why we see different things.

Latest builds moved it from Extras to Lock screen ages ago.

I'm on Insider Fast and I still have those dots ;-)

You can't be running AU update?

Setting moved after AU, so not under touch but now lock screen!

Needs a little more tweaking. My Jolla and even the N9 is more responsive when detecting double tap input. Even the LG G2 was better, or the 920, 1020, 1520 or 930

It's probably because Microsoft had to rewrite it from scratch, so there's some tweaking they have to do (probably rushed because people were really wanting the feature... Look! Microsoft listens!)

I actually turned both my double taps off. Cortana responds better when there are less processes running in the background.

It's not a process, it's a deep firmware / driver implemented feature. it doesn't take cpu cycles

This works on the XL also.

I am very disapointed by the double tap feature on the Lumia 950(XL). It is slow and sluggish, and does not respond every time I use it....

It's reliable on my L950 but spaceOpia1 is correct that it's slow. On my PRIV, by way of comparison, the screen wakes up instantaneously. On the L950, there is a noticeable delay.

I updated my 650 via WDRT with new firmware, double tap is fast as my old 8.1 520. I missed it so much

Now if they brought back flip to silence and answer when raising it to your ear, that would be awesome. Or maybe that was always beta on WP8.1?

My Lumia 950 , when I press the power button 6sec black screen and than appear the lockscreen.. When I restart is ok 5-10 unlock, than its the same problem. This is terrible problem, I get feedback on feedback hub, and when its this problem , lost the proximity, and the brightness is the brightest or lowest brightness, and everywhere is should be black, is grey oversaturated. PFFF Im very sad with my 950, maybe I will swap back to my Lumia 650. Oh, and the DTTW is not comparable to the old Nokia Lumias+640,640xl

So far DTTW on the 950 is definitely slower than my original 920 but about the same as my 830. And I had an issue this morning where the phone was ringing but the display did not light up. Hope that's not a recurring issue!

That's a bug in the latest OS release (not a firmware issue).

i wish it can tap to unlock (i dont have a password confirgured)

I'm so glad its hear I've been double tapping the screen for months out of habit. It works great. I also have double tap navigation bar to lock turned on, so I'm a tap happy fool!

Yeah, my DTTW on my AT&T 950 is under Personalization / Lock screen with a toggle at the bottom.

I've got double tap on my 930, what I want is glance!

930 display does not support glance due to hardware limitations

settings still in need of reorganization. i like it though, navigating through it keeps you aware of the other settings, lol. maybe MS should might as well make this area customizable.

I got it to work and it seems slower than my old Lumia 920 and 830. It's on glance, I double tap to awake, sometimes 4 taps, the screen blacks out pauses and wakes up.

The double tap sometimes takes more then one to wake the screen, then there is a delay. I have double tap on my Nokia 520 phone as well, wonder when it will be available for other phones? There needs to be a setting to increase the sleep time, the black screen comes on far to fast and spoils the actual use of the phone.

Yes the 950xl is the best phone out there I think

My Glance Screen is not working so does the double tap. Are these two related or this means i am having two different problems?

Just enabled double tap and love it. That way, I can leave the phone sitting on the desk and don't have to pick it up or use two hands to fumble for the buttons. If it works without Glance, I may turn Glance off to conserve battery now that double tap is operational.
Windows Central Newsletter
Thank you for signing up to Windows Central. You will receive a verification email shortly.
There was a problem. Please refresh the page and try again.