How much will the Xbox Series X cost? (poll)
The Xbox Series X has been given deep-dive treatment, revealing the full scope of its monstrous internals. One question remains though.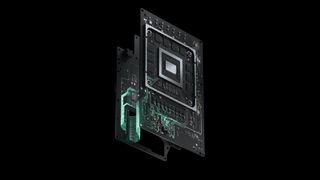 (Image credit: Microsoft)
The Xbox Series X has been detailed in full, giving us a look at the console's beefy internals (and, confirming our previous leaks, ahem), and it's looking rather impressive.
The Xbox Series X is far more powerful than any existing video game console, with 12TF of computational power a-top 16GB of GDDR6 RAM, and 8x 3.6GHz Zen2 CPU cores. Not only that, but it's sporting custom, well, everything, including an NVMe SSD that reduces State of Decay 2's loading speed down to mere seconds.
Considering early analysis is comparing the Xbox Series X to the power of an RTX 2080 desktop GPU by itself which cost anywhere from $600 and up, it's hard to envision how Microsoft expects to keep the price of the Xbox Series X down to standard console levels.
Reports from Bloomberg suggested that Sony was struggling to keep the manufacturing costs of the PlayStation 5 below $450, which is expected to sport similar specs to the Xbox Series X. While we don't know much about the PS5 to do a direct comparison, the idea of the Xbox Series X being anywhere below $499 seems utterly remote, given the features and internals Microsoft is boasting.
So, we have two questions for you. How much do you think the Xbox Series X will cost? And, how much would you pay for an Xbox Series X?
Jez Corden is the Managing Editor for Windows Central, focusing primarily on all things Xbox and gaming. Jez is known for breaking exclusive news and analysis as relates to the Microsoft ecosystem while being powered by caffeine. Follow on Twitter @JezCorden and listen to his Xbox Two podcast, all about, you guessed it, Xbox!
Saw the headline, thought DOH, you should have done two polls, not one. One with expected, one with what you'd pay... Good work! I reckon it'll come in around £499/$599 and I'd be ok with that, sort of. Xbox one came in at £410, and was well beaten by the Sony price. Though this does off a heartier experience, they'll have to make a loss I expect. My guess is midway between what I think they dare not do, ie £450, and what they would prefer, £550. Pretty keen to know the price of the external storage cards. Microsoft has Apple-like form for being too high.

I voted based on pricing in my country.

We had never had a console. Then Microsoft came out with the Xbox One w/Kinect. Finally, a device that made sense to us, with an interface that made sense. Then they deprecated it. Ruined it. We saw nothing in the Xbox One S that made an impact on us--even now, when they're practically giving it away. Nothing in the Xbox One X. I imagine they'll be practically giving THAT away once the Series X starts to roll out. There's just nothing about the devices that brings a capability that we want. Dish Network gave us a sweetheart deal on an upgrade that gives us 4K capability, and we got an insane clearance deal on a 4K television. None of the Xbox models supports full passing 4K from our Dish system to our TV, and certainly not at 120hz, so what would be the point of having an Xbox? The answer: None.

DRDriver, that's not correct about 4k passthrough. I watch 4k from Dish through Xbox. Xbox One X supports full 4k and HDR passthrough. For example, earlier this year, Dish and Fox broadcast the Super Bowl in 4k for the first time ever (well, actually 1080p 60fps and HDR) through Dish, which in turn runs through the Xbox, then my receiver for surround sound, then to the TV. It was amazing going back and forth between the regular broadcast and the "4k" broadcast just to see how much better it looked. Night and day difference in quality. I also appreciate that for those of us who still have Kinect, I can launch MS Movies and TV for all my Movies Anywhere library by voice, same with Amazon Prime or Disney+, and watch all those UHD movies directly. At 4k HDR, games really do look FAR better than 1080p, even older games enhanced for Xbox One X, like the Witcher 3, which I'm playing now. My biggest concerns are with the upcoming Series X are loss of Kinect for Living Room Skype and maybe voice control (maybe that will still be possible through other devices) and loss of the HDMI passthrough for my Dish receiver. Those will be major downgrades, to the point that I may not upgrade for a while to see if they'll come out with a model that offers at least the additional HDMI port.

I bet it comes in a $549 or greater. I'd pay $499 or less. And no I won't go over that just cause I want it, budget comes first. :)

I'am thinking it will come in at $599.99, US dollars. I believe the additional storage will be $199.99 US dollars.
Windows Central Newsletter
Thank you for signing up to Windows Central. You will receive a verification email shortly.
There was a problem. Please refresh the page and try again.