How often do you use the Amazon Appstore Preview on Windows 11?
The Amazon Appstore is here for Windows 11, but how often do you use it?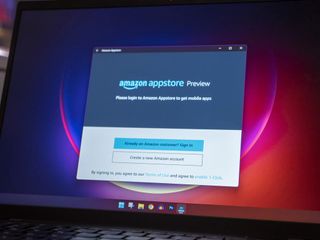 (Image credit: Nick Sutrich / Windows Central)
Microsoft shipped Android app support for Windows 11 this week. The feature is in preview and allows people to download over 1,000 Android apps through the Amazon Appstore. Microsoft has tested Android app support with Insiders for months, but since it's now out for general users, we'd like to get a gauge for how often people actually use the Amazon Appstore on Windows 11.
With support for the Amazon Appstore, Windows gains access to a library of mobile games and applications. There aren't as many apps available as there would be with Google Play Store support, but it's still a sizeable set. Amazon's own apps, such as Kindle and Audible, and some popular games are now available on Windows 11 PCs.
There are limitations that will prevent some PC owners from being able to use Android apps on their devices. For now, only users in the U.S. can install Android apps from the Amazon Appstore. There's also a set of minimum requirements that PCs need to meet, including having at least 8GB of RAM and an SSD. Such hardware cutoffs aren't terribly aggressive by today's computing standards, but even so, they do limit who can utilize the feature.
If you haven't tried out the Amazon Appstore but would like to, you can follow our guide on how to get started with Android apps on Windows 11.
While there are over 1,000 apps from the Amazon Appstore currently available, some notable apps are missing. To fill those gaps, you can sideload Android apps onto Windows 11.
If you use the Amazon Appstore on Microsoft's latest operating system, which apps do you use? Are there any Android apps you wish you could use on your PC? Let us know your thoughts in the poll above and in the comments below.
News Writer and apps editor
Sean Endicott brings nearly a decade of experience covering Microsoft and Windows news to Windows Central. He joined our team in 2017 as an app reviewer and now heads up our day-to-day news coverage. If you have a news tip or an app to review, hit him up at sean.endicott@futurenet.com (opens in new tab).
I installed the Google Play Store and Google services and haven't opened the Amazon Appstore since. Haha. I found the Amazon Appstore to be utterly useless since it seemed like Kindle was the only app, and all the games are very very old and mostly targeted at kids.

I only tried out Kindle and came to the conclusion that it was far more battery efficient and practical to just use the Kindle Cloud reader than running a 1GB virtual machine just to read an eBook

I opened the AppStore ... took a really long time to start up, had to load the WSA too.
tried to scroll through all the apps to see if there was anything I wanted that I couldn't get on Windows because the categories offered are so slim and definitely not many apps listed there. it crashed before I got to the end, it automatically tried to restart and crashed again. I guess I'd say infrequently or never again. Honestly, it looks like someone's unfinished first programming project.

my pc cant run windows 11 because of 7th generation cpu, even it did run windows 11 it require me living in US and SSD

*US only. So haven't at all - yet, waiting for it to become available... Don't have a good experience with messing the Windows Region settings. Bit disappointed really that Microsoft still has such a strong focus on the US, and mostly just forgets about the rest of the world when it's convenient for them. They should have a much stronger global presence. Amazon, Apple, Google, all of the other big players, even Steam, Epic, Sony... they have no problem with having local presence anywhere in the world. Microsoft is the second largest company on the planet, and still this happens regularly. This is why they lost Windows Phone, Cortana, Band, this is why they fumble in some markets with Xbox and Surface. It boggles the mind.

Don't really use it much, but I'm just waiting for more apps to show up...

There is nothing but games in it right now. For me no apps worth trying.

I use it occasionally so far. The only apps I have installed so far are Kindle and Comixology. And unfortunately Amazon just recently broke the Comixology app and apparently haven't updated the version in the Amazon app store yet. I know there are other options for Kindle and Comixology on Windows but they either don't have offline support and/or have poor/non-existent touch support. At some point I'll probably get around to trying to install the Google Play Store. When I do that there will probably be a few more apps I use for similar reasons.

It's not here for Windows 11. It's here for Windows 11 if you live in the 1 country of over 200 countries in the world. Urgh.

You're not missing anything.

I would only use Amazon Appstore if it was hosted and updated within the existing Microsoft Store. I don't need another app to manage updates. I don't like using the Creative Cloud app updater, I hate searching between Steam, Battlenet, and Epic Games stores to find where my games are. That's why I love using consoles. I want unification but if others don't want that, its fine with me! Just give people the option to simplify. Maybe one day someone will create an app to pull all those various updaters into one roof with a common UI and updating system. Maybe. In the meantime the Your Phone app gives me access to more apps and it isn't adding another system to manage. I might be persuaded if Google releases their full app store, but given Googles implicit hatred of Microsoft I doubt they would ever offer a bloatware free, fully supported and efficient option for Windows users to install Apps. They're too busy trying to peddle Chrome OS and force people to do all their computing online so their ad empire can grow further still.

"Maybe one day someone will create an app to pull all those various updaters into one roof with a common UI and updating system."
That was called Windows in S mode. Really. If you could only get stuff from one place, you only had one place to go for updates. Of course people hated the limitation, so immediately clicked the button to 'upgrade' to Home, so developers had no incentive to support the store. Then there are the Epics of the world who don't want to be in the store and give you one place to update, to protect your freedom to be inconvenienced....and keep all the money.

Cog brings all games to one interface

Gave it a go setting Windows region to USA and installing. However, Amazon app store checks location. Side loading apps was tedious on my AMD machine. APK installers need ADB which wasn't smooth either. Then, the only app I am interested in doesn't run without Play services. Not to mention that I am not eager to use developer settings, which I expect to make my machine more vulnerable for malware.

When it comes to android apps on Windows, I only sideload and will only ever sideload. Amazon, Google, I hate 'em both. It's bad enough Google can see everything I do on my phone, I'm not about to also add them to Windows. And Amazon? Pfff. Forget about it. Unfortunately, performance in all of the apps I've tried is somewhere between "insulting" and "unacceptable". Without some serious improvements, I likely won't even use the feature at all.

I still don't understand this move by Microsoft. Make fully blone apps easy to use with touch like office ect and no need for Android apps. Great on my duo but I don't fire up my pc or laptop to use with touch unless it's pen input

It's only half-baked alpha code, consider yourself lucky.

You do know MS doesn't make all the apps people run on Windows, right? If they could get other app developers to make touch/pen friendly apps for Windows, along with Android and iOS, no one would care about this. MS could set the example at least, though.

A better question would be how often do we use the Windows Store?

Not often. Tried it for Kindle (the old PC app was abandonware). It works but I prefer a tablet over the android app. I can't see downloading the WSJ app when I can just browse to the site and save a bunch of RAM. Otherwise, my phone is always ready for any apps I need to launch. Frankly, the Android system and My Phone are solutions in search of a problem.

I use the Play Store instead

I installed it and looked at the apps but there is nothing I will use currently on the Amazon Android App store.

I found bluestacks to be faster and more selection obviously, not to mention windows subsystem has to annoyingly reload everytimevyour computer goes into sleep mode - bluestacks keeps running.

I doubt Bluestacks even comes close to being as good as WSA.
Also WSA doesn't have to reload after sleep mode, it runs continuous.
I've used many Android apps and they start up in a fraction of a second, and the integration with Windows is incredible, like with app notifications, app updates and Google Play system updates in the background.

I agree. I use WSA on my Surface Pro X... I have to because Amazon killed the ability to read Comixology books on the web, abd they also don't make ANY Windows apps. WSA restarts every time I have to resume on the SPX. It also crashes pretty frequently. Wondering if it's because I only have 8GB, and WSA after load always pushes me to about 7.3GB in use.

Microsoft should have went with Google on this one or maybe samsung store.
Amazon appstore is bad even on their tablets, I sideload the apps

Can't so I don't. Not sure why I would but curious to find out.

Live in sweden so i cant access the Amazon appstore. But i sideloaded Google play store instead. Most apps work but the scale is off on some. I guess because the app think that i am running the app on a Phone
Windows Central Newsletter
Thank you for signing up to Windows Central. You will receive a verification email shortly.
There was a problem. Please refresh the page and try again.