Android app support, Taskbar updates, and more, begin rolling out on Windows 11 today
The first big Windows 11 feature drop is now available.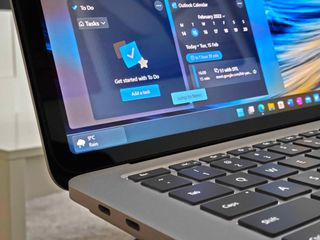 (Image credit: Windows Central)
What you need to know
New Windows 11 features are rolling out today!
Features include Android app support, new Taskbar improvements, and more.
New features will be arriving on a regular basis going forward.
Last month, Microsoft announced that it would begin rolling out Android app support and Taskbar improvements to all Windows 11 users at some point in February. We're now at that point, meaning those features are now rolling out for everyone on Windows 11! The new features have been in testing with Insiders for a handful of months, and are now finally ready for general availability.
The new features are as follows:
Android app support via Amazon Appstore (US only)
Mute/unmute mic via the Taskbar when in a Teams call
Weather info on the Taskbar
Clock info on Taskbar on external monitors
Updated Notepad and Media Player apps with new designs
The big new feature being made available today is support for Android apps, a coveted feature that was announced last year but unfortunately missed the initial launch build. It's here now (in preview) for those in the United States, and will allow users to download over 1,000 Android apps from the Amazon Appstore, or alternatively sideload Android APKs if that's something you want to do.
Additionally, we also have some new Taskbar features, including the ability to mute or unmute your mic directly from the system tray when in a Teams call. The Widgets panel button has also been updated to display Weather info, and is also getting a new home in the far left of the Taskbar.
Finally, Microsoft is also rolling out updated versions of the Notepad and Media Player apps, which bring with it new designs, dark mode, and more. Overall, this is a nice feature drop for Windows 11 users, and Microsoft promises that more are on the way as it commits to shipping new features on a more regular basis.
Microsoft's next major OS update is scheduled for the second half of this year, codenamed "Sun Valley 2" and set to ship as version 22H2. Last week, we revealed a bunch of new features that Microsoft is working on that we expect will ship as part of that major release. Be sure to check out that story if you'd like to know more.
Windows Central Newsletter
Get the best of Windows Central in in your inbox, every day!
Zac Bowden is a Senior Editor at Windows Central. Bringing you exclusive coverage into the world of Windows on PCs, tablets, phones, and more. Also an avid collector of rare Microsoft prototype devices! Keep in touch on Twitter: @zacbowden.
The only Amazon app I would consider is comiXology. Otherwise, the Amazon store has significant holes when it comes to some of the most popular apps. With luck, this gives incentive to developers to port more apps to Amazon/Windows, but I'm doubtful.

Two questions: 1. When will this amazon store be available in the UK? 2. If we can sideload android apps then can we not just sideload the Google Store app?

No, you need Google Play Services, which isn't a simple sideload.

https://www.theverge.com/2021/10/27/22748319/google-play-store-windows-1...

Install Ubuntu isn't a solution. What the hell 😂

https://github.com/LSPosed/MagiskOnWSA

You might need something like MicroG as replacement for Google Play Services

I feel cheated that Android support is for en-US only. I want to use it from fr-CA.

Yeah what the hell. I guess/bloody hope it's coming later internationally. It's common tech firms can be jingoist sadly. Google Talk only ever a US thing too.

does this mean the entire amazon app store or just the cheesy few preview apps?

The cheesy few preview apps PLUS about 1000 more cheesy preview apps.

Installed a Majong app from the editors picks (it's not listed there anymore for me IDK if that's because I installed it or...). If you search Mojong it's the one with the bamboo background. It crashed 3 times in five minutes and the third time the Entire Android Subsystem restarted. 👎

They fixed the taskbar by adding back things the Windows 10 taskbar already had. Slow clap.

Lol. So /agree The time not being on the second screen was one of the most idiotic things I've ever seen a platform developer change. Literally windowing out of applications just to see the time, unless you want to constantly reach for your phone, or take your headset off and ask your smart speaker... or something. It was complete dumbery. They changed the Widgets thing to a Weather icon and I just spent 20 minutes trying to find out how to get rid of it. I like how they don't even really tell you what they're changing in these updates. They just recommend them to you, and that's it... I use Notepad a lot to edit config files and while I noticed something was off, for some reason it didn't dawn on me that they had updated it. It was the weirdest instance of "everything looks different, but I'm not noticing it" that I've ever encountered in all these years of using a computer. I noticed the text seemed a bit off, because there is more "padding" between the menu and text area, but I literally didn't even notice it was Dark Mode, Lol. I'm still not understanding how that happened. I finally noticed it a couple of hours ago, but I'm pretty sure it was updated at least a day ago, because it felt different before today.

The widgets/weather icon is ridiculous. Mine is a little yellow ball, representing it is sunny. Swell, I can see that out the window. If I hover over it, it tells me the temperature, but also pops in widgets, with a whole weather widget.

Looking at this again on the picture, I might see the issue. I have my taskbar icons left aligned, so there isn't technically room for that weather 'button' that has more info. Maybe that's why I just have a 'live' icon. Clever though, sticking the Widgets button/icon where Start is supposed to be, or at least has been for decades. Guess it will get a lot of 'use' now...accidentally.

Actually this is common when something is rewritten.

With way too many taskbar features still missing.

Apperently that is because they rewrote taskbar code, removing some legacy code.

So now, on boot, my sp7 with 8GB Ram, has 89% memory in use, with vmmemWSA using somewhere around 1 GB. That's with no apps open. Kindle app, at 90%, vmmvmwsa at 1.282 GB I'll have to see how this effects performance with actual useage.

Is there any way to block the Android app support from being installed (permanently, but still get other updates)?

Doubt it. You have to still manually install the Amazon App Store so just don't install it.

Android support is US only. What the hell 😡😡😡

It would be a better ideas to expand the app support that Samsung and the 2nd gen Duo get in Your Phone. The people who care about app support probably have Android phones and would get better coverage.

Fully agree. I'm still on the Duo1 and the apps feature in your phone isn't available. Bring that and I have what I need, really.

Maybe if they just supported Android phones consistently, instead of these piecemeal limited agreements.

That widget functions terrible. I get Spanish results in the widget altough my settings are set to Dutch on MSN. When trying to change it it says I'm supposed to see results from the United Kingdom. The weather in the taskbar displays the weather in Barcelona altough thats a hours drive away. The widget in the panel shows the right forecast but is a different neighbourhood than what the weather app shows. One big mess.

Having been there and done that with my Fire 10 tablet, the only app that I used from their store, was Kindle, and it came preloaded of course. That would be the only one that I would be interested in seeing but the web version for Windows works perfectly for me.

Only if you have 8 gb ram, so even being in USA my Go 2 wont be getting the android apps.

The second Amazon appstore app I decided to load turned out to be a phone app. i.e. only shows a small window on your large screen ...
Deleted it. Why they thought this would be good to include for Windows devices is beyond me. WTH
Windows Central Newsletter
Thank you for signing up to Windows Central. You will receive a verification email shortly.
There was a problem. Please refresh the page and try again.