How to play Oculus Rift games on Windows Mixed Reality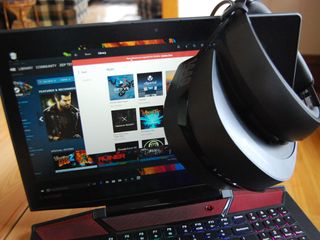 (Image credit: Windows Central)
SteamVR integration with Windows Mixed Reality (WMR) is a big step in the right direction for the emerging VR platform. Still, it doesn't mean you're stuck playing only games available from Steam (or, of course, the Microsoft Store). LibreVR's Revive is a tool that effectively reroutes Rift games downloaded through the Oculus app over to the SteamVR platform. It was initially intended to work with the HTC Vive, but you can get it all working with Windows Mixed Reality.
Products used in this guide
How to install SteamVR
To use Revive, SteamVR must be installed and working with WMR. If you need a bit of help, we already wrote a guide on getting it set up.
How to install the Oculus app
The Oculus app, also known as Oculus Home, is where you can download Rift exclusive games and experiences to use with Windows Mixed Reality. If you don't actually have an Oculus Rift, follow these steps carefully to not get stuck in an install loop:
Navigate to the Oculus app download page.
Click Start Download.
Click Save.
Click Run.
Click Let's Go.
Click Agree.
Click I Understand.
Click Next.
Click Install Now (the required files will be downloaded).
Click Next.
Click Rift.
Click Next.
Click Next.
Click Skip Setup.
Click Skip Setup.
After completing these steps, you'll be able to browse the Oculus Store to find a game to purchase and download.
How to install Revive
If SteamVR is installed and working with Windows Mixed Reality, the Oculus app is ready for you to shop and buy a game or experience. Here's how to install Revive:
Navigate to the Revive installer page on GitHub.
Click ReviveInstaller.exe. (At this point, the current version is 2.0, but you might see a newer version as you move through the steps. Nevertheless, the most current ReviveInstaller.exe file should be the second from the top — the top is the beta, which may be janky.)
Click Run.
Click I Agree.
Click Next.
Click Install.
Click Close.
Revive has now been installed and should be picked up by SteamVR automatically.
How to play a Rift game on Windows Mixed Reality
Now that everything is installed, you can get to work playing a Rift game within Windows Mixed Reality. Make sure your headset is plugged into your PC. Then follow these steps:
Launch the Oculus app from your Start menu, desktop, or taskbar.
Launch SteamVR from your Start menu, desktop, or taskbar.
Launch the Windows Mixed Reality Portal from your Start menu, desktop, or taskbar.
If you put on your headset, you should see SteamVR Home, which includes a list of your Steam games. If you don't see SteamVR Home and instead see the regular Cliff House, you can always launch SteamVR from here, as you would any other app.
As long as you're seeing SteamVR Home, follow these steps to launch a Rift game:
Click the joystick on one of your motion controllers.
Click the Revive button. (It's near the bottom of the overlay that pops up. You should now see a list of any Rift games you've downloaded through the Oculus app.)
Click a Rift game. (It will launch, and you'll be able to play it through your headset.)
How to enable the Revive button on the Vive dashboard
When you enter the SteamVR overlay and look for the Revive button, it might not be there. Here's how to make sure it shows within SteamVR:
Click the dropdown arrow next to SteamVR.
Click Settings.
Click Applications.
Click Revive Dashboard so that a checkmark appears.
If everything has gone to plan, you should now be able to play Oculus Rift games on your Windows Mixed Reality. This is a big guide, we know, but it is well worth doing if you want to get the most out of your WMR headset.
Our top equipment picks
Windows Mixed Reality
One of the best WMR HMD you can buy

The Samsung Odyssey is one of the best Windows Mixed Reality headsets you can buy right now. If you want an excellent experience at a reasonable price, this is the headset for you.
There are a lot of choices out there when it comes to Windows Mixed Reality. Any of the headsets you choose will give a good experience, but the Samsung HMD's are some of the best.
Get the Windows Central Newsletter
All the latest news, reviews, and guides for Windows and Xbox diehards.
James built his first PC when he was 13 and has never looked back. He can be found on Windows Central, usually in the corner where all the 3D printers are, or huddled around the Xbox playing the latest games.