Nokia shows how to create amazing light paintings with Nokia Camera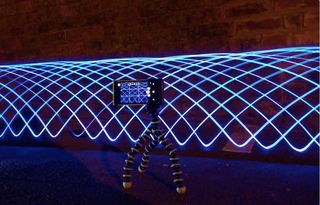 Light paintings are made with moving light sources in front of a camera to create an image. You need long exposure so the camera can capture the flow of moving lights. Nokia's latest video shows how an expert light painter does it, using the Nokia Lumia 1020 with Nokia Camera. They also share tips on how you can do it, too. Head past the break to watch the video.
Tips on creating light paintings using your Nokia Lumia smartphones:
Set the Nokia Lumia on a steady surface or tripod
Access the camera control panel by swiping the camera icon left for adjustable settings
Set the ISO at a low level – 100 – 200
Set the shutter speed to four seconds
Set the white balance to the 'light-bulb' setting
Set focus to infinite
Set the self timer to 10 seconds
Experiment with different light sources for stunning effects
To make the most of the four seconds, get your friends to join in to create more light trails in a single shot
This looks really cool. We're going to try this out when it gets dark. Will you be trying to light paint? Share some of your creations in the comments!
Source: Nokia Conversations
Windows Central Newsletter
Get the best of Windows Central in in your inbox, every day!
Thanks for sharing the settings. Have have done light painting on my SLR buy not 1030.

I believe you mean 1020 :) Btw, thanks for the tips Mark.

I about jizzed when I saw this!

Very cool. Time to do some experimenting.

I love light painting. It is one cool feature of cameras and I love my Lumia for being so able.

Nice experience! Should make video like this !

It's amazing to do light painting photos with my nokia lumia 1020 ;) Even if I already know this and I used to do it since I have this phone

I was able to do light streaks like that while I was in NYC Http://www.fhotoroom.com/f.asp?f=1909712

Also Http://www.fhotoroom.com/f.asp?f=1909704

A bit lower ISO will give you much better result for same shot. try it . :)

It would be a cool contest for us.

Sounds like a good idea to me. CONTEST, CONTEST, CONTEST!

http://instagram.com/p/kaLaedqbMw/# Lumia 820 + Nokia camera + Shitty LED from lighter xD http://instagram.com/p/kZ6JEPKbMA/# my first foto with 4s exposition on L820

If only there was a specially made camera grip for other lumias that came in red

The maximum shutter speed I am getting is 1s on my Lumia 520..

I had 4 on my 820 but since a couple weeks ago it's just 1s as well. Wonder what the issue might be?

I am getting 4s on my Lumia 520 with Nokia Camera and Black update.

but the manual 4sec option was gone after black update

Anyway amazing the photo of the article, light paint seen from a lumia from another lumia xD

Side-note: Bought a gorillapod(yellow/black) for mine. Its the perfect accessory. Using it as a car mount/charger with the charging case. Perfect solution if you have something to grab onto. Matching phone/case coloring is a plus, too.

The "NOKIA" sign is amazing!

Beautiful. Why am I not seeing these ads on TV.

Wow ... This is nokia Lumia

Exactly why I love these phones.

10 second exposure? I only have 4sec on my 1020. I have the pros hot app and it is 4sec as well as Nokia native app. I have done some "ghosting" shots using a tripod with the 4sec exposure as well as pointing it at the night sky to catch stars.. Pretty amazing photos. 10 second exposure would be incredible for night shots. What phone or app allows an 10 sec exposure?

The 10 second is for the timer delay not for the exposure you get to that setting by tapping the 3 dots in the cam app

this is sooo cool all the setting are on the 928 as well I will be doing this tonight I have lots of LEDs and EL wire as well should make for some fun shots

I got some cool results on my 928 too!

Great video, I've been light painting since I first got my Lumia 1020 at launch last year. The first accessory I purchased was a full sized tripod to get started. If you want to see some other cool light painting techniques bing steel wool light painting that's my latest experiment with light painting on my Lumia 1020. I really gotta get me one of those programmable LED light bars though they are awesome.

Can someone please tell me the name of the tripod used in that pic? I want that!

I have mine and it is awesome LOL

Loving this, I can do it with my 920. Dang, the 920 is just so dog gone nice and hard to replace. I can get a newer phone, but it is so solid! This light painting is so cool. Glow sticks and 4s shutter speed in the dark with a date or with kids is just so cool for them.
Windows Central Newsletter
Thank you for signing up to Windows Central. You will receive a verification email shortly.
There was a problem. Please refresh the page and try again.