5 ways I'd make the HP Spectre x360 even better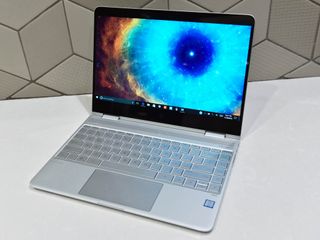 I recently reviewed the HP Spectre x360 complete with a new redesign and Kaby Lake Intel processor. It's now my top-recommended laptop for 13-inch Ultrabooks edging out the Dell XPS 13.
Nonetheless, while I think the Spectre x360 is the best all-around laptop when it comes to features and price, it's not perfect. Here is where I would like to see some changes to make HP's laptop even better.
1. Precision Touchpad
I harp on this topic a lot, but I think it's important. In my mind, Microsoft has the right tuning and gestures with their branded precision touchpads. The combo of hardware (usually Synaptics) and Microsoft's software is just the best experience on laptops.
HP's touchpad physically is top notch – it's smooth, massive, and well built. The Synaptics software though is lacking. It's not terrible, in fact, I said it's likely the best non-Precision touchpad I have used. Still, HP can do everyone a solid and just use Microsoft's software. Precision certified is simpler, smoother, is more reactive, and it gets those new changes like custom gestures that are coming with the Creator's Update.
This request is a nitpick, but in the end, I see no downside in HP using Precision.
2. Display aspect ratio
I don't know about you, but I am ready to move on from the dated 16:9 aspect ratio of laptop screens. I much prefer something like the Surface's 3:2 or even Apple's 16:10.
While 16:9 is better for watching movies (less 'letterboxing') compared to 3:2 the latter shows more content making it more ideal for productivity. That goes double for any convertible laptop where you can use it as a tablet (like the Spectre). Microsoft chose 3:2 because it's like a piece of paper or a book. It makes sense for tablet devices to look like that and not 16:9.
Besides preference, the 3:2 or 16:10 ratio helps cut into the display bezels at the top and bottom. While HP nicely put an 'edge to edge' display in the Spectre, the upper and lower bezels now look proportionally too large now. Some of that is needed for the IR lights and facial recognition camera, but not all of it. Making the display taller means the base would have to get taller too and HP could use that to make an even larger trackpad. Think about it.
To Dell, HP, Lenovo, and other PC manufacturers: can we finally move beyond 16:9? Let's try it.
3. AMOLED QHD option
My bet is HP will announce an OLED version with a QHD resolution in addition to the current IPS at Full HD. Don't get me wrong I like the Spectre's 1920x180 glossy touch screen, but I think some people will pay for a more expensive AMOLED option at QHD.
HP also needs something to compete with Dell's amazing QHD panel in the XPS 13. That's the bar right there.
HP has offered such an option in last year's model, so I won't be surprised if they do it again. Just in case, though, here is a reminder on why they should: OLED is amazing and the future.
4. Bring the bass
The B&O tuned quad speakers can crank super loud on the Spectre, making it one of the loudest devices around. You can also fine-tune the sound to your liking.
Nonetheless, I think the bass is lacking a bit, and they could use some more resonance to make the sound fuller and less tinny.
5. Awkward power button
HP put the Spectre's power button on the side. It sits very flush, and you do have search for it or just straight out eyeball it.
To be fair, I get why HP chose this position instead of a button on the top near the keyboard: this is a two-in-one convertible. When in tablet mode having the power button on the back of the tablet (the keyboard flips around) could result in an unexpected powering down situation. Putting it on the side and keeping it flush helps prevent that.
I have no solution here due to those engineering constraints. I just find the power button more of a pain to use compared to other laptops. I dunno, HP. Figure it out.
Perfecting nearly perfect
Most of these things fall into the realm of nitpicking. The touchpad and display aspect ratio are my two big wishes. I think if HP can deliver a Precision experience and jump to either 3:2 or 16:10 the Spectre will hit peak perfection.
Read my full review of the HP Spectre x360
Even with these little gripes, the Spectre is still the best in its class and – even better – it is priced far better than anything else available at that level.
Did I miss anything? Let me know in comments how you would make the Spectre x360 even better!
Windows Central Newsletter
Get the best of Windows Central in in your inbox, every day!
Daniel Rubino is the Editor-in-chief of Windows Central, head reviewer, podcast co-host, and analyst. He has been covering Microsoft since 2007 when this site was called WMExperts (and later Windows Phone Central). His interests include Windows, laptops, next-gen computing, and for some reason, watches. Before all this tech stuff, he worked on a Ph.D. in linguistics, watched people sleep (for medical purposes!), and ran the projectors at movie theaters because it was fun.
I'd make it work with non-HP USB-C hubs

It does work with non-HP USB-C Hubs. The secondary Type C port works just fine with off-market and even branded ones like Huawei's from the MateBook (I just tried). Ethernet, Type-A, etc. all seem to being recognized by the OS like any other device out there.

I tried two different Spectres with three different HDMI cables, two different displays and four different hubs. No matter what port I used, something wouldn't work correctly. If video was recognized, the USB ports wouldn't work. If the USB ports worked, it didn't detect the second display. Made sure the BIOS and graphics drivers were completely up to date. In the end, I went with the new Acer Chromebook and each hub worked on the very first try. Given HP's history with making Thunderbolt 3 proprietary, I guess it isn't surprising they did it again.

Haven't had those issues. Been VERY happy with its USB-C compatibility. The USB-C to Display Port adapter that has worked best for me has been the https://www.amazon.com/gp/product/B01E9RTEI8/ref=oh_aui_detailpage_o02_s... I'm just glad they also included a USB-A port unlike the new MacBook Pro. BTW, had the new MacBook Pro and the Apple USB-C to Display Port adapter and it didn't work. This x360 laptop is amazing for its form factor! Finally. were getting innovation! Tim

Does it support active digitzer pen input? If not, that would be my number 1 improvement.

Seems not supporting it. For me, something incredibly strange. A 2 in 1 without stylus support is a 1.5 in 1.... Things not thought to the end. At least offer it as an extra, if it's too expensive to be integrated in every type. MS can do it, so could HP do it.

I also like the 3:2 approach, I hope that essentially becomes standard for Windows devices. What I like most about this review is that these are now the nitpicks we would ever see from a MacBook over the years. It's great to see Windows OEM's come to play with some amazing hardware, something we've lacked for so long. Other than that, I'm really looking forward to Redstone 3 and NEON to see how far MS can take the Windows 10 experience and really cause disruption to the hardest of haters. It's the software that gives the hardware reason and Windows 10+ is the next big thing. It's been happening slowly ever since Windows 8 so we hardly notice but we're now finally getting glimpses of what it really means.

1. Can't say too much since I haven't used Precision. It is the best non-MacBook trackpad I've used. 2. Completely agree, although to be honest I didn't really think about it until I saw a comment on a previous story here point it out. 3. Probably wouldn't have bought it ourselves, but the option would be good while claiming to be among the best. 4. I've noticed this, although it's definitely not a high priority for me. Rarely will use it for music, maybe occasionally for movies, but its mostly a productivity machine. 5. YES! It was definitely not intuitive to find it the first time I got it and was excited to turn it on, and still takes me a bit to find it without lifting it up and looking at the side. This probably goes #1 for me.

1. Could not care less about any touchpad. Give me a Trackpoint any day. Far more accurate and much better on the move. The first thing I do with a touchpad is turn it off as a complete nuisance. Reason to buy a ThinkPad. 2. Actually, 16:9 is better for productivity. It is much easier to compare two documents side by side.

1. Stiffer hinges! Too much wobble when I touch the screen.
2. Brighter screen. I use the train a lot. When the sun shines, the screen is not as usable as I'd like.
3. The 4 rubber stands became darker color from the leather sleeve that came in the box. Really just nitpicking. The best laptop I ever had by far.

Yeah, screen brightness is a good one too. It doesn't go as bright as many others.

Agree there for some users, as that is a big deal. I heard they dropped it because (a) their audience did not use it as much/was not a reason given for buying (I've seen some of their research) and (b) they could keep the display thinner and slightly lighter (and cheaper). Still, I know some are disappointed by that choice.

Strange that it's only "some users". Besides surfing, scrolling through pictures, I don't really know why I should use the touchscreen, if it has no pen support. For me, Surface is about taking notes with the pen during a meeting, and sometimes using the pen to overcome the still very touch-UNfriendly explorer, without having to attach the keyboard while in tablet mode. For me, that is the most awkward design decision...to not support a pen in a 2 in 1 Notebook.

I never use a pen at all. Surface or not. I don't use a pen in tablet mode just like how many people for years didn't use a pen on an iPad.

If it offered a dedicated graphics card, I'd be all over it.

I was about to order 34 of these, but I agree with the nitpicking. Damn i wish the Surface 5's were out!

Dead right on the power button. Easily my least favorite thing about my Spectre x360.

I agree on the power button, nitpicking but I fumble finding it everytime. I actually like the trackpad, but have not tried the MS Precision. I have the 1st x360 and the speaker placement sucks (not loud), looks like it has improved but still not perfect. Maybe that and a QHD display will get me to trade in for a new model (:

They need to work on the hinge! Some screen bounce or wobble is to be expected, but it is way too distracting for me. It would be fine if it was kept on a desk and it rarely moved, but we are talking about a ultrabook here...they are meant to move with you! If anything, slightly reducing the glossy screen glare and/or bumping up the screen brightness would help it so that I don't notice the wobble as much.

I have yet to get my hands on the refresh 🔃... Big fan of HP in general and of the OG model. Where is the copper and/or gold option? Nitpicking, perhaps, but that aesthetic holds value for me personally. The only reason I haven't upgraded from my L950 to the EX3 is the fact I have been holding out ever since seeing the gold/gold option on the HP spec sheet. 🤞

I also want an OLED option, but only at FHD. From my experience using the latest QHD Dell XPS 13 mentioned, nothing good comes out of having QHD on a 13-inch Windows 10 laptop: your laptop will last longer and your eyes will thank you on FHD (yeah, ironic). With the Dell set to 200% dpi, which is pretty much a requirement at this resolution on a screen this small, I have to suffer through two annoyances on a daily basis: (1) some software looks super blurry when scaled, and (2) some software don't scale at all, so text becomes unreadable to me. Strangely, some software such as NetBeans IDE, one part remains unscaled (the left panel) while the rest is properly scaled (the main code editor panel). The bottom line is Retina display scaling is still superior on a MacBook.

My wife has a pre-refresh model and I like all of the ports and connectivity built into it... HDMI and SD card slot, etc. Of course getting rid of those probably made room for a bigger battery but I like having the functionality without having to carry more gadgets.

Please fix "1920x180". I disagree with your suggestion to increasing the resolution. I have the 1080p version and there is not need for higher resolution as I cannot see the pixels anyway, even when being close to it while drawing with the active stylus. 3:2 would help though, but I use Taskbar on the left side, and left docked vertical tabs on Firefox so even at 16:9 I have enough vertical space and it is useful.
I do like power button placement and after 3rd time you can instantly go to the button without even looking.
Touchpad is the worse HID anyway, so no matter how much you improve it, a mouse and a touchscreen will be 100 times more useful anyway.

"dated 16:9" lol I thought 16:10 was the dated format, there's no "dated" format though, its a tool for a job, get the one that fits, besides, 3:2 might give a "bigger"(why not call it taller?) touchpad, but 16:9 might give you a numpad, yea a numpad, we still like those too
Windows Central Newsletter
Thank you for signing up to Windows Central. You will receive a verification email shortly.
There was a problem. Please refresh the page and try again.