Tweak your tunes with the graphical sound equalizer in the Lumia 950 & 950 XL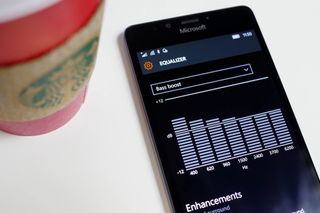 The Lumia 950 and Lumia 950 XL offer a built-in sound equalizer with 14 presets. If that's not enough, you can use the custom setting to satisfy your needs. The equalizer page isn't very obvious to find unless you've used a Lumia device before. We'll show you how to find it and what you can do with it.
Go to Settings > Extras
Tap Equalizer
Select a preset from the drop-down list.
You can use the presets to help make things sound a little better. The best thing to do is to select each preset with the music on, close your eyes, and listen. Keep the preset that sounds better to your ears. I prefer to use the Bass Boost preset.
If you have more time, you can play around with the custom setting. You can drag individual frequencies up or down. There's currently only one slot available for a custom setting.
This might not be obvious, too, but the equalizer settings for the speakers and headphones are different. Plug in your favorite headset and the equalizer settings page automatically change from speakers to headphones.
Which equalizer preset do you normally use on your Lumia 950 or 950 XL? Let us know in the comments!
News
Want all the latest news on these phones? Hit these topic pages for all that we got.
Microsoft Lumia 950 XL main page
Support and help forums
Need to chat about the Lumia 950 and Lumia 950 XL? Jump into our forums and ask others what they think or get help and advice on your new phone!
Virtual surround is the new option there on these phones. Not on older ones.

It's been there since the 920 in the form of Dolby audio, before changing to virtual surround in recent models. Except for the lower end models.

Same here, I have it on my 640...

My old 920 had it a long time ago. Why do people make these stupid comments on the internet. Are they retards?

And then people make these pointed comments forgetting that there are people behind the usernames.

Well I expect nothing less from MS, My old 920 even had this in audio settings, Do they have a colour screen too? ;-P

I also have lumia 920. For now we have audio in extra settings (windows 10 mobile). I believe it will change to the newest modern interface like some other settings did (like glance did)

I wish it would work with my Bluetooth headphones, they are a little heavy on the bass but it is locked for Bluetooth headphones. Does anyone know if there is a good reason for this or is it just a missing feature?

This has bugged me since Windows Phone 8 came out. I wish they would add it.

Maybe virtual surround requires the phone's DAC to be in use, where in your case the DAC is in the Bluetooth Headphones themselves.

Are you sure that wasn't fixed starting with the Lumia#3# generation?

Definitely a missing feature :( There are at least two apps featuring an equalizer that works with bluetooth (MC Media Center and MeeDJ) - so it's absolutely possible. I actually use MC Media Center with my bluetooth headphones (the app looks awful, but it works).

The equalizer should have a quick action button option !

The equalizer is a bit buggy and clears the setting every once in a while; otherwise, electronic EQ with custom bass and tremble sounds good...

If only they had a way to backup

Exactly like we can in WP81. Except WP81 also does Dolby Volume Levelling, which is great for classical music, and Dolby dialogue enhancement (never use that though).

It should be right in the groove player settings like in mix radio and not hidden under some menu

Mix Radio opened the phone's settings via the app settings, but yes a button within the Grove app settings would be nice. You should submit that feedback to them.

You have the right idea, volume settings should be specific to the device and most players should have access to that....I will add that on my end, or look for theirs and simply upvote. Upvoting rules! =D

Why can't you tweak the output for BT?

Ask btsig why that wasn't a requirement

Aaaand it resets every time after I exit

Are you guys really bored or something??

idk, are you? it's pretty dead here at work...lol =p

I hope they eventually replace the audio settings in older lumias with this for a more unified experience

Just wait for Windows 10 mobile to roll out to Lumias and you'll get it. I doubt they're going to enhance anything in the older versions.

Works great for me. Is it better than iPhones or Androids? Honest question.

Not compared to android PowerAMP. I have that and it blows when you have the hardware and the right EQ tweaks. But this is good enough really. Coming from PowerAMP I can really settle for what this gives. - 1020

The poweramp team thought about an app for windows. Still hasn't happened tho. Really miss this on my old Evo.

Any Lumia device I've used sounds nicer than any iPhone I've owned or friends have owned. It comes down to personal preference though.

It would be nice to have an option to let the OS auto select the EQ setting based on the music genre stored in the song's metadata. I use the Rock preset since it rounds out the sound nicely. I don't use the virtual surround sound in W10 mobile because it's just a lot of reverb instead of enhancing the sound like Dolby did in WP8.1.

Electronic or rock or r&b is the best preset + virtual surround on my Lumia 640

No system-wide volume normalization though?

I never understood why they removed the volume levelling option on the L640. Apparently they also didn't feel like bringing it back for W10 either. Bah.

640xl has it along with a non functional continuum app. Praise the lord for homemade packages

The one aspect that I like about the EQ on the 950 (and it's about the ONLY thing I like) compared to my 1020 is that it works without forcing you to be listening through the headphone port.

Yes my 925 is like that, have to use headphone port to use equalizer. True most of the time I am using a headset, though bluetooth doesn't work, but wish it had the option to EQ.

One of the few rhings that I like about iTunes is the ability to set the equalizer setting by song. Nice when you are listening to a mix. This woukd be a nice feature on WP.

No lumia specific setting can be pinned

And again, is this for Lumia only or is available for other brands too (Samsung, HTC)...?

I wish there was a "macro" of sorts so that when I open up a podcast app it switches the profile to voice and when i open a music app it goes to a music profile of my liking.

After some comparisions I can tell that my old Muvo V200 has way better audio quality than my Lumia 830. What I really hate about audio in L830 is that sound dynamics is totally flattened, you can only make it worse by using Dolby Volume Levelling, especially for any dynamic music. Using equaliser to boost the bass makes all the sound go low on more "noisy" parts of the tune. Any sound trying to go louder is immediately flattened and pulled to lower level. Seems like kind of "total output power level limiter" is in place, regardless of this DVL option.It really ruins listening experience.

Sound of 950/950xl is terrible. Lumia 930, 1520, 820 have a perfect sound, but 950 is too bad. New virtual surround is very bad too. Dolby was better. And that equalizer!!! 6200hz is a mid range, and here's no high frequency control (16khz). Hope they'll fix it, cause I'm sure that hardware is ok (YAMP music player with built in equalizer sounds exellent)

So frustrating that the equaliser cant be used with bluetooth headphones!!!! Why!!??!!
Windows Central Newsletter
Thank you for signing up to Windows Central. You will receive a verification email shortly.
There was a problem. Please refresh the page and try again.