HP Pavilion x360 are Spectre-like laptops that don't break the bank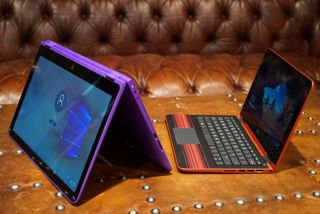 This morning, HP announced a series of new laptops for the back-to-school market or anyone who is looking for a two-in-one that won't make them broke.
The HP Pavilion x360 borrows heavily from last year's excellent Spectre series but brings the price down while amping up the color options for those who want something a little more exciting.
The x360 line-up is available in 11.6", 13.3" and 15.6" models with many configuration options depending on what you are looking for in a laptop. While the 11.6" and 13.3" versions are now lighter and thinner compared to last year the 15.6" is all new to the series.
The 11.6" x360 weighs 2.93lbs with a 19.3mm thin profile
The 13.3" x360 weighs 3.48lbs with a 19.8mm thin profile
The 15.6" x360 weighs 5.07lbs with a 23.9mm thin profile
Regarding colors, you get quite a few choices including Natural Silver, Modern Gold, Dragonfly Blue, Cardinal Red and Sport Purple with a new "digital thread design" with a pearl finish on the keyboard deck. Other specs include:
All models feature one HDMI, two USB 3.0 ports, one USB 2.0 port, SD card reader and audio combo
HP Fast Charge on select models, charging the device up to 90% in 90 minutes when powered off
Up to 512GB SSD with the option for hard drive storage up to 1TB HDD, depending on the model
HD and option for Full HD IPS displays on the 13.3" and 15.6" diagonal models
Audio expertly tuned by B&O PLAY provides superior sound quality for entertainment in any mode
The Pavilion x360 11.6" features up to 10 hours of battery life and up to 8GB of memory with the choice of Intel Celeron, Intel Pentium or 6th Generation Intel Core™ i3 processor
The Pavilion x360 13.3" packs up to 9 hours of battery life and 16GB of memory with the choice of 6th Generation Intel Core i3 and i5 processor - The Pavilion x360 15.6" notebook offers up to 9.25 hours of battery life and up to 8GB of memory with the choice of Intel Pentium or up to 6th Generation Intel Core i7 processor with optional NVIDIA GeForce 930M graphics
Pricing
The 11.6" HP Pavilion x360 starts at $379.99
The 13.6" HP Pavilion x360 starts at $479.99
The 15.6" HP Pavilion x360 starts at $579.99
All versions of the Pavilion x360 will be available mid-May.
Why we like 'em
Like the regular HP Pavilions announced today the x360 brings that nifty ability to turn into a tablet-like device for a more flexible experience. The colors are just outstanding, and you get the same hinge design from last year's Spectre series, which looks fantastic on these devices yet won't leave you poor.
Oh, and the 15.6" even has an ethernet port. Nice.
Our take: definitely keep in mind if you need something for school, home, or something that more affordable than a straight up Ultrabook.
Daniel Rubino is the Executive Editor of Windows Central, head reviewer, podcast co-host, and analyst. He has been covering Microsoft here since 2007, back when this site was called WMExperts (and later Windows Phone Central). His interests include Windows, Microsoft Surface, laptops, next-gen computing, and arguing with people on the internet.
Isn't $379 too expensive? What ever happened to the Stream series? Are they discontinued for good? I remember the Stream 11 for $199

Stream does not equal Pavilion line, which does not equal Spectre hence the different category names. These are mid-range computers, not low-end. Different topic altogether.

I know, was asking if the Stream line was discontinued, cos those were truly back to school, affordable prices

You're not wrong, but we are not at the Back-to-School season yet. They may announce new models at a later point.

@2:07, whose Windows Phone is that going off in the background? :D And no pen support? Booooo!

Where is the spectre x360 with oled??? It's may already. Posted via the Windows Central App for Android

It Looks attractive to me!

Why in the world would you offer SSD in all sizes except 15"? That one makes no sense.

Agreed, I though that HDD only on the 15 was weird too.

Yup, more so given that price of storage is pretty cheap anyway

I like the retro-vibe of these, especially the orange one. Screams Atari or late 70s/early 80s tech. Price is right.

Yess the orange one looks sick, but I would probably choose purple personally.

It is better to buy one of these laptops instead of buying a lumia 950 or lumia 950 xl already own a lumia 640 xl

What? That's like saying you are better off buying a flat screen TV instead of a trampoline. What does a phone purchase have to do with a laptop purchase?

I think he might refers to continuum.. Posted via the Windows Central App for Android

I think it depends on what you plan to use your computer for and whether someone wants to shell out cash for both a phone and a laptop. You already have a phone that you don't plan to upgrade and this laptop is cheaper than a 950 so maybe it's not for you but not everyone has the same circumstance.

I own a 640Xl, but I can't see myself working on a presentation or spreadsheet on it. I can't even take notes from a classroom on it. the screen is just too tiny. I don't even watch movies on it, at best some short videos. So laptoop for me has a different usage than a phone.

There's no active digitizer, obviously. Could be very useful for college students to take notes and stuff. Passive styli are not really good for writing.

To use Windows efficiently in tablet mode I need an active pen.

Why such low resolution screens? 720p on an 11" screen? I can get double that on a 5" screen (phone/mobile device). I do realize HP is positioning these devices at a particular price point, but still...

Your 5" 1080p office costs more than the 11" laptops

cost of the screen is not just about pixels. The 5" screen you are talking about would be amoled or super amoled. If they make such screens for laptops, that would make them super expensive. Answer to your question in just one word: Cost P.S. Have you ever wondered that even a 32 or 42 inch TV screens have the same resoltution as your 5" phone? Apart from cost, the further you get away from your device while viewing its screen, the less pixel density you need.

With so much use of the words 'up to' in that video those prices mean nothing.

Must be your first time buying a laptop...

I also think that if their gonna give starting prices they should detail the base models.

Elite x3 Elite x3 Elite x3 Elite x3

Does it say anywhere if these are touchscreens?

Why will it turn all the way around if it isn't touch?

Yeah, good point. I figured it looked like a touch because of that, but touch is also usually a top note in the specs. Maybe this is good -- maybe now touch has become so common, that it's no longer worth mentioning.

yes, she said so in the video .. around 1:10 - 1:15

You're right. I had somehow missed it the first time I watched. Thanks!

Yup i was referring to continuun in my last comment friends i already own a lumia 640 xl lte dual sim and its better for me Because basically use my phone to surf internet,watch videos and movie and use whatsapp and very often use powerpoint,word,excel i only use laptops mainly for playing heavy games and do coding regarding c++ continuum on lumia 950 and 950 xl is not capable of running these kind of desktop apps

No option for a 7th generation AMD APU? Sigh. Their new Envy 2 in 1 will have it.

I have been uinsg the AMD A10 powered envy laptop, and quite frankly, I am not going back to AMDs anytime in near future.

Wow, now THATS good value! I would love to get my hands on one!

There was me thinking these would be laptops James Bond would use ;)

Nifty. But: No green, no buy!

I have been ranting about the cost of microsoft devices here in India. However, I am complete in love with these devices. they offer exactly what an average user needs at a very competitive price point. I will wait for them to come to India to replace my Envy.
Windows Central Newsletter
Get the best of Windows Central in in your inbox, every day!
Thank you for signing up to Windows Central. You will receive a verification email shortly.
There was a problem. Please refresh the page and try again.