HP unleashes a bunch of new Windows 8.1 tablets made for work and school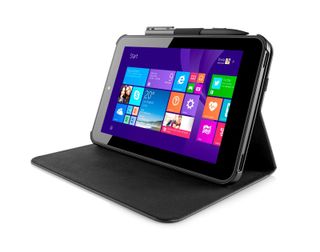 HP is introducing a series of new Windows tablets and 2-in-1 devices that have been designed specifically for businesses and schools. The products include a new rugged tablet and one made especially for the healthcare industry.
The new products include:
The HP Elite x2 1011 G1, an 11.6-inch Windows 8 Pro 2-in-1 device with a detachable keyboard. It will have a starting cost of $899 and supports a number of optional accessories.
The HP Pro Tablet 408 G1, an 8-inch tablet that will start at $299 and comes with up to 64GB of onboard storage.
The HP ElitePad 1000 G2 Healthcare Solution, a 10.1-inch device that has a antimicrobial treatment to protect the product. It's starting price is $1.499.
The HP HP ElitePad 1000 G2 Rugged Tablet, which also has a 10.1-inch display and resists both water and dust. It also has up to 20 hours of battery life, with the price starting at $1,599
The HP Pro Tablet 10 EE G1, which has been made with schools in mind. The 10.1 inch tablet has passed tests for resisting dust and moisture and includes special education software tools. The price starts at $299 for education customers and $349 for all other customers.
HP is also launching a Retail Case for ElitePad tablets that include "two built-in cradle areas for mounting payment devices and the ability to dock to existing POS solutions."
Press release
HP Drives "Business-First" Approach to Mobility
New Devices, Services and Network of Partners Work Together to Create Solutions That Are Built for the Way You Work
PALO ALTO, CA--(Marketwired - Jan 20, 2015) - HP (NYSE: HPQ) today unveiled new commercial mobility solutions that transform the workplace and unlock the power of productivity. Eight new mobile devices, an ecosystem of accessories and new strategic relationships allow companies to streamline and simplify their business operations while providing the IT department confidence the task can be managed securely.
"Mobile devices are changing how we live and work, and they also pose significant challenges to IT departments who have to support their now mobile workforces while keeping corporate data managed and secure," said Ron Coughlin, senior vice president and general manager, Personal Systems, HP. "HP is the world's largest commercial computing provider to the world's largest companies. No other company is better suited to address commercial mobility than HP. Our devices feature built-in security, manageability and durability. When paired with our ISVs' robust solutions, HP has created an ecosystem that helps companies to powerfully and securely harness the promise of mobility."
Mobility not only changes where people work, but how they work. The current approach to business mobility is to retrofit consumer devices and attempt to make them enterprise-ready, or drive customer lock-in to a single platform or device.
HP is taking a modular approach featuring secure, purpose-built devices. By supporting multiple operating systems, HP is giving business customers a choice of application eco-systems and user experiences. When coupled with the new software offerings from HP and its partners, the company has created a complete mobility solution for all businesses -- including education, field service, healthcare, public safety and retail industries.
Purpose-built devices to mobilize the workforce New tablets and 2-in-1devices running Microsoft Windows operating system, along with new tablets built on Google's Android™ operating system, all feature built-in security and can be tailored to meet specific use-case requirements with a focus on embracing business mobility. These new devices include:
HP Pro Slate 8 and HP Pro Slate 12 are high-definition (HD) commercial-grade Android tablets. Available in 8-inch or 12-inch diagonal displays respectively, the tablets are powered by a Qualcomm® Snapdragon™ 800 series processor2, and support a 4:3 aspect ratio to easily view business documents and access business applications. Less than 8 mm thin, these lightweight tablets offer powerful computing and business-day battery life3 with enterprise-grade security and manageability. Both devices are designed with business productivity in mind featuring a wide range of accessories enabled by HP's Zero Force connector. HP Pro Slate 8 is one of the first tablets to market using Corning® Gorilla® Glass 4, Corning's toughest cover glass to date.
HP Duet Pen, the first to use Qualcomm Snapdragon digital pen technology4 on both a tablet and regular paper, is included with the HP Pro Slate 8 and HP Pro Slate 12. The pen is part of the HP's Blended Reality Ecosystem, helping employees be more productive and create easily shareable content by writing and digitizing input from the device's screen or via a regular sheet of paper using the HP Paper Folio5.
HP Elite x2 1011 G1 is a lightweight, stylish, 11.6-inch diagonal 2-in-1 Windows device running Windows 8 Pro easily transforms from a tablet to a laptop with Ultrabook configurations available6. Tested to military specs for durability7, the Elite x2 adapts to personal work preferences with an ecosystem of optional accessories8 that includes an industry-first WiGig enterprise wireless dock9 based on a joint collaboration with Intel, along with a cover, a lightweight travel keyboard and an optional Wacom pen10.
HP Pro Tablet 408 G1 is an affordable, 9 mm thin, 8-inch diagonal Intel® Atom®-based business tablet that provides a full Windows 8 Pro experience and the mobile accessories11 to help keep users productive when away from their PC. With business-class features like micro-HDMI, up to 64 GB of storage12 and an 8 MP rear camera with flash, the device gives IT the serviceability, security, manageability and commercial lifecycle it requires.
HP ElitePad 1000 G2 Healthcare Tablet is designed to improve caregiver productivity and enhance patient interaction. The durable and lightweight solution has an antimicrobial13 treatment to protect the product, can be cleaned easily, and meets IP 5414 specifications. Deployable in any clinical environment, the tablet helps reduce the risk of medical errors by using the 2D barcode reader to validate personnel, patients, and catalog and administrate medication.
HP ElitePad 1000 G2 Rugged Tablet is an ideal solution both in and out of the office for mobile workers in manufacturing or in-field environments. IP 6515 rated for water and dust and MIL-STD 81016 testing, with up to 20 hours of battery life17 and a 2D barcode reader to quickly access information.
Built with the rigors of the school day in mind, the Intel Atom-based HP Pro Tablet 10 EE running Windows and the HP Pro Slate 10 EE Android tablet feature a durable design that passes IP-5218 testing for dust and moisture, is built to withstand the rigors of an education environment, and includes an on-board garage for the optional stylus, plus a hard-wired keyboard base option19 for more convenient and secure 1:1 learning. HP offers robust solutions to help schools manage their devices, including: HP Services for Schools20, a combination of consulting, leadership development and teacher training to help schools use technology to improve student achievement; HP School Pack, a range of learning tools and IT resources, from eBooks and classroom management to security and onboard IT support; and HP Classroom Manager, an easy-to-use classroom management software that allows teachers to view and control student devices and encourages collaboration21.
The all new HP Retail Case for ElitePad offers retailers a versatile mobile and fixed POS solution for their employees, with two built-in cradle areas for mounting payment devices and the ability to dock to existing POS solutions. The new solution's design features hand and shoulder straps, giving retail store operators an easier and more comfortable way to access inventory and product availability, as well as improving the checkout experience. The HP Retail Case for ElitePad also allows retailers to physically attach a mobile payment device (PED or PIN entry device) of choice to the case from vendors like Ingenico, Verifone, AnywhereCommerce, and PayPal and accept a range of payments such as EMV, NFC, MSR, and most digital wallets.
Solutions focused on mobilizing industries
HP is collaborating with leading independent software vendors (ISVs) in healthcare, field service and public safety industries, including Cerner, Intergraph and SAP, along with system integrators and service providers to deliver complete business solutions focused on mobility.
Cerner is working with HP on delivering purpose-built healthcare solutions and applications that will enable clinicians to further embrace mobility in the healthcare industry.
Intergraph is announcing the release of its Windows 8.1 mobile application for public safety agencies. Intergraph Mobile Responder extends Intergraph's Computer Aided Dispatch solution to emergency responders in the field. Mobile Responder is optimized for devices such as HP's ElitePad 1000 G2 and the HP ElitePad 1000 G2 Rugged Tablet as part of a joint partnership between HP, Intergraph and Microsoft.
The SAP® Enterprise Asset Management (SAP EAM) solution is planned to be an integration centerpiece to help bring innovative workflow solutions to vertical customers and industries, extending the mobility service value chain for service and inventory management coupled with the HP ElitePad 1000 G2 Rugged Tablet.
HP Enterprise Services (ES) will also deliver an end-to-end mobility business solution. Within this collaboration, HP ES will take the newly announced devices and integrate them into the customer's network while adding mobility software, apps and security layers to simplify implementation and management.
Pricing and availability These devices are available as a managed service or subscription, offering businesses flexibility and a new way to deploy mobility.
HP Pro Slate 8 is available now with a starting price of $449.
HP Pro Slate 12 is available now with a starting price of $569.
HP Elite x2 1011 G1 is expected to be available in late January with a starting price of $899.
HP Pro Tablet 408 G1 is available now with a starting price of $299.
HP ElitePad 1000 G2 Vertical Solutions, including:
HP ElitePad 1000 G2 Healthcare Tablet is available now with a starting price of $1,499.
HP ElitePad 1000 G2 Rugged Tablet is expected to be available in February with a starting price of $1,599
The HP Retail Case for ElitePad is available now with a starting price of $199.
HP Pro Slate 10 EE is available now with a starting price of $279.
HP Pro Tablet 10 EE is available now with a starting price of $299 for education customers and $349 for all customers.
To learn more about HP's approach to business mobility and wide range of end-to-end solutions, visit www.hp.com/businessmobility and www.hp.com/newstyleit.
Source: HP (opens in new tab)
Windows Central Newsletter
Get the best of Windows Central in your inbox, every day!
Enjoyed the two second glittery glory of the first comment?

The Pro Tablet 408 G1 seems like a nice bang for the buck.

I was thinking the same thing..

HP is doing it very well, specially with they Stream product line, lets hope this new products made them earn a good amount of cash in order that they make new good (and inexpensive) products

Im a HP fan and these look ok, but I'm growing increasingly tired of reading about android devices.

Idk how many more tablets we need on the market. Seems like new ones come out daily. And its only Windows... Doesn't include the shit droids and other crap brands. Overwhelming.

I'm I the only one who finds tablets as a waste of money? A phablet yea I understand, but tabs? Nah man

Ipads and Androids are a waste of money, with the Windows Tablets you have a full blown PC when you connect a keyboard and mouse

Notebooks are a waste of money. They are a shitty compromise between hybrid tablet and desktop. A desktop has power and can be upgraded. A hybrid is very portable and has long battery runtimes. A notebook has the disadvantages of both. Barely any upgrading, low power and yet pretty bad at portability. Can't use a laptop while relaxing on a couch.

"Can't use a laptop while relaxing on a couch." Hmmmm. I know what you're trying to convey but it's not accurate. I surf on the couch with my laptop ALL the time.

"HP Elite x2 1011 G1"... "HP Pro Tablet 448 G1"... Boy, their names are confusing!

In the picture at the top of the article, that stylus is almost definitely the synaptics stylus, ala Dell Venue 8 Pro. No mention of the stylus in the Windows tablet descriptions (forgive me if I missed it).

I wish dey come to India..

Windows tablets are on a tear

I'm actually looking for a Windows 8 Tablet, but here in México are just avalaible a little bunch, and not that good enough (we have just the Surface Pro 1! damn!), and the HP Pro Tablet 448 G1 looks like a nice choice! (Also, I'm waiting for the Lenovo ThinkPad 8 to arrieve here in México... I bet that is never gonna ever came here).

I'm still a little upset at HP over the Palm/webOS fiasco and I have an HP laptop that had a hard drive fail not too long before the motherboard failed. I was glad that I had purchased an extended warranty that covered the repairs. It will be some time before I would consider purchasing an HP device for myself. That being said, I did purchase an HP Stream 7 as a gift for my mother-in-law. I have to admit that it is an impressive product for just $100.

Would be a better idea to use the healthcare edition in schools...

Looking after IT at a school I 100% agree with you. The number of screens we clean that have been sneezed over is quite disgusting! Funny how the 'healthcare' model jumps rapidly in price, imagine if there was a 'wedding' model, how expensive would that be...

hp, sony is good for gaming and dell lenovo good for work. asus needs to make good hardware now.

Looks like I finally found an 8" tablet with high enough resolution to get me to five my iPad Mini 2 to my wife. It'll either be one of these or the Toshiba Encore 2 Write. I've been waiting for a while to replace this thing but I couldn't justify dropping to 1200x800. Now it looks like I finally have some choices.

Cool to see them step up their offerings. However unlike the article states HP is not the number one selling brand in the corporate world any longer, that honor has been held by Lenovo for some time now.