HSBC Brazil releases official Windows Phone app, leaving out the rest of the world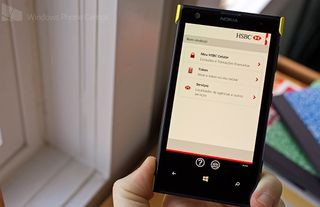 British international bank, HSBC has released a Windows Phone app for the region of Brazil. The official solution brings mobile banking to the platform, offering customers new and more convenient ways to manage their money and accounts. If you reside in Brazil, hold an account with HSBC and are looking for an app for your Windows Phone, head on past the break for all the details.
Just like other apps already available on the Windows Phone platform, HSBC offers various banking services through the app. The bank makes use of its secure token generators to provide safe access that doesn't hinder usability. Some features include query balances, latest releases, transfers and payments, plus make withdrawals without your debit card at any HSBC ATM – pretty neat.
Corporate customers are also able to check balances, statements, initiate transfers and make payments while on the go.
It's a start and we're pleased to see part of the banking group come on-board. That said, numerous other markets where HSBC operates (including the UK) are still waiting for official support in the form of apps. Now for the rest of the world to follow, please HSBC.
You can download HSBC from the Windows Phone Store for free (region restricted and Windows Phone 8 only). Thanks, leoberto, for the tip!
Windows Central Newsletter
Get the best of Windows Central in in your inbox, every day!
Rich Edmonds was formerly a Senior Editor of PC hardware at Windows Central, covering everything related to PC components and NAS. He's been involved in technology for more than a decade and knows a thing or two about the magic inside a PC chassis. You can follow him on Twitter at @RichEdmonds.
Oooooiiioioi I want it so bad thanks

http://imguol.com/2012/10/18/04-silvio-santos-1350568710504_500x375.jpg

Sorry for hijacking the comment, but I received an annoying message from a thing called "Incapsula" while visiting the site, asking for a security check, a captcha, and highly recommending that I check my computer for malicious software. Also the site doesn't look right: http://d.pr/i/rATC Can you please verify that your site hasn't been infected by something? If you recently intentionally added this "Incapsula" thing to your site, please ask them to check their systems to prevent those scary messages. There is nothing wrong with my computer.

I got the same on my phone. Be nice to know if this is part of WP Central or not. Seems wrong saying my PC is infected when I am using a phone. Highly suspicious..

Wanted in UK please, HSBC.

Brazilians are awesome❕❕❕❕❕❕❕❕❕❕

I love a Brazlian. And commando. Hrhrhrh

So now that guy who always says that no one ever makes apps for Brazil has something to brag about

Hahahahs. I never said that. I said that is a lot of work to be done here.

Developer, I can help to add to US marketplace. Ask me how. :P

Needs a uk release! I still use android for my banking. Would love to see this on windows phone

Day 1146: Still waiting for the official Barclays App.

I read they will be releasing an app. I think it was here that I heard about it.

That's a good sign. Banking apps are killing our platform. Santander and ulster bank please step up. According to ulster bank on twitter, they have "good news" coming but no release date

Santander Brazil confirmed that they are developing a WP app... about a year and half ago =_= Getting really tired of tour sh*t, Santander....

yup. waiting for it too. It´s the only one of the biggest banks with business here that does not have an app for wp and win8.

Brazil? Must be insecure then...

orly? =p actually financial system in Brazil is one of the bests in the world. Too long harassing people wallets made then PhD on it.

Lets hope WP gets more banking apps soon. I for one had to buy a Moto G why? Because when i am on a trip for work or personal i need to transfer money or check my accounts, in 2011 Bnp Paribas Belgium said they where coming soon to WP almost 3 years later still nothing released in the Marketplace! I hate the word "soon" when it comes to releases could be 1 week or 3 years i guess.

Working great, installed and have token and can do transfers etc.... Great!!!!

I'm curious if an equivalent HSBC app for iPhone exists worldwide.

at least in brazil has.... for android and apple we use also the app to generate a code, called token, to increase security in the transactions....

There is one for Mexico as well and its been recently updated since it had some issues on WP 8 when synchronizing with the bank token, the app for Mexico is for both WP 7.5 and 8

Actually the app works on both Windows Phone 8 and Windows Phone 7.5

True! Although I don't have an HSBC account, I installed it successfully in my Lumia 710.
Bradesco has a pretty neat app also. But...still waiting for Santander. Horrible bank.

the app is great. very clean and easy to use with all the needed features. +1 to hsbc. i wasn´t expecting.

What?? Only works in Brazil?! I so want this app but I'm in Canada..

Let's hope HSBC UK and the rest of Europe follows through. Very important for the platform.

One thing I can't stand about windows phone is the lack of banking apps.

Looking forward this being released in the UK but I'm sure they must be using Brazil as a testing ground so I'll gladly wait :)

This app is also available in Mexico.

Yeah... we all know that women are really hot in brazil and stuff but we have had that app in Mexico at least for some weeks ;) nice to know we were one of the first and being a test lab for the world hah... by the way the app works very well for me so, no bugs to report.

HSBC UK need to pull their finger out if their arses.

Same app is also available for customers in Mexico
Windows Central Newsletter
Thank you for signing up to Windows Central. You will receive a verification email shortly.
There was a problem. Please refresh the page and try again.