HTC 8X Windows Phone headed to AT&T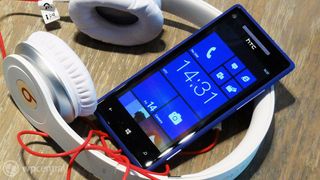 We reported earlier that the HTC 8X Windows Phone was headed to Rogers Canada. You can now add AT&T to the list of wireless carriers who will be offering the new HTC Windows Phone.
In a short and to the point press release AT&T has confirmed plans to carry the 8X with the coming months. AT&T did not release any information on pricing.
If everything holds true and the Nokia Lumia 920 lands on AT&T's shelves, AT&T customers may have a hard time deciding on their next Windows Phone.
Source: AT&T (opens in new tab)
Windows Central Newsletter
Get the best of Windows Central in in your inbox, every day!
George is the Reviews Editor at Windows Central, concentrating on Windows 10 PC and Mobile apps. He's been a supporter of the platform since the days of Windows CE and uses his current Windows 10 Mobile phone daily to keep up with life and enjoy a game during down time.
like you said, what's the pricing? If the 920 and the 8x are the same then you would be crazy to get the 8x

"If the 920 and the 8x are the same then you would be crazy to get the 8x" Exactly!! This makes me think that the 920 will probably be $250 and that WILL NOT be a good thing if it's true.

Or...Nokia can do what it did last time (Lumia 900 that is) and sell it for $99.99 and take a small hit for every phone sold.
Just because these companies run WP8 doesn't mean that they are buddies and want to all help eachother. At the end of the day, they are competitors.

Nokia didn't take a hit on the Lumia 900. It was designed to be $99, and clearly made out of cheaper internal parts. When the HTC One X can be sold for $99 today, it's pretty obvious that the Lumia 900 was never a high end phone.
I do expect the HTC 8x to be $199 and the Lumia 920 to be $249. More expensive than the 8X with 16GB, cheaper than the iPhone 5 at 32GB for $299, and similar to the Galaxy S III 32GB at $249. It's a good price lineup.

I agree with you. The 920 is high-end, period. Glad to know I'm not the only one that thinks it will be priced at $249.

$249 price doesn't sell phones. $199 is the sweet spot. The Galaxy Note launched at a higher price and didn't really move until they brought the price down. Nokia needs to take an initial hit to get some marketshare, that's usually how it works.

I like the 920 too, but I wouldn't disagree if someone else preferred the 8X. I think it's a nice looking phone with solid specs

I really like the HTC Windows Phone. Im personally sticking with Nokia though. The services and apps save me data usage and money lol.

Hate to link to another site, but Slashgear is reporting that it is going to ALL carriers in the US.

http://www.slashgear.com/htc-confirms-8x-and-8s-for-att-verizon-and-t-mo...
(Sprint doesn't count because they decided to skimp on WP8 thanks to a nice 15.5 billion dollar weight carrying them down)

At least I'll be able to get a decent WP8 phone on tmob if true. Too bad there's no 920 there :(

Thought HTC said it would be going to AT&T, Verizon, and TMOUS ?

Still, the hair better camera, wireless charging and 32gb of ram, I am leaning towards the 920 if it hits Verizon... If the 8X had a MicroSD slot to move it to 32gb or higher, it would made it really hard. I have 16gb in my trophy and I'm always running out of space..so the 920 is the one

I don't understand microsofts plan.How many WP fans just switched to ATT for the Nokia lumia 900? So MS is expecting them to early upgrade for the HTC 8X or 920? The WP fans that weren't on ATT just switched a few months ago for the 900,the amount that switch now will be lower,because most diehards are already locked in over the 900,few like myself waited patiently with our HTC arrives and what not but that is a low number. Microsoft NEEDS to get 2 of the 3 flagships (920,8x,Samsung) on ATT AND Verizon,T-Mo or Sprint at LAUNCH The carriers matter in rural America, ATT has horrible service in Northern California, Verizon is better for example and it plays out all across the country like this. I want this OS to succeed as much as anyone but people will not join a crappy carrier just for a Nokia 920,MS and Nokia need to work this out fast.

Microsoft can't dictate to carriers what phones they want to carry. It's unfortunate, but this isn't Europe where every phone works on every carrier.
I also think the diehard Windows Phone fans are only just now coming out of their 2 year contracts at the point where the Lumia 900 was available but Windows Phone 8 had already been announced.
I do feel sorry for anyone who recently bought a Lumia 900 (heck I carry one now), but I think it was always clear that it was a stop gap for better things to come. A $99 phone should have set off warning bells. If you want a high end phone, prepare to pay a high-end price ($199+) subsidized for it.

I'm well aware they can't "dictate" which carriers carry what but they can sweeten the deal for them.
Nokia can make cdma versions of 820 and 920 as well to offer them It doesn't seem like they are pushing the OS as they should either. When I watched the MSNBC app on my XBOX LIVE all they play are Verizon and even android adds,do they need the money so bad they can't play WP adds anywhere on their console?

Damn you California blue!

I was really expecting them to pull a rabbit out of their hat and announce the Titan III and not merely the midrang Accord (8X) dressed up.

The 8X can not touch the 920, and now my choice is clear. I really wanted a harder decision than this. Sure, they may annouce Titan III in 2-3 months, but by that time my 920 and I will have sealed the bond.

You might have to make your choice based on price ;-)

The HTC Zenith is still coming in December. 4.7" display with Qualcomm Snapdragon S4 Pro. It'll be a beast.

My phone is on its last leg, Ive been holding on to my upgrade since June. I don't think I can wait on conjecture.
Now if the Zenith (Titan III) is 4.7 SLCD2, with microSD, 1280x768, s4 Pro (quad core). I will have buyers regret with the 920. We will see.

Do we have any hard Intel besides the leaked specs?

Great looking devices, well done HTC!
But, anything other than Nokia is not an option for me, their apps and support (specially where I live) are unmatched (not even close...). A 820 it is.

Screw Att. How is it that Att gets every phone when they have the worst coverage? I want to know if anyone else gets the 920 or not. Why can't we get a final answer on that?

Actually all carriers have even coverage, no matter who you go with there are dead zones and brown zones.

Obviously you have never been a sprint or tmobile customer. Lol I'll admit verizons coverage is generally better but att's data speeds average higher and for a data centric os like windows phone it is better to have those speeds. Granted the tiered plans are annoying but i hardly ever go over. At this point until lte is bigger across all carriers that situation will remain the same.

Sayonara, Sprint! This is what I was waiting for.

http://www.nokia.com/global/products/phone/lumia920/specifications/
seems like the 920 is a world phone. so should be out or Verizon
Bands GSM 850 GSM 900 GSM 1800 GSM 1900 WCDMA Band V (850) WCDMA Band VIII (900) WCDMA Band II (1900) WCDMA Band I (2100) LTE 800 LTE 900 LTE 1800 LTE 2100 LTE 2600

Is it just me or those live tiles has subtle rounder corners? I don't think it's a visual illusion of some sort. I've seen a hands on video and I saw those rounded corners again. http://www.youtube.com/watch?v=F2vjD6U0zSs&feature=player_detailpage#t=89s

Does the 8x have NFC? If so i'm 80% sure to buy that over the 920 myself on ATT. For the form/thinness and audio. Excellent phones by HTC that really hit the mark (unlike the clumsy Titan and *puke* Verizon Trophy)
Windows Central Newsletter
Thank you for signing up to Windows Central. You will receive a verification email shortly.
There was a problem. Please refresh the page and try again.