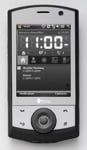 The Touch Cruise is looking to be the new king of the GSM hill - Quad-band GSM/EDGE/UMTS/HSDPA, WiFi, GPS, FM Radio, HTC's TouchFLO interface, and a decent amount of processor power and memory all wrapped up in a pretty slim form factor. That's 'slim' as in "no physical keyboard" slim, 15.5mm, just about 1.5 mm thicker than the original HTC Touch.
Actually, comparison-wise, the Touch Cruise pretty much beats up the original Touch in every conceivable category except size. The little guy even is going to come pre-loaded with TomTom GPS software (with maps for Europe, though). That "European map" bit is your clue that HTC is going to start selling it SIM-free in Europe and we don't have any US carrier info yet. We called up AT&T and they said something about front-facing cameras giving them an inferiority complex about their network and would we please stop bringing it up.
Go on and get your press release (opens in new tab) or your Official Specs (opens in new tab), you crazy rascals.
Windows Central Newsletter
Get the best of Windows Central in your inbox, every day!
I have posted my first impressions on the Touch Cruise over at Mobility Today.http://mobilitytoday.com/articles/htc_touchcruise_impressions.html#c14545

⊙ ⊙ say:good..portarit2000

Support of the Lou Zhu, Lou Zhu worked hard
Signature--------------------------------------------------------------------------------------------------------------------
Nothing is impossible for a willing heart.
ugg bailey button
ugg classic cardy