HTC is first to push own ROM update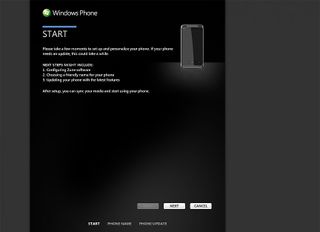 While NoDo is still in the process of being tested and rolled out across networks, HTC have played a wild card and have began rolling out their own update. While we previously covered the news that Dell is looking to push out their own separate update post-NoDo, but this is the first attempt from a manufacturer on the platform.
[Edit: Actually, Samsung has been doing it with the Focus for various users too]
According to the information received at TheUnwired (opens in new tab), users are reporting that they too are receiving the update while being prematurely on NoDo, so it seems as though ChevronWP7.Updater isn't such a huge problem (opens in new tab). This - of course - is an update from HTC and not Microsoft though.
Our own George Ponder has received the update for his Surround (updates the firmware to 2250.09.10307.502) and notices that their is no noticeable change in performance, and no word has been located as to what the update actually add and/or fixes. Could well be simply HTC showing off. Have you received the update, do you notice anything different?
Rich Edmonds is Senior Editor of PC hardware at Windows Central, covering everything related to PC components and NAS. He's been involved in technology for more than a decade and knows a thing or two about the magic inside a PC chassis. You can follow him over on Twitter at @RichEdmonds.
for some reason this has "Your name:" showing as "rogerconn". i have no comment on the article, just thought i'd let you guys know something appears to be going weird here.

yep i am shown as bat2144 when i go to post my comment. wonder if the htc update will improve the camera on my hd7 :)

Just checked my Zune software, I have no updates available. I have not installed ChevronWP7.Updater

I have the HD7 - TMo USA - Laramie, WY with no firmware update to speak of yet. My firmware revision number is 2250.09.12001.531.I got the March update (NoDo) last night.

No update. But then again I am still waiting for pre-NoDo from AT&T. George can check the following:-Does the phone freezeup when an alarm is ignored (not on charge). This is a know issue.-Does the volume control get all whacky when you plug headphones or anything into the 3.5mm jack, especially if you are in the middle of a song. Another know problem.-This is a tougher one. Phone will occasionally mute during a call. Very random so it could take weeks/months to know if this has been corrected. These are the three things I am waiting for HTC to fix.

I'll try to replicate these issues but the update itself only took about one minute to install. Whatever it was, it was small. I've tinkered with the Surround for most of the afternoon trying to see if anything had changed but can't find a thing.

Hmm, just checked and my current Surround ROM is 2250.09.10307.502, and I recorded this number on my PC on 1/3/11, so no change since then. Are you sure that's the new firmware number of the old one.

Anyone see if the "forced update" trick works yet?

got a notification on my phone yesterday, plugged it in, zune prompted me to do the update as well with the htc update. everything worked fine, they improved the volume of the speakers and several bugs. also, the phone starts a lot faster. htc hd7 / o2DE

I dint get no HTC notification but my speakers do sound alot louder when typing on the keyboard? What your firmware number?

Haven't got the HTC-specific update yet.Got the NoDo yesterday.It did not fix my biggest issue though.It relates to caller ID's when storing numbers with the country prefix (+47 in my case).If people call me, no names show - only numbers.If I remove the prefix from their number, then the names show, but I loose the names on text messages (now only numbers show here)I know this is a huge issue in many countries - so maybe the HTC update resolved this...?HTC Mozart (no carrier)
Windows Central Newsletter
Thank you for signing up to Windows Central. You will receive a verification email shortly.
There was a problem. Please refresh the page and try again.