HTC One (M8) for Windows officially announced, available today on Verizon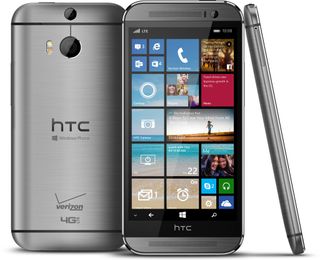 As expected, HTC has just announced a new smartphone with Windows Phone called the HTC One M8 for Windows. The new device is the same as the HTC One M8 with Android, albeit it comes with Windows Phone 8.1 Update 1 preinstalled. The HTC One M8 for Windows is an exclusive device for U.S. carrier Verizon.
A 5-inch 1080p display greets you up front on the HTC One M8 for Windows and packs a 2.3 GHz quad-core Snapdragon 801 processor with 2 GB of RAM. Additional specs include 32 GB of onboard storage and one expansion card slot that supports microSD cards up to 128 GB in size. Plus you get 15 GB of Microsoft's OneDrive cloud storage included with Windows Phone 8.1.
The HTC One (M8) for Windows will be available today, starting at noon EDT online. Physical Verizon stores will carry it starting tomorrow. It will be available on Verizon for a promo price of $99.99 on a new two-year contract or $29.99 per month on Verizon Edge.
We'll have hands-on coverage, and more as the day goes on.
If I wasn't already happy with my Nokia experience, I'd totally get this one. But, what's with the "HTC One M8 for Windows" name? Did someone forget to add "Phone" on that?

Daniel noticed that on the live blog; I think its strategy for Threshold

That makes sense yeah, seeing as they want to mash Windows RT and Windows Phone into a single OS - good thinking! Now I hope they eventually make an alternative version of this phone thats carrier free. Still good to see HTC back.

I agree! Since we already know WIndows Phone and WIndows 9 will blur the lines between the 2 it only makes sense to get people used to the concept of just "Windows" irrelevant of the platform.

Just another step into making everything just Windows. I like it.

I like it just saying Windows. It keeps things simple

Kinda bringing everything under a uniform Windows branding. As of Windows Phone 8.1.1 you can actually build 7 inch tablets now without radio antenna, in that case would you still name them Windows Phone, despite them not having phone functionalities?

It looks like the price is wrong in the article Sam. According to Verizon right now, the Windows version is $199 and the Android version is $99. See here.http://www.verizon.com/b2c/device/smartphone

Isn't the name of it long enough already without having the word "Phone" (what the device is) tacked onto the end? You have to wonde if they'll call the other one now the HTC One M8 for Android.

I was simply noticing the lack of "Phone" at the end. I think HTC One (W8) would have worked.

I was really hoping to pick this up! Is this U.S. only ?

Seems like it, however Verizon phones can be used in europe though because of their gsm unlocked feature - I had a NL928 in the Netherlands and that worked out well

Oh man, I wish this was on AT&T. Posted via Windows Phone Central App

So true! What are we suppose to do the people on ATT with the l920 like me we want a super high end phone that's not too big (1520=huge), should we go android or IOS! Is there even a high end phone coming this year for ATT?

I need to know what I need do to get this phone to AT&T.

Sit tight - the phone may crossover eventually. There is no mention of this being an exclusive handset to Verizon only. My hope is that it's a timed exclusive - 1-2 months down the road it will be available on AT&T, T-Mo, etc. No guarantees. Also, Microsoft is releasing their own handsets before the end of the year too and there's a press event coming up for that as well.

Yes but no high end phones

I cannot imagine it will be an exclusive for long. HTC needs the sales volume. But remember, you can't zoom and crop your photos with this because they aren't high-enough resolution. :-(

Yeah carrier exclusivity is the bane of Windows Phone. I am guessing we will never see this handset (or any flagship this year) in Canada. What am I going to replace my 920 with this year, a Lumia 630? No chance. Sadly my Windows Phone adventure may be coming to a close. Cause of death: Lack of hardware.

Right! Been with WP since the samsung focus and just got tired of waiting for something substantially better than my 920. I went ahead with the M8 a couple of months ago.

I'm in the same boat. I upgrade in about a year, and I'd like to stay with WP, but all they're offering up here in Canada are low end or old devices.

Couldn't agree more about the carrier exclusivity issue with Windows Phone. Busted my Lumia 1520 and looking for a replacement. Here's a suggestion for Microsoft, screw the carriers. Make your hardware available unlocked with all bands like the iPhone. Finance the phones for customers unable to buy them outright, also similar to what Apple is going to start doing. The carriers aren't going to push your phones anyway so why screw your potential customers. My 520's I bought for my kids I bought direct at an MS store and my 1520's I bought used online. I like the Windows Phone OS but may be switching. Heck even BlackBerry is tempting.

What about T-Mobile :( Although lets not forget the 830 is coming out soon which also looks very promising. My own gripe is that THIS phone has the IR blaster which I use all the time on my S5. Jeez if this was available now for T-Mobile.... well... Id have bought it and this post would actually be a pictue of it lol

Yep, another flagship DOA because of shortsighted carrier exclusivity, all the more egregious because this is an exact replica of the Android version that is on all carriers. WP will never take off with this strategy. This is why Joe Belfiore needs to be fired. He's completely inept and had more than enough time to make WP a success. Instead, it's going backwards.

LOL because he had anything to do with what carriers the phone is released to, right?

Yeah, that is pretty much his job, among other things he has repeatedly failed at.

His job is to make sure HTC releases on all carriers? He doesn't work for HTC. He can ask them to do that but if Verizon is paying for exclusivity, HTC has a right to take the offer. Exclusivity reduces the potential of having high volume phone but it also reduces the risk to HTC since they are getting some of their investment back up front. WP hasn't been a high volume seller and OEMs are trying to hedge their bets.

The success of WP is his job. Microsoft has clout, and this is their platform. If you think exclusivity deals only involve OEMs and carriers then you're probably just as qualified to run WP as Belfiore.

GTFO with such ridiculous statement, carriers in USA are way too powerful for allowing an HTC WP8 device on all carriers, they can demand exclusives or refuse to carry such device, such tactics should have been banned and Anti-trust should focus on these but i doubt the fucked up state of USA telecom operators/ carriers can be salvaged now and returned anywhere near to the telecom markets of "Rest of the world".

The Dot case alone is awesome. So jealous this isn't on AT&T. Posted via Windows Phone Central App

From what I read, there's limited support for DOT View case, not as expansive as Android. There only a few things WP could do with that case vs android version. Not sure if that's true.

Probably true since generally Android phones can do a hell of a lot more because of its open architecture. If it's useful or actually works well is another matter of course. :)

No international version. Disappointed

One step closer to the dream: pick your hardware, pick your OS, pick your carrier...

I'm sure we will have good folks at xda working on able to flash the windows phone firmware on existing M8 hardware. I would love that flash windows phone when bored flash android, vice versa. Posted via the Windows Phone Central App

I will cherish the day this ability arrives.

Hopefully a limited time exclusivity. Also would be great to switch the Android M8 to Windows or back since it is the same hardware. Should not be to hard for HTC to make a program to alow customers to do that.

May risk their relationship with Google. Big G was diametrically opposed to the idea. Which makes sense from their perspective. "We own 80% of the market. Why would we want to encourage choice?"

Would love to be able to go pickup a Sprint HTC ONE M8 on Android aright now and just flash it over the Windows.

We've been down this road before, its not gonna happen for 2 reasons: Google doesnt want it Microsoft doesnt want it

Yup, this. Neither of them are fond of a dual boot setup, so both have repeatedly discouraged OEMs from doing such things. On the bright side, I'm sure that, as soon as they get their hands in this device, the good folks at xda will immediately start working on flashing Windows Phone onto existing Android models, and vice-versa. It's the exact same hardware, after all.

Do not care about dual boot, would love if the people at XDA gets the windows to flash to Sprint M8.

Mightnot be their choice. Developers ultimately dictate what happens. Remember the HD2? The phone that could do it all! I have WIndows Mobile/Android running on that like a champ!

Awesome phone with the ugly Verizon stamp. Come on HTC why not sell the unlocked model from your online store. Verizon don't care about windows phone, don't alienate buyers with this crap exclusives. Posted via the Windows Phone Central App

Yeah, it's very sad, but we all know Verizon reps are going to HEAVILY push the Android version and spit upon the Windows model. :(

I'm totally happy with my two Lumias, the 1520 and the 925, but I'd still want to get this phone if it comes to my country. Hope it's not just a Verizon exclusive.

I just got this phone a couple weeks ago and it is really nice. I ended up switching to Android after owning a windows phone for the last 3 years. The hardware is great, and the boom sound is an awesome feature. If I was still interested in windows phone OS, I would definitely be considering this for my next upgrade.

Waiting for the Hands-On!!

Wow, a high end model with MicroSD....Nokia you suck... I will go to a Verizon store this week to take a look at it, I might get rid of my ICON for it.....The ICON would of been perfect if it came with MicroSD support but, as normal, no SD slot on higher end phones....

Thats nice, but why do you need more than 32 gb of space?

Because people like to put a lot of music and other things on their phones? I still carry around my 160 GB ipod classic.

And I thought I have a huge library, shame it has only 3000 tracks. But seriously, You must be cursing xbox music most on this planet.

I don't use Xbox Music so I wouldn't know. Lol

Take it as a tip then, whenever you feel like your WP is too good, just use this, it'll balance out things.

Some people do. The vast majority don't, and are fine with 16GB (the best selling iPhone). But it's good to have choice. I certainly don't need more than 32GB, I still have 13GB free on my Icon. But I could never get away with just 16GB anymore. 32GB is the sweet spot for myself - no SD card hassle, but plenty of room.

Especially with the (finally!) excellent OneDrive integration in WP 8.1. Photos and videos go up there automatically, so never need to worry about that taking up space.

Mike, ya but then youre dealing with connectivity. And yes although Im usually always on some sort of connection (e.g. LTE, WIFi) it still does occur on occasion that I lose that connection. Especially when driving long distances.

I own 30 gigs of music because I have unlimited downloads with Xbox music pass!

SD card slot on my 1520 says otherwise.

(in the vocal stylings of The Rock)Fine-nanily.... The M8 has come to Win-dows Phone!

If I wasn't stuck on Sprint the land of I hate Windows Phone, I'd get one. Hummm end of Summer Sprint, where are those 8.1 official updates for the Neo and HTC device? oh yeah.. forgoten, AGAIN.

Adam, I would seriously consider jumping on this if I were you... if for no other reason than to leave Sprint ;)

Summer ends September 23 (in 34 days). Feel free to post your comment on Sept 24 IF we have yet to get updated. In the mean time, feel free to pass the time by pressing 'search', then typing 'summer 2014'. (HTC 8XT Sprint)

I'd never go back to HTC. Their poor support for Windows Phone (post release in terms of apps and taking on new versions of the OS) has burnt me twice - sorry folks but I'm sticking with Nokia...

To each their own....I have had about 6 different HTC devices in the past 95% of them were SOLID as a rock, great phones. Nokia ? 2 822s, 4 928's, only phone that I have had that works good (for the MOST part, still buggy with 8.1) is the ICON and it's the only Nokia that I have not had more than one of due to problems. And now days, the Apps from Nokia are a moot point, the big thing was Nokia drive and everyone gets that now.... No big Free releases or anything like that in a while... I would think of a HTC again but, everyone's history will be and is different with them. I was very happy with them, even more than I am with Nokia, for their products and support (Nokia support is a nightmare, at least it was for me)

Please release the update 1 for HTC 8x

I'm happy for Verizon users, but I don't understand HTC's thinking here. They are STRUGGLING with cooling sales of the One M8 available globally and on all US carriers. So to supplement.....they do a WP variant that's just on ONE US carrier? One whose reps slag Windows Phone all day long?

Maybe MS is paying them handsomely.

They pulled the same crap with the Icon!!

The only downside is the camera. It's only good if you're not going to zoom it.

Not available on their website yet.... Rumor was that the ICON would get Cyan after this phone was released.....would be nice to get that on the ICON today :)

Can anyone define the word "promo price" ? And I'm in India so what is the price and availability status???

Available only in the US and only on Verizon right now. "Promo price" is the price the carrier gives you when you sign a new contract.

Let the face off performance testing commence! How long before we see head to head battery life comparisons, Sunspider benchmarks, etc, between the WP and 'droid variants of this phone?

Any chance that this device opens to other countries?

Shipping today with gdr1. Not one other device has gotten 8.1. This if why Verizon customers can't have nice things.

This is what I like about them, available right when announced.

Don't forget to mention if you upgrade a phone on Verizon right now, you get an additional GB of days for two years for free

For 2 years ? LOL..... I'll stick with my Unlimited data...

Just curious, but how much of that unlimited data to you use every month? Do you tether your phone to your PC and tablets too? Or do you have separate Internet access at home for more heavy lifting (say, gaming on Xbox One)?

Kenny, I've got a business line with T-Mobile and I get unlimited LTE with 0 restricitions and no throttleing ever; all for $80.

Will this not be world wide then ?

Given the shockingly poor support for HTC's previous WP devices you would be crazy to get this phone. I will never buy HTC again.

They wonder why Windows Phones don't take off. Here we go exclusive again.

This how every WP release should be handled,announce it today,make it available right away or worst case scenario the same week. Now get rid of the exclusivity thing and go worldwide then watch the sales shoot up

Exactly. That is an awesome way to launch. Not like the big Nokia announcements for phones ship to the odd country/carrier here and there a few months later, by the time many of those phones are available the buzz has died and on to something new. And i agree the exclusivity thing is really holding WP back. So many phones i've wanted that i can't possibly buy. Make less models and release everywhere.

Wow, this exclusivity stuff has got to stop...no wonder Windows Phone is suffering. We need an international version,

I will go to the same Verizon stores that didn't carry the Lumia Icon two months after launch and see if they have this one tomorrow. Really hoping they do.

Exclusive for how long? What is the point of this exactly? Very few customers have access to this now. HTC will then refuse to make any more devices as it won't sell well if its on one carrier only. Microsoft are inept. They need to quit the exclusives. On my network in the UK the most recent high end phone is the 1020. It's a ridiculous situation. MS/Nokia withdraw from the high end manufacturing game, then sign on a massive OEM, then ruin it all by having it as an exclusive in one country. Absolutely crazy and another reason in a massive list why WP won't see any growth. They may as well not bother.

I'm thinking of buying the M8 from Verizon online and importing it into Canada. I know this phone will come unlocked but my only worry is that I wont be able to set up my proper MMS/APN settings for my carrier (Rogers).

Oh man...This looks too damn good. Nokia/MS need to really up their game now.

Yep! I sent Nokia through rate us asking when will they start making nice covers for Lumias. I'm gonna send some more complaints!

Flagship war in windows has just begin after the Lumia holocaust.....way to go htc! #metal #perfection

That camera though :'( but yeah this is a near perfect phone

It's up on Verizon's site, but the price says $199.99

I'd kill for this or any non-Nokia Phone on AT&T. I've been through countless Nokia phones. Literally have lost count. The 8.1 update knocked out my camera. Who needs that anyway, it's not like I bought the 1020 for it's sleek, lightweight design.

Exclusives carriers for Windows Phone is a bad thing right now

Carrier exclusives need to end. Get this thing to the European markets fast - not on six months time. Otherwise this phone is the first proper flagship under 6 inches for a while. The best windows phone had to be the 1520. This is the best "normal" phone. Sure, doesn't have the 930 camera but does have an SD slot and all the rest. This is a beast. Just hope it gets out of the Verizon career or else it'll do no major business.

it's finally listed on Verizon but, with a $199 price tag!??!

AT&T and global GSM = sale
Verizon exclusive. = no sale

Screw Verizon. A month ago I went in there with a friend and they actually made fun of me for wanting a windows phone. For what it's worth, they also admitted that they try to steer people away from iPhone also, but they made fun of my WP preference. There's just bad salesmanship.

Why don't they release it internationally when the Android version is available everywhere! All these region and carrier exclusive deals are killing Windows Phone!

Unlike Nokia/MS, announce today and sold in stores 6 months later.

Promo Pricing already over? Says 199.99 now.

Dat Blinkfeed live tile doe!

You got to admit it sure is nice to have a phone announced at an event, and be available immediately vs Nokia/Microsoft phones being announced at an event but released weeks later.
Windows Central Newsletter
Get the best of Windows Central in in your inbox, every day!
Thank you for signing up to Windows Central. You will receive a verification email shortly.
There was a problem. Please refresh the page and try again.