This is the HTC Video Highlights app for the HTC One for Windows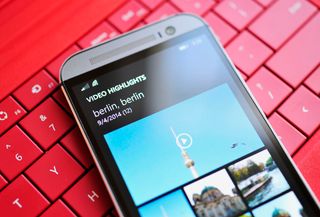 Yesterday, I did a deep dive into the Duo Ultrapixel camera on the HTC One for Windows in an attempt to combat some of the negative pushback from Lumia users. One app that I did not mention in that coverage is HTC Video Highlights, as it was tangential to the camera's performance.
What is Video Highlights? For Lumia users, it is akin to Lumia Storyteller, but it does it a bit differently.
Video Highlights works the same was as Storyteller in that it uses your photo's GPS tag and date to group photos together. For example, say you go a birthday party, and you snap a bunch of photos, HTC Video Highlights then groups them into a cluster.
Video Highlights will then stitch your photos together to form a mini-movie in MP4 format. The app automatically adds visual cutscenes, music, and filters, leaving just a few choices, including which photos, filter type (if any) and music to the user. Each filter has its corresponding song, so there are ways to mix it up for a variety.
Note: Despite what I say in the video, you can add your music. The key is to hit the Search button and it opens up your music library on your phone, letting you choose any track you want. Pretty awesome.
Once you are happy with the creation, as seen through the preview function, you can share the MP4 through email, messaging, OneDrive, NFC, Bluetooth, Facebook and more. You can see a sample that I created from some recent photos in Berlin.
Overall, HTC has done a nice job with their Video Highlights app. For Lumia users, it should feel right at home, although it does not have the same map feature that Storyteller can leverage.
See the hands on video to see it in action and let me know in comments what you think! (YouTube, for whatever reason, made some of the images a bit pixelated during the transcoding).
See Also:
Windows Central Newsletter
Get the best of Windows Central in in your inbox, every day!
Daniel Rubino is the Editor-in-chief of Windows Central, head reviewer, podcast co-host, and analyst. He has been covering Microsoft since 2007 when this site was called WMExperts (and later Windows Phone Central). His interests include Windows, laptops, next-gen computing, and for some reason, watches. Before all this tech stuff, he worked on a Ph.D. in linguistics, watched people sleep (for medical purposes!), and ran the projectors at movie theaters because it was fun.
Glad to see support from HTC :) hope Samsung will do the same.. Soon!

Samsung support Microsoft and make a windows phone? I would like to see that too.... Maybe someday! :)

They do its just not their high-end galaxy line

Both HTC and Samsung only sold in US Verizon.
So no they don't make Windows Phones.

So true. All Windows Phones need to be free of carrier exclusivity. I'm looking to upgrade my 1020, and would pick up an HTC One or Icon, but neither is an option on AT&T.

Same here with Vodafone, would like an HTC one

More than that, we are waiting for Sony

I don't. I don't believe Sony would create a windows phone

I read the other day that Sony just lost big money in mobile. They need to do something soon or that division will not last. I hope that this is sending a message to them that Android is too crowded and they need to look into a new OS, Windows?

That's exactly what they should consider. And I know Microsoft is sometimes making us frustrated by not releasing mobiles in certain countries or continents, but it has its reason. It knows it won't sell well and that goes to waste. So that's how they are going to make profit and work for the best. On the other hand as you said, don't releases a ton of Android phones, just to hang and wait in stores. That means it loses, and it loses big. Not until ask big companies invest in windows OS will they realize they will make profit only that way and easy

Also LG, I wonder where are they

My take away from this week on WPCentral - you like your HTC M8 ;).

I do like it a lot, much more than I thought I would, TBH. Combined with the fact that this is the only flagship for the fall (unless Samsung has something), the One is really the next-big story, especially if it goes global.

It is something on my considering to buy list, if it comes to Europe of course. (fingers crossed•!!)

The "especially if it goes global" part is what I won't hold my breath on, unfortunately. Would be awesome to get one and try it out but both HTC and MS have been very quiet in Canada.

Might be my new phone unless Microsoft announces a flagship before the M8 arrives on at&t

All signs suggest nothing big from Microsoft until spring, timed to Threshold :/ Wish I were wrong on that, but with McLaren canned, the HTC One is 'plan B' for Microsoft.

Is the Lumia 1520 still your favorite Windows phone ?

I'm hoping for a 1520.3 newegg holiday sale this fall. My 920 is getting a little beat up and my contract has been up for a year now. Itching for that new phone experience. I'm even considering the iPhone6+ gasp! Hopefully the rumors will start to fly in a month or two about the next flagship lumia from MS. That may settle my nerves a bit.

There was no need for "negative push back" from anyone, the camera was universally regarded as being not as capable as its peers since its debut on the M8 android version. Pretty sure Lumia owners werent the ones responsible for that. This is what a proper camera review will tell you: http://connect.dpreview.com/post/9518793433/htc-ona-m8-camera-review?page=9 And here's the conclusion for the 1520: http://connect.dpreview.com/post/5207407467/nokia-lumia-1520-camera-review?page=11 I think the results speak for themselves.

So defensive, I think you're overreacting. The images I posted "speak for themselves" and my experience is just that, my experience and opinion. Indeed, I think I demonstrated numerous areas in which the HTC One's camera is better than the Lumias, including speed, better panoramas, better spot metering and unique built in features. Image IQ is not in and of itself the whole story in using a camera. If you want to armchair debate specs and what other people think of it, go ahead. I will continue to, you know, use both the 1520 and HTC One side by side, instead of just speaking with no experience. However, if you think you can challenge my real world experience with both phones by linking to a website, you are wasting your time.

Never knew anyone can get Daniel ticked, now I know. Show him Danny boy.
To be honest, I was very surprised and very impressed with the images you got out of that HTC.
I have wondered though why HTC did not demo shots like you did or why most other analyst or end users were unable to get those types of shots consistently?
Once again, I loved those shots, but I will still stay with Lumia, they have not given me reasons to leave Lumia

One theory I have is really dumb: I think it is easy to get fingerprints on the lens of the One, which causes blurry/dull photos if not caught. I know it seems silly, but I tend to wipe my lens before taking a photo. Other than that, literally nothing unique was done, no tripods, no mounts, etc. Just handheld and snapping.

Hey Daniel, I plan to upgrade to this phone, coming from a Lumia 920, im a little worried about the image quality? Should I worry? Or are the images better?

I do this too on my 920. It makes much difference on image quality when your lens is filled with smudges and fingerprints.

Me too, I always wipe my lens before taking picture. Even some minor fingerprints will really affect the quality of the picture.

Depending on how you look at it: a reason to leave Lumia could be the lack of a Lumia flagship until Threshold.

Why are you so sensitive about a review about a phone you clearly have no interest in? Daniel clearly states that Lumia phones are still the gold standard for photography nuts. Though, I would point out that a great image is of no good to you if your camera is not fast enough to capture the moment. Also, this may shock you but not everyone wants a phone that is built around the camera. Some people want a solid phone first with the camera being a bonus. Reviews like this gives them the confidence that the pictures captured by the M8 are good enough. Heck, I would say they are fantastic.

So Daniel is not a Lumia fanboy

Whoever thought I was is purely daft. If, however, you think it is normal to get excited off of the HTC 8X in 2014 or the Samsung ATIV whatever, then it is hard to not appreciate Lumias as being the only choice for most Windows Phone fans. This is now slowly changing.

Agreed. Nokia was a boon for Windows Phone, but they have their drawbacks, as well. I am so ready for more choices.

Aw thought Daniel Rubino was team Lumia.

Did Daniel just break your heart? Poor SuperDaft Micah (smh)

LOL aw one of my fans is always commenting on myself :P Nah my heart isn't broken lol I just thought he was team lumia was all :D

Sure... We all know your hurting inside Micah.

Daniel works hard, it's okay if he is having delusions of Grandeur :D JK JK

Daniel works hard to give us fair and honest reviews without worrying if he made you shed a tear or two... Daft

I know you want me to cry but unlike you I don't get pissed if someone disses my phone lmao.

Are you to talking Daniel?
From what I recall no one mentioned the Lumia 1020.
Sounds like your crying :'(

So how much longer until the m8 is released for T-Mobile?

No firm date but it is currently being tested. My guess is the coming weeks.

Bsssp (whispering*) read the article.

(whispering*) guess there's no news.

Why aren't they calling this app Zoe like they do on Android?

I think Zoe is more than just this, as Zoe can record video-photo moments through the camera directly. Using the menu system on the Android version and there is a separate Zoe function. (I have never used the HTC One for Android, but there are demo videos of it in action on the web).

I hope HTC releases the ZOE app for the One for Windows soon, It's a cool app.

I don't see why not. My understanding is that the newer Zoe (beta) app on the Play Store is a seperate app rather than a baked in feature. Don't see why HTC wouldn't/couldn't port it over to WP. The idea they're going for is an Instagram/Vine type app that you can share other "Zoe's" with your friends. I think including all HTC One M8 users (both Android and WP) would just make that much larger a community. That being said, I'm curious to know if there are any tidbits our friends at WPC can share or dig up.

I just pray Microsoft comes with 6 inch device, sporting a 41 mp camera and more. I like the look of the the HTC, but it doesn't move me. Don't get me wrong, its beautiful but it doesn't move me. Neither does the photos it take. I've seen reviews on it, hopefully I'll get the chance to play with it soon.

excellent video Daniel! Thanks :)

I like the HTC M8. The problem is HTC support on their phones, it's always a blockage for me.

Daniel, can you address this? Any word from HTC on future software support and Windows phones updates?

So will we get a full review of the M8 soon? Have you experienced random reboots like others have reported?

I still have have a theory that Nokia will buy HTC once Nokia and Microsoft's agreement is complete. When Nokia and HTC settled their IP dispute, I just got the feeling that there was a little handshake wink wink agreement going on. HTC and Apple (and maybe Sony, now) are the only companies that can rival Nokia's build quality and craftsmanship, and HTC has been underperforming in the sales. Along with the money Nokia received from Microsoft, they're making money off of licensing, and they haven't been spending all their money on research and development. Nokia and HTC would be a great combination that actually makes sense.

I see what you're saying but I hope it doesn't happen. I don't want all Windows phones to look like HTC or Nokia. I like both design styles and I like that they are different. Also Microsoft shouldn't buy Android OEMs. What do they do? Ditch all of the Android users?

Looks like it does better than Storyteller with landscape vs portrait photos. Storyteller cuts a lot of the pictures out....bad formatting.

Loving this phone. cant get enough of it. Though love my lumia too

Only thing HTC has accomplished with OM8FW is force me into a position where I'm ready to buy unlocked and remove carrier authority on updating FW. HTC are the ones who wrote the provisions into the Verizon exclusivity contract about witholding updates for Lumia phones. Still bitter about the Thunderbolt I suppose... Perfect opportunity for a Matrix quote... "How bout I give you finger, and you give me my phone call"

So you are saying HTC made Verizon delay the Cyan updates for the Lumia phones so they could have the only 8.1 phone on Verizon?

I speak with certainty that HTC wrote in those clauses when inking the exclusitivity deal. What is their end-game? Dunno. But I speak for myself in the effect it has had on me. Actually, I speak for my family because I make the telco decisions in this house. And at the conclusion of the contract, everybody will be getting unlocked phones, with insurance through Worth Ave.

You speak with certainty? How so? Want to share your crystal ball with us? I'm pretty sure that what you're suggesting is actually illegal.

It's illegal is it? So go file a FOIA request to see the terms of the exclusivity contract. O wait, they're not available, because exclusivity in and of itself is a gobshite idea made possible by locked down networks with locked down phones. And at the conclusion of the Verizon contract, this house will transition to unlocked phones and regain some say so in an open market.

What's your source conspiracy theorist?

Hmmm... The GSM standard across Europe, Asia, Africa, and the Americas. If you want to take a domestic example, try the Google Nexus on for size which works on both Att and Tmobile networks and receives updates direct from Google. No conspiracies bubba, just basic observable intuition.

That's not what I'm referring to. What's your source that makes you think that HTC is paying Verizon to block Lumia updates?

I work for T-Mobile and had seriously considered the One when it first came out with android but I'm a windows guy. I am very excited about possibly getting this phone. Thank you for all the reviews/posts on it. I've been unsure about switching from 925 based on lack of support for other OEMs, but I absolutely love the look of that phone. The camera was a concern based on specs alone (I haven't had any complaints from android customers though). I am still a little concerned on updates and support, but since the other phones in my closet are the 810 and HTC Radar there's not much I can do one way or the other. Will definitely be picking One up.

I have the m8 for android and it is by far my favorite android phone. As far as HTC not supporting their phones,not the case anymore. I've already had numerous. Updates including kitkat 4.4.3 months ago. As for the camera I may be the wrong guy to ask. I don't take many pictures and when I do all I care about is that they are clear and look pretty good. Personally,I'm not concerned with cropping or any of that crap. Having said that, its not as sharp as my icon camera. It does focus much faster though.

The biggest drawback of M8 isn't the mediocre camera, but the overall-after sales support. The updates, also counterparts for such great software such as Nokia Recovery Tool, Nokia Software Updater and more. The reason lumia upto now is still so much better than Samsung or HTC WPs, is its dedication to WPs. Even if it is sprinkled w/ brilliance to such as diamonds, HTC would do a lot more before they convince me of buying a smartphone from them again. I was one of the hundreds that fell in line for an 8X which was featured here in WPC before. Sadly, the worst gadget decision I ever made.

One question. While using headphones on HTC M8 do you get the same powerful sound as on HTC 8x?

I have no problem with the HTC one m8. But this is old hardware with 8.1 no? It's not about Lumia and nokias apps. I just can't see this as the flagship phone I jump to.

its nice to see them doing something for their phones, the sad part is that this phones haven't been released globally like android version

Old hardware? It's got a snapdragon 801 adreno 330 and 2g of ram. How is that old lol.

Think you meant to reply to s_lek

Someone here that can share HTC Sense TV store link?

Ya know what I'm gonna get? An iPod touch... BAM! I'ma sit on the sidelines til ma dream phone comes and knocks me of ma feet, just like I've been waiting for the perfect woman for like forever. Though I should probably be more proactive and do what Johnny boy Mayer does and try 'em all til I finds what I's looking for.

You could get a Lumia 925 or 928 brand new off of eBay for cheaper. No contract and you can wait for your perfect phone.

Still not good as a Lumia, which is better to me :) but it's a good #2 at least. Good post, though I hope we can get back to Lumia centric news soon

#2?
Everything else on the M8 beats any current Lumias.
So I would say M8 #1 and Lumias currently #2.

LMAO Beats it how? My 1520 has most of the same specs(with a much better camera, except for speed) and with the upcoming Denim update, it will definitely add even more stuff to it. Aside from a slightly updated processor and front facing speakers and an IR blaster, i am not seeing how a M8 beats my 1520 :D Even if Daniel Rubino is praising it. Perhaps #2 isn't completely fair but it certainly isn't blowing ANY lumia away.

So if we don't take in account the updated Snapdragon, FF Speakers, FF 5MP Camera, & the IR Blaster. This "Demin" update will add "more stuff"... Like??? And this update will be released when??? If you are including updates that have not been released and excluding hardware from the M8... Yeah I guess the Lumia wins. You sound just as bad as this Lumia Super Lame Fan Boy "Micah Dawson" who would mention the Lumia in unrelated articles just BC he couldn't stand the Lumia not getting attention Θ_Θ LOL

You do realize Superboy Micah= Micah Dawson, right? LOL An ir Blaster is a gimmick at best, so that is not exactly something that makes it a winner. The Ativ SE has that as well, before the M8 came to windows...your point being? Still didn't make the SE a better phone than any other Lumia. A FFC 5 megapixel...Well again, I think most people would take the Lumia Camera on the back vs worrying about a camera on the frontt, but what do I know :D(There is a reason why most people say while the M8 is adequate as a camera, in most cases the Icon/1520/1020 is still the better camera). Perhaps you should read the WPC articles about the features with Denim....especially a much desired feature "Hey Cortana" that is coming to most Lumias and we've yet to hear anything about it coming for the M8. The Update will be coming out soon....and we all know how HTC is with proper support of their windows phone devices. Has ANY Windows 8X device received WP 8.1 yet. The official versions, not DP :) Let's hope that HTC properly updates the One M8 with Update 2 and future windows phone updates :D You enjoy playing with your IR blaster(gimmick) and FF speakers(i'll give you that one...Doesn't necessarily make it BETTER but it is a good feature) and FFC(again the Lumia Camera overall trumps the FFC, imo). I'll enjoy having a Proper Windows Phone experience with my Lumia made by a company who has and continues to add more flavor to the OS to make the Lumia experience the best WP experience. When HTC comes out with an Amber, Black, Cyan or Denim type of update come talk to me then, K? :D You M8 users are just as bad as the Lumia, if not worse, simply because anytime someone says something negativty, the minority of you HAVE to dispute any claims :D

SuperDaft = Micah Dawson (got it!)
2nd. Just so you are aware I'm also a "Lumia 1020" user who happens to have a better camera than your phone however some people would say that the 1520 is better than the 1020. Based on your "Daft" (thanks Daniel) Logic my 1020 is a better phone because it has a better camera. Nokia is no longer at play here so future updates doesn't mean "Lumia only" since Microsoft is running the show now and it is not in competition directly with HTC. HTC (windows phone) succeeds Microsoft succeeds and chances are "Hey Cortana" is coming to the M8.
We have no idea how Microsoft is going to handle these updates for the Lumia just like you don't know how HTC is going to focus on future updates for the M8. I don't have a problem with people who criticize the M8 when they actually have a point. What I don't like are responses like "Lumias are better" "This phone is cool but Lumias are better" "When are we going to see Lumia related news" "I thought Daniel was team Lumia"
When no one asked & the article is about the M8. I really do love all the Lumias I've owned in the past but I'm not blind. I can give credit to Apple and Android for their unique features and I can do that without saying "Windows Phone is better" Because that takes away any credit that I've given. I know I bust your balls but that's only because you're annoying - that is all

IR remote a gimmick? Lol, I use that every day. The camera? Maybe once a week.

The thing is if the Lumia line doesn't carry it "Micah" will continue to see it as a gimmick. Once the Lumia adds an IR blaster he'll praise it and show it off to his iPhone friends. He has a warped way of thinking...

you my friend have won the Douchebag of the Day award.. congrats!!

You ever have that one person that just gets under your skin? That's him.
I don't mind criticism and I don't mind being wrong but his comments just annoy me. I know I sound like a douche but I can't help it when it comes to him.

@Danielrubino You are hilarious man! Your honesty is so....true? I can feel it, man. You always do a great job with everything. I've thought about getting the M8. I'm just too comfortable with my 1520. My camera actually sucks for some reason,always blinking for no reason, but I just love and support WP in general, don't give a f%&k. It's bad ass either way. My awesome Nokia warranty will make a new one appear soon. Kick ass, man.

Daniel, I believe the video highlight thing is also done in Story Teller. I have a video of my trip back home, and it gives you a LOT more variety in background music :). Also, aesthetics aside, I still think my Nokia Lumia 1520 will trump this phone. Of course, very glad though that HTC is back in the windows phone game and all.

He did say you can do that in storyteller.

Thanks for the review update Daniel, it's nice to see someone of your character who can appreciate a non-nokia device. It's a real shame some continue their crap about it when they don't even have one. Thanks Again Posted via Windows Phone Central App

Story teller looks more refined

I think HTC should release zoe and more than that they should release the device globally

I don't know why, but I cannot see any videos on IE11 (metro) :(

Love the 3D effect on the first image... Why does it only use it once?! Nice feature though, I really like the Story Teller vids, especially with the living images included.

I can't get over just how SMOOOOOOOTH the images come up on that phone. The HTC One M8 is one amazing piece of technology for this platform.

I miss my nokia play to app. Can't figure out how to watch videos from my phone to my TV
Windows Central Newsletter
Thank you for signing up to Windows Central. You will receive a verification email shortly.
There was a problem. Please refresh the page and try again.