HTC Opal, we dub thee 'Viva'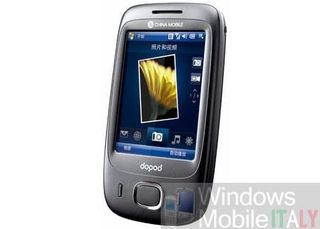 More news from the HTC front, with the refresh of the Touch line back for more.
Windows Mobile Italy is reporting that the Opal code name (opens in new tab) will give way to "Touch Viva," though there may be a bit of a translation issue here.
Otherwise, we still have the same slightly underwhelming device as before. Quad band, Windows Mobile 6.1, 200 MHz TI OMAP processor, TouchFlo 3D, 256/128 RAM WiFI, Bluetooth, 1100 mAh battery, and no GPS. Can't wait to see how the CPU holds up to all that TouchFlo 3D power.
The Viva reportedly will go on sale in Asia on Sept. 15 - Monday - under the Dopod brand name, and with a slightly different paint job, as seen in the pic above.
Translated page here (opens in new tab); original Italian for the hard-core (opens in new tab).
Thanks, Diego, for the tip!
the cpu should hold up pretty well considering its not touchflo 3d but touchflo 2D
Windows Central Newsletter
Get the best of Windows Central in in your inbox, every day!
Thank you for signing up to Windows Central. You will receive a verification email shortly.
There was a problem. Please refresh the page and try again.