HTC Radar shows up on Orange UK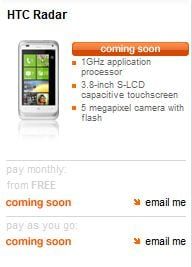 The HTC Radar has made its way onto UK mobile site Orange UK in the "Coming Soon" section. While no timeline is given for availability, it is a good sign that release is imminent. With a 3.8" screen, 1GHz processor, and 5MP camera, it is meant to be a lower-price point to its overgrown counterpart, the Titan, and was shown to be a little behind it when the two were put through their paces recently. That being said, the Radar still proved to be a pretty nice addition to the HTC WP7 lineup when we took a look at it hands-on.
Source: OrangeUK (Thanks for the tip, Alex!)
does no one work for thes companys?? we should alredy have the realse dates!!! come one SOME ONE LEAK IT!!! lolnothing from BELL yet :(

Even if someone did, you don't want to get fired for a some futile reason...

you know how easy it is to push print screen and copy past into the TIP section of WPcentral ;) no one needs to know ;) lmao!!

More importantly, is says Pay montly from FREE, that should get some handsets moving. But anyone notice we still havent seen any advertising? We've had RTM, now we've got handsets and still nothing? Are they waiting for the iphone 5 announcement?

im assunming its because they are waiting to start the adds in Q4 for Xmas... so probly next month...

Nice to see that it is coming to PAYG as well, as with most WP over here are just Monthly at the moment
Windows Central Newsletter
Thank you for signing up to Windows Central. You will receive a verification email shortly.
There was a problem. Please refresh the page and try again.