HTC rolls out updates for Hearing Aids and Photo Enhancer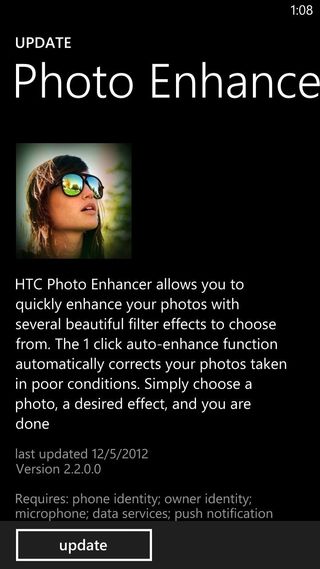 HTC has rolled out an update for both its Photo Enhancer and Hearing Aids apps. The former has been with us since the platform launched back in 2010, enabling HTC Windows Phone owners to easily edit (or enhance) photos saved on the device with minimal user input. It's a handy tool that's utilised by those who take regular shots and enjoy 'correcting' them before uploading to social networks.
The Hearing Aids app is a system tool for those who require higher in-call volume levels. Should you happen to find it hard to hear sound from the Windows Phone when in a call with a contact, be sure to look at enabling Hearing Aids to improve call quality.
Photo Enhancer -- 2.2.0
Hearing Aids -- 2.4.0
Unfortunately no changelog is presently available, so we can only assume minor fixes and improvements are present. Be sure to be on the look out for more system app updates released by Windows Phone manufacturers.
Rich Edmonds is Senior Editor of PC hardware at Windows Central, covering everything related to PC components and NAS. He's been involved in technology for more than a decade and knows a thing or two about the magic inside a PC chassis. You can follow him over on Twitter at @RichEdmonds.
So much for those idiots who said that HTC doesn't support.

Give it a 3 months and 8x will have zero support.

Not true, my 2 year old HD7 is still receiving updates

Love my job, since I've been bringing in $5600… I sit at home, music playing while I work in front of my new iMac that I got now that I'm making it online(Click on menu Home) https://goo.gl/ls6Ri

You are right good support = An update after 2/3 years?, no thanks will stick with Nokia.

HTCrap fanboy detected. This is what you call a support? What a joke.

... and you're just as bad. If not worst.

HTC updates its software, and it gets blasted for it by fanboys of competing OEMs.
HTC doesn't update its software, and it gets blasted for it by fanboys of competing OEMs.
Really now?!?

Are you astroturfing? Why are you so mad?

This app has been updated many times, and windows phone was released 2 years ago. 2!

*with constant updates every few months

OMG - this fragmentation isn't good for the platform. HTC must give these apps that they developed and paid for, to everyone immediately. /lunacy mode off

LOL!!! Love this!
10/10 Would laugh again!

I'm still waiting to see what other apps HTC releases for their 8X and 8S phones. I have the 8X and just hope they support WP8 in the same vein as Nokia is doing.

Great to see updates from them early on.

Honestly they have too!!!!!!! Since day one, I've been waiting for them to bring back HTC Location since we don't have a built-in turn-by-turn navigation ( Can't believe it was remove from WP8 when we had it in WP7.5).

C'MON HTC bring some new apps and features!!!!!

I would settle for adding back what was removed. :-(

Not to forget also HTC Watch which is the only way to rent/purchase movies directly on the device without the need for Zune/desktop client on any Windows Phone device. How many people can rent The Dark Knight Rises right on their phone? I know I can.:)

Still waiting for the Sound Enhancer and Tango for my HD7...

Its not coming, I had a hd7 and they said its not coming after it was taken off from the mango update

I still have sound enhancer on my t-mobile hd7.

It's in Settings now, instead of being a separate app. No problem on my Tango HD7

I have sound enhancer on my HD7

It comes preloaded on Mango ROMs and receives updates from the Marketplace.

So you're on AT&T then? I've had Tango on my HD7 for at least 3 months (I'm in Australia, and Telstra aren't quite as slow)

I just want an update for the camera. The continuous focusing is aggravating, also digital stabilization wouldn't hurt

Just checked the HTC Apps section of the Marketplace. Still seeing 1.6.0.0. Is this update just for Windows Phone 8? This is the problem with HTC. Great hardware. I have the HTC Arrive. But they don't support it after the fact. It's been over a year since I've seen a new app from HTC on my phone.

Also HTC Arrive here viewing Photo Enhancer at 1.6.0.0. I'm on the east coast.

I/ve never heard AIDS before, wonder how its gonna sound ;)


Nice to see HTC/Any support for people who have a hard time hearing speech. I personally have hearing aids and very bad hearing so getting more volume is always a good thing to have. I don't have the newest hearing aid devices and i know new ones support bluetooth and such, but this is a nice feature for people with less problems too.
I hope this will lead to similar programs for other devices or platforms, as i can understand it would be a nice addition.
I always find it strange that websites, phones and other gadges always have stuff implemented to aid the people with a visual handicap, but always seem to skip the ones with a hearing disability. Thats why i also like the fact that WPCentral puts up subtitles on most of their (important) video's!

Everyone says HTC has crap update support I have a HTC Mozart and I have gotten all the available software updates, it all depends on ur carrier so don't dis HTC :/ blame ur telco

That's odd, from my HD7 I still see no update for Photo Enhancer, ther version number for this app in the marketplace is still 1.6, or is there any restriction that new version is for Titan/Radar or later only?

People love to hate 2nd place HTC. They are a decent company with decent phone, but could use some support help. You need companies like HTC, so you can point your fingers and say THATS THE BAD GUY! LOL. They still like to keep the first place companies on their toes.

I always liked the results of the photo enhancer on my HTC Arrive. It was easy and integrated well into the phone. My 920 has plenty of photo-fixing solutions, but nothing quite as simple-yet-effective as htc's photo enhancer.

What phones are compatible with Hearing Aids? Can't find it on the Marketplace from my HTC Radar.

I love HTC's Converter app, but I really wish they'd fix the bug that makes it impossible to use the last conversion category in the list. A simple off by one error.
Windows Central Newsletter
Thank you for signing up to Windows Central. You will receive a verification email shortly.
There was a problem. Please refresh the page and try again.