HTC Sense TV app for HTC One updated with remote learning function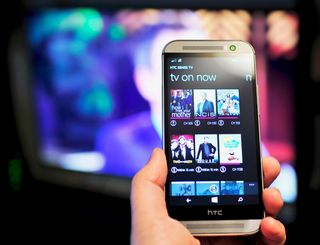 HTC has been on a roll these last few days with numerous firmware and app updates. The latest update today is for HTC Sense TV, which pushes it to version 1.2.
HTC Sense TV is a TV remote application that lets users take advantage fo the built-in IR blaster in the HTC One for Windows. However, instead of just a remote control for your TV or cable box the HTC Sense TV app also pulls down current TV shows, movies, and sports. The app lets you browse by TV show, see what the episode synopsis and even seeing how much of the episode has progressed.
Version 1.2 slightly refines the Sense TV app with the following feature:
Learn remote control functions – For TV brands that are not listed, this feature allows you to sync up with the TV's remote control to learn and adapt various functions to turn your smartphone into a better remote control.
Although not a huge addition, especially if you are already using HTC Sense TV without issue, this should help those who have had issues setting up the app with their cable TV provider or hardware.
Admittedly, HTC Sense TV is one of our most used apps on the HTC One as it is truly a problem-solving and useful app due to its speed over traditional digital cable menu systems. Hopefully, we will see IR blasters become the norm in 2015 for smartphones. Check our video demo of the app above to see it in action.
Thanks, Wayne M., for the tip!
Daniel Rubino is the Editor-in-chief of Windows Central, head reviewer, podcast co-host, and analyst. He has been here covering Microsoft since 2007 when this site was called WMExperts (and later Windows Phone Central). His interests include Windows, Microsoft Surface, laptops, next-gen computing, and for some reason, watches. Before all this tech stuff, he worked on a Ph.D. in linguistics and ran the projectors at movie theaters, which has done absolutely nothing for his career.
Interesting, this phone is nice, AT&T?

AT&T, TMo and the original US carrier, Verizon, all offer this phone. Is that what you're asking?

Thanks, thinking on buying one unlocked, just like my L1520.

Yes, in the US it is avalible on AT&T, Verizon, and T-Mobiles networks...

Got mine from AT&T. The idiot didn't even know there was a Windows version of the phone. I went in and said I wanted the HTC One for Windows and he said there was an Android version, then pointed me toward the Windows Phone section (where there wasn't an HTC One). He had to ask the manager who went and got one from the back. This was a corporate store, mind you. Several years later it's still an uphill battle just trying to buy a WP. Great phone, though, you'll love it.

At least they had it at the store. I went to T-Mobile and after explaining that I wanted the the Windows Phone version, they finally said I needed to order it from the web site. It's ok, though, it came in a couple of days and a few days afterward I got the Xbox Dot view case. Love the phone.

I think they have been around for years on Samsung phones. IR capabilities that is.

Only the last couple of Galaxy S phones. For Windows Phone, only their ATIV SE on Verizon has an IR blaster.

& sammy is discontinuing tv listings for their watchon app

IR was standard kit for PDAs back in the Palm era. I remember using my Siemens SX56 as a TV remote. Somewhere along the line they got phased out for some reason. It is good to see them coming back as "new" features. Hopefully the landscape slider will make a similar comeback someday...

IR (Irda) was also in phones too prior to bluetooth and there was a period where IR watches was all the rage.

I love using the Sense TV app, especially since it's really easy to set up a new tv or cable set-top box. I do wish there was a way for me to save my favorite channels so I can see what's on at a glance, but other than that I love being able to scroll through the guide on my phone without having to use my remote.

I use this app on my M8, and my wife uses it to prank the kids or turn down the tv when it gets too loud.

I use this to fight with my sister over cartoon channel

My bf needed a new phone because his second Android phone had kicked the bucket after a year and so I convinced him to switch, so he picked up one of these yesterday, and he's pleased with it so far. As a 925 owner I am a little jealous of the IR blaster, but I think that there are too many other things about Lumias that I would miss. Have any of you switched from a Lumia to the M8, and what was your experience? I'm planning to eventually upgrade to a 1520 currently.

I had the 810 and loved it, now have the M8, things I miss: Dedicated camera button, glance, and when denim hits the Hey Cortana feature would be nice, although the 810 wouldn't be getting it. Hopefully HTC implements it since it has the hardware. Also have the Dot View case, which is awesome, I highly recommend getting it. Overall, I'm more than happy with the M8. My gf has the 925, trying to get her to switch

Happy with the M8 coming from a Lumia 920. The thing I don't miss most is accidentally triggering the search button, the onscreen navigation buttons are great! Screen is not as black is about my only gripe, everything else is a major step up.

If you are a photographer, you will miss alot
+ Glance
+ Hardware Camera Button
+ Fast Software Updates
+ Local NOKIA Services

Actually, I love this phone. I switched from my Lumia to it. The camera is great (I viewed pics from my Lumia and my 1(M8)4W through OneDrive on my 60 inch tv in my living room the quality was comparable.), dot view is much more usable than glance ever was (especially with this last update), and I always found myself using Cortana or Bing for local searches because none of the Nokia local items worked in my car. And as for fast software updates...well, Nokia did a good job there. It's nice to see HTC picking up the pace some though.

Camera is underrated for the following reason: It is fast. Lumia cameras are all slow as dogs. Thus, the "good" picture is gone before you can even take one. In bright light, this is a much better camera than my L920 ever was. In dim light, it's comparable.

I miss my n95 where i had all of thos ... Ir gps sensor core and other things

ALSO INCLUDED IN THIS UPDATE: They added "Microsoft" as a cable box, which (mostly) controls Window Media Center. Pressing the menu button brings up the movies screen for me for some weird reason.

I don't think this will become the norm until Apple says they invented it. Half joking half serious. People are just finding out about predictive text. And tapping your phones together to transfer things/pay for. didn't they latest iPhone just come out with that.

Can you control other things eg home theater speakers with it too or only a single device?

Yes, you can control cable/sat boxes, tv and home theater for each room in the house. Can setup as many rooms as you like, I have 5 rooms saved, easy to switch between each. The stereo in the living room is 12 years old and hasn't been made in a decade and it controls every fun too on it. The only downside is if you add a home theater to the remote it defaults to using only it for volume

Good to know, I only control volume from home theater not from tv itself so this would actually work perfectly in that sense for me. I have been trying to decide on something for living room for a while but having a ps3 in the mix makes life difficult in terms of choices due to it being Bluetooth only.

So can the HTC One learn the commands from the Xbox One Media Remote? That would be pretty useful!

I have the M8. To answer your question, I'm not sure. I'll try and post in the forum. So far, i think that SmartGlass offers a better experience.

Love this feature. Use it every day to browse TV listings and set reminders when a show is on. I'll be sad if I go back to a Lumina and can't use it anymore

how can I setup a reminder using the HTC One M8 windows? It seems to be different than my HTC One M7 which is android. I hope someone else can help me to setup a reminder.

Please let a htc camera update come out soon...

You having a problem with the camera? I was worried about the quality, but honestly I think the color reproduction is better than the Lumia. It's not a high res picture, but the quality is way better than I was expecting. Takes a little getting used to the layout and the various options, but all in all I'm very pleased with the camera. The pictures of my Christmas tree almost look 3d, an awesome side effect lol.

I wish there was a way to convert the Android M8 to Windows...I have S-Off. There doesn't seem to be a way to do it yet, so I have it up for sale. Sad.

Oh shit where is supaboymicah now HTC showing some windows love with these updates
Windows Central Newsletter
Thank you for signing up to Windows Central. You will receive a verification email shortly.
There was a problem. Please refresh the page and try again.