HTC's new Vive Cosmos models have wireless and SteamVR support
Vive Cosmos Play, Vive Cosmos Elite, and Vive Cosmos XR are a versatile new trio.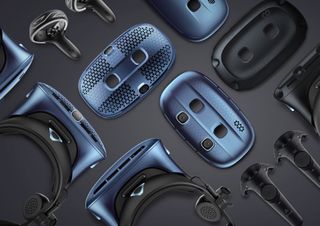 (Image credit: HTC)
What you need to know
The Vive Cosmos Play, Elite, and XR utilize the same base Vive Cosmos HMD with wireless support.
Each price point includes a different faceplate that changes out the number of cameras and functionality, starting at $499.
Faceplates are removable and interchangeable and can be purchased separately at a later date.
The entire HTC Vive Cosmos family is here, and it's covering all the bases with a variety of packages that it hopes will fit your budget and feature requests. The HTC Vive Cosmos Play, Cosmos Elite, and Cosmos XR range from $499 to $899 and come packaged with different specs. However, there's a hidden secret to all three packages shown: the base headset is exactly the same, no matter how much you choose to spend (opens in new tab). What's different is the completely removable faceplate on the front, and that's where all the new goodies lie.
That means if you pick the $499 version, you'll still be getting the same great 2880 x 1700 resolution RGB-stripe LCD panel inside that the $899 version comes with. That also includes the same comfortable new head strap design, the awesome built-in adjustable headphones, and the nifty flip-up design that makes it easier to transition from virtual reality to actual reality around you without having to remove the headset.
The Vive Cosmos line is also fully compatible with the official HTC Vive Wireless Adapter. This compatibility makes this the only major PC-powered VR solution in 2020 with a wireless option. The difference between these three packages boils down to which faceplate, controllers, and type of tracking solution are bundled in the box.
HTC Vive Cosmos Play
The Vive Cosmos Play starts off the entry-level option at $499 (opens in new tab). Cosmos Play ships with a Vive Cosmos HMD, Cosmos Play faceplate, and Cosmos controllers. That's the same Vive Cosmos HMD and Cosmos controllers that launched with last October's Vive Cosmos, but the difference is all down to the faceplate on the front.
While the Cosmos Play sports the same inside-out tracking as the Vive Cosmos, the number of cameras on the front has been reduced. Instead of the six cameras that the $699 Vive Cosmos features, the Cosmos Play has four cameras placed in a horizontal pattern across the faceplate. This reduces the tracking range by limiting the vertical movement, so while you can still track in a full 360-degree circle around your body, movement above and below the head is more limited when compared to the six-camera Cosmos.
HTC Vive Cosmos Elite
At $899 (opens in new tab), the Vive Cosmos Elite is the full SteamVR replacement for the original HTC Vive or the HTC Vive Pro. It comes packed with the Vive Cosmos HMD, Cosmos Elite faceplate, two SteamVR base stations, and two Vive Pro wand controllers. The Vive Cosmos Elite sports the same millimeter-accurate room-scale tracking as the original Vive and Vive Pro and is fully compatible with all SteamVR accessories.
That means streamers that have been relying on Vive trackers for full-body tracking can upgrade to the Vive Cosmos Elite and see no reduced functionality, only the enhancements the Cosmos brings to the table. It also means that you can pair the Cosmos with other popular SteamVR accessories like the Valve Index controllers.
HTC Vive Cosmos XR
The Cosmos XR is specifically geared toward developers and professionals and is the first Vive solution to sport full passthrough XR support. Two cameras can be found in addition to the six cameras that the regular Vive Cosmos faceplate for a total of eight cameras on the Cosmos XR.
The two lower cameras on the front are explicitly used for passthrough XR. They can be utilized for any kind of mixed reality application or for other specific development purposes. At the same time, the remaining six cameras are used solely by the Cosmos XR for inside-out room-scale tracking. HTC isn't announcing price or availability on the Cosmos XR just yet, so stay peeled for an additional announcement at GDC 2020.
A more refined family of devices
What's particularly interesting about this announcement is the modular aspect of the Vive Cosmos. We knew the Cosmos was modular from last year's announcement, but now we understand that the real difference between models is simply the faceplate on the front. No matter which Vive Cosmos product you might choose, a different faceplate is all you need to unlock a new suite of features.
While the $499 and $699 Vive Cosmos models focus on inside-out tracking, the $199 Cosmos Elite faceplate is all you need to convert the Cosmos into a SteamVR HMD for use with your existing SteamVR setup. Given that all Vive Cosmos HMDs support the Vive Wireless adapter, players can now choose a new high-end Vive wireless HMD while still choosing the Valve Index controllers for a superb VR experience.
HTC is taking pre-orders on February 24 at Vive.com (opens in new tab) and expects the Cosmos Play and Cosmos Elite to ship at the end of Q1. The Cosmos Elite faceplate that sells for $199 will be available sometime in Q2.
Versatility in tow
A robust set of choices

Get the HTC Vive Cosmos now and choose from the broadest range of options available in PC VR hardware today. The Vive Cosmos has wireless support, inside-out or SteamVR tracking, and full SteamVR ecosystem support.
Windows Central Newsletter
Get the best of Windows Central in in your inbox, every day!
Nick started with DOS and NES and uses those fond memories of floppy disks and cartridges to fuel his opinions on modern tech. Whether it's VR, smart home gadgets, or something else that beeps and boops, he's been writing about it since 2011. Reach him on Twitter or Instagram @Gwanatu
I don't understand why Microsoft hasn't updated Windows Mixed Reality with wireless support or at least support for using a single USB-C cable.

Umm.. it has a single USB-C cable... Or you mean run everything only over USB?

Also, WMRs already ahead of the others as far as cameras tracking, MR, and higher resolution. MS has more time *clears throat*, as others play catch up, to develop something even better. OR like many things MS it's a dead end bc they thought it was great at first but it's just "not the right time" or market isn't ready, etc... MS had so many firsts, but not many follow ups

I think their big focus right now is getting HoloLens2 actually shipped. They are having so many supply issues right now with it, that people will probably not get them until next year. I'm still waiting on my order to ship.

So... There's if I understood correctly, there's the Vive Cosmos that came out last Autumn, then a lower end Cosmos Play, a slightly better Cosmos Elite, and then Cosmos XR for devs? That's 4 headsets near identical minus some cameras and controllers?? So still barely better than a Samsung Odyssey+ hmd... Got it...
Windows Central Newsletter
Thank you for signing up to Windows Central. You will receive a verification email shortly.
There was a problem. Please refresh the page and try again.