Huawei disappoints today and downplaying Nokia's announcements tomorrow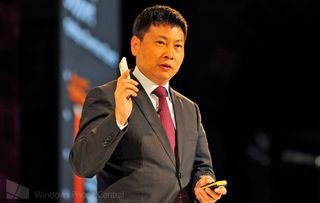 Today, Huawei announced the new Ascend P2 Android smartphone. We won't go into too much detail, for that you have Android Central. But we will say that Huawei, in terms of hardware, are starting to do some impressive things.
That Android device features numerous "firsts" including the first Cat4 LTE phone, a 2422mAh battery, and some advanced power saving features that on paper sound exciting. Their new display also uses Super Sensitive Touch (probably licensed from Synaptics, Nokia didn't invent it) making them the first Android phone with that technology. Whether or not it is good as an actual phone remains to be seen.
So the big non-news is the fact that no, there were no Ascend W2 or W3 devices announced. The W2 was rumored to be a "super thin" Windows Phone while the W3 perhaps their 6.1" monolith. Then again at CES last month they also held a press conference and did not mention the W1 even though it was then on the floor, out on display. We'll be checking to see if we can find or learn anything of course.
No mega-pixel shattering Nokia Windows Phone?
Nokia Lumia 720
Say it ain't so but idle chat has picked up around here that tomorrow's Nokia announcement may indeed lack that power-punch of a high end device. That means only the Lumia 520 and Lumia 720 will be announced but nothing else for Windows Phone (maybe some new Asha devices). Remember, the Lumia 900 was announced at CES and no high-end Nokia Windows Phone was revealed last year at MWC either.
This makes sense for a few reasons. For one, the Twitter leaker @evleaks has failed to produce any last minute marketing renders of any new high-end Nokia, yet they managed to snag ones of the Lumia 520 and 720. In of itself that should tell you something and seeing as we've heard very few definite details this close to an announcement, it's not a good sign.
Another reason is it would be odd for a Verizon phone to be announced at Mobile World Congress. Usually carrier-specific announcements don't happen at MWC and it is even more odd for US carriers who tend to opt for State-side CES or CTIA events to announce their wares.
Nokia Lumia 520
That's not to say that some new high end phones aren't coming from Nokia, in fact we know of a Verizon one making the rounds and have even heard rumblings of a 9xx series for T-Mobile at some point. We just think Nokia may hold off until they have the spotlight (and not just MWC's "15 minutes" exposure). In addition, we wouldn't be shocked if Nokia talks a bit more of their software services and upgrades therein, including Nokia PlayTo.
The Lumia 520 and 720 would be good announcements for Nokia as they did reveal the Lumia 610 last year during the same conference. The 720 in fact looks to be quite the looker of a device, a scaled down Lumia 920 featuring a 4.3-inch ClearBlack display, 1Ghz dual-core processor, 512MB RAM, 8GB of storage, HSPA+, micro-SD card expansion, and 6MP / 2MP rear / front camera combination.
That may not excite many of you who want the high-end stuff, but when you think of how awesome the Lumia 620 is and remember that the 7xx series is supposed to be price just slightly above it, those are some pretty solid specs. This could be a great entry-level phone for many who prefer a 4.3-inch display and something not as tiny as the 620.
Regarding tablets, you're guess is as good as ours. Tune in though to Windows Phone Central as we'll be covering Nokia's event Live in just 13 hours!
Windows Central Newsletter
Get the best of Windows Central in in your inbox, every day!
Daniel Rubino is the Editor-in-chief of Windows Central, head reviewer, podcast co-host, and analyst. He has been covering Microsoft since 2007 when this site was called WMExperts (and later Windows Phone Central). His interests include Windows, laptops, next-gen computing, and for some reason, watches. Before all this tech stuff, he worked on a Ph.D. in linguistics, watched people sleep (for medical purposes!), and ran the projectors at movie theaters because it was fun.
Live Stream
http://www.reddit.com/r/windowsphone/comments/194mtw/nokia_will_live_str...

Not likely, remember the Nokia 808 was launched at WMC last year without a leak before hand.

Nothing major will be announced. When is the next mobile conference where they might announce new high-end devices if not tomorrow?

They don't need one. The Lumia 920 and 820 was announced during a special press conference held by Nokia.

...Called the Nokia World, one of their biggest annual events. But true, they can announce devices whenever (like Lumia 620, or Lumia 810, etc).

Why exactly are we expecting Nokia to announce a new flagship? If they do then good on them but it doesn't make sense. Lumia 920 has ONLY JUST started appearing in global markets. The earliest launch was in mid November which gives only about 3.5 months since it was launched. I'd rather prefer Nokia not becoming the next HTC and start announcing new flagships every 3 months.

I hope they at least announce the 922 for Verizon or T-Mobile. They need this device on more carriers in the U.S.

we are not taalking about a flagship per say. more about a niche device. the 808 was announced last year at mwc along with the low end 610. they already had the 800 launch at nokia world,then the 900. just like now they have the 920 launched. so that still remains that the niche device needs to be released,especially since the 808 reached the end of its product cycle and it desperately needs a wp upgrade

EXACTLY! the 808 was a niche device so it would be alright to announce something like the EOS months beforehand without it comprising the sales of the 920. Remember unlike us who read tech websites, the average user would probably prefer the 920 for asthetic reasons aside from having a nice camera. So an EOS announcement like they did with the 808 last year would NOT hurt current gen sales.

For the first time, EVER, I agree with ammarmalik2011.

Not sure why some were hopeful, or expecting, that Nokia would announce a device to best the Lumia 920 so soon after its release.

The Lumia 520 and Lumia 720, despite the leaks, are great devices for Nokia to announce at MWC; I also expect them to discuss new developments with their Location services, and maybe a few surprises with app developments.

Also, is it true Jay and Dan have never met in person? By the way they interact during the podcasts you'd expect them to be sauna room buddies. ;-)

Jay and Dan have noted it several times on the podcast. It's true.

If nokia doesn't introduce the EOS that would be verry dissapointing, MWC2013 would be the perfect occasion to introduce it to celebrate the birthday of the Pureview 808 but as you guys said, there's only leaks for the 720 and the 520 like in september for the 920 and 820. Maybe they'll do a seperate event?

It would be very disappointing, especially seeing as there's not a lot else going on at mwc. An eos type device would certainly steal the show, and they'd have a far bigger audience than they would at their own event.

Why do we need another high end phone when the last one is plagued with bugs and QC/QA issues that need addressing first and needs availability globally!

Stop giving this company press. Thru have stolen 90% of their designs through hacking. This company is a bunch of rats.

Not our place to decide such things. We're here to bring news, not censor it.

Perfect response. I don't want Huawei to be successful, but consumers need to be impartially informed on all fronts.

Where is the news on that? I've heard similar things about that company, but no real import bans or lawsuits that have had any serious consequences.

20/20 , 60 minutes. Companies have traced break ins and network stealing of prints, plans, and internal secrets ....and one of the biggest offenders is the crooks. And over and over. Not a few instances...according to those that hired security, it happens on a daily basis. That have gotten good enough to track the attacks right to their doorsteps.

Last I checked, 20/20 and 60 minutes are hardly unbiased factual news shows. These are generally pro US and 'If you are not with us you are against us' type shows more interested in local ratings than bringing true and non hyped news stories.

Please. Has nothing to do with Pro US. These companies have nothing to gain by pointing their finger at an innocent company and letting those who steal from them, walk away Scott free. Be like knowing who broke in your house and blaming your neighbor for the hell of it. These guys are crooks.

I don't know if Nokia truely solved the production problem but it seems very likely, most color Lumia 920 are available on online retailer now...so let's hope it picks up

Oh no, no Huawei Windows phones, what on earth will we ever do? Who cares,

Why? Shouldn't you be unbiased without care for any company?

He cares because of that Chinese market thingy. I hear it's important.

You mean a market of over a billion subscribers? yeah i heard its kinda important too

Didn't someone say it was way too saturated anyway?

You mean Huawei the company caught red handed selling high tech equipment to Iran? Equipment designed to catch people using cellphone technology against the "government" wishes? Yeah that Huawei...

Are we getting news of the Nokia tablet?

Is it realistic to expect anything new before Microsoft releases Blue on Windows 8? HD support for the phone, a new Notification Center, and Windows Pro/ RT scaling down to 7" tablet form come with Blue. That seems to be the next wave of devices.building towards the Smart Glass releases for XBOX 720. Scaling HD resolution across mulitiple monitors, device types, and multiple sizes is a prioity as is a common notification paradigm. Everything else is feature refinement,.
If the rumors are correct Windows 8 Blue will be in consumer review mode at E3 in June while XBOX 720 and Phone 8 Phone Blue will be in final Beta testing and the threesome will be the subject of the October Build Conference for Developers. If its like last year the Build announcment was the last week of July.

I thought it was one of Nokia's top honchos that said, "wait till Spring, people will be jumping over each other to get our next device". Something to that nature. So I think they will announce something big...maybe:)

You mean like last spring?

Well, the Lumia 900 did outsell the HTC Titan II and Samsung Focus Flash and Focus 2 on ATT, so it would seem as though people did 'jump over' the other WP oems to get their hands on a Lumia.

The more low end WP8 devices the better. It will drive the os far faster than another halo device. It is what did wonders for android. Go for it Nokia, you have my full support.

Your absolutely right. It will drive over business more. I'm sure if not shown tomorrow their will be some information about their future plans with the high end camera.

Well I may've waited for nothing
:-(

I find it interesting tha EVleaks hasn't produced an image of the verizon phone. Surely it will look different from the regular 920?

I hope not. I love the look of the current 920. My fear is it will look similar to the uninspired 822.

Evleaks mostly produces leaks for devices before they are announced. I DO NOT expect Nokia to announce the laser tomorrow as it is a variant of the 920. It would give Nokia bad press if they did that.

Daniel, shouldn't you be heading out for some paella right about now? Quit blogging and go have fun in Barcelona!

I don't expect highend/ flagship devices either but I think your deductions/reasons are wrong the fact that no flagship device has been leaked to evleaks yet doesn't mean anything . They only leak when they want to, remember the Pureview 808 didn't get leaked prior to the announcement at last years WMC. I'm not holding my breath but Nokia could pull a suprise..

I have to point out, that @evleaks had nothing on 620 either.

Don't care about either. Not going to get a new windows phone locked in a two year contract without seeing Xbox music and Xbox vidoe fixed, secured storage card support added.

Not xpecting high-end phones either, what WP needs is low-end but good quality cheap phones to flood the market

Disappointing....but now I can justify buying a Lumia 920 without it feeling outdated!!!

Doubtful rumored eos to be announced. Didn't expect to happen and most publications said so too. But u never know. Will be disappointed when Ms does t say a word about 8.1.

Point blank Nokia needs to confirm a Lumia 920 variant heading to T-Mobile or it's the HTC One for me.

What's disappointing is Huawei spying for China. This is not conspiracy theory crap, this is fact. It has been caught stealing billions of dollars in technology secrets from US & European businesses. Boycott their products and tell others to do the same every time you see a posting regarding Huawei.


How is the 720 a scaled down 920? It appears to be closer to the 820 line than 920 phone.

I'm excited! The 720 and 520, together with the 620, are the the kinds of affordable phones that will allow Nokia and WP to gain traction in emerging markets.

Regarding tablets, you're guess is as good as ours.

Just saying. I think this mistake not being pointed out in the 1st hour shows not many people read the last blurb, haha.
Windows Central Newsletter
Thank you for signing up to Windows Central. You will receive a verification email shortly.
There was a problem. Please refresh the page and try again.