Why Huawei's MateBook is still king of the Windows 10 tablets
The Huawei MateBook may be considered old news, because it's been a while since it was released. However, this doesn't change our mind about it still being the best all-around Windows 10 tablet on the market.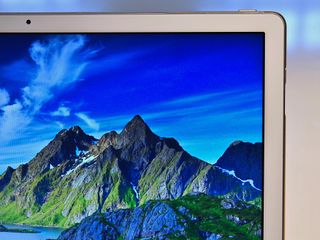 Huawei stole some headlines with the MateBook back in July of last year when it was first revealed, and that's for a good reason. It was the company's first-ever Windows-powered device, and it's a good one. We reviewed it before and even left a second opinion, but why exactly is it still relevant? And how does it stand up to newer competition? Here is why I still think the Huawei MateBook is the best Windows 10 tablet.
Huawei MateBook build quality
The MateBook pleasantly surprised me with its rad aluminium unibody the first time I used it. As this is Huawei's first try at the PC market, it's surprising to see that the company went with quality materials, because most companies test new waters with low-end products. A good example: Nokia and the long forgotten, Android-powered Nokia X-series, which used low-end internals and cheap materials, such as plastic.
Comparing the feel in the hand to my Surface blows Microsoft's offering away. It reminds me a lot of the feeling I got when holding the iPad Air for the first time. But it also feels a lot heavier, which is something I consider a positive thing. The Surface's magnesium unibody never really screamed premium to me. The MateBook, on the other hand, actually does scream premium, all the way from the USB-C port on the bottom right corner to the headphone jack on the top left. I had never held a device that feels this good before.
Other tablets on the market also have a premium feel, but the MateBook takes the top spot in this category.
Laptop or tablet?
The MateBook is a laptop-tablet hybrid, also known as a 2-in-1. So why do I keep referring to it as just a tablet? Because that's what it is best for. Comparing the MateBook to the Surface Pro lineup gives you the result that if you need a laptop, go with the Surface. The keyboard on the MateBook feels very low-quality and doesn't fit the device at all. It's mushy, has very little key travel and generally feels like a "me too" product. While testing this device for a few weeks, I even managed to drop the dock itself on the keyboard from about four inches and a key came loose, forcing me to send the keyboard back to Microsoft for a replacement. This proves how fragile it is and that it was designed with very little effort.
The dock is also weirdly designed, with odd spots for the cables to sit in and generally an uncomfortable shape. When connected to the tablet, the cables are everywhere except where you want them to be. The dock seems like it wants to be stationary and portable at the same time, but it's poor at both functions. If I had three words to describe this dock they'd be "pretty but bad."
What's so great about the MateBook?
The device itself may not be considered a breakthrough in the tablet industry, but it's such a solid all-around choice with almost zero sacrifices that it's hard not to recommend for someone looking for a media consumption device or a casual-use tablet. Aside from the glorious build quality, it features a 12-inch QHD display at 2160 x 1440 pixels, making it on par with many other high-end tablets on the market. The quality of the display itself is magnificent, with very high contrast ratio, meaning deep blacks and bright whites. At some point, I even had to check if it was an AMOLED-technology driven display because of the deep blacks.
It also features a Windows Hello-powered fingerprint reader that's surprisingly good. The fingerprint reader found on my TypeCover 4 is pretty poor, and it often requires me to scan again or simply refuses to work at all. This hasn't been the case with the fingerprint reader on the MateBook. It's perfectly positioned, so when you're naturally holding the device, you will automatically put the finger on the sensor which is located in between the volume buttons on the right side of the device. I thought I would miss the facial recognition found on the Surface Pro 4, but it actually hasn't bothered me at all. The reader even works when the device is sleeping, which makes the unlocking process very pleasant. It's fast, functional, pretty and generally great.
I've been using the MateBook daily for browsing Facebook, Twitter, watching anime, YouTube and some web browsing, which means very casual tasks. But it's been a pleasure. The Intel Core m3 (Core m5 variant available) CPU found in the MateBook is often laughed at as for poor performance, but that's not the case. After the Core m3 replaced the Atom in a lot of devices, people see it as just a rebrand of the same CPU without realizing that the m3 is definitely not a low-budget CPU but instead a low-power one. The MateBook absolutely flies, no matter if it's 4K video playback, light gaming or browsing Reddit. It has met all my expectations and even surpassed them as I managed to do some heavier work on it when my Surface was sent in for repair.
As I had the lowest-end version of the device, my storage was limited to a 128GB SSD and only 4GB of RAM. I quickly realized that the MateBook is not designed for tasks which require more than 4GB of RAM, but there is an 8GB variant if you're willing to pay a little extra.
It isn't designed for gaming, programming, prosumer work or anything heavy, really. Only having one USB-C port ruins the experience for virtually anyone that wants to do some actual work on it, making it a poor power-user device. This is where the competition shows up the MateBook. As a prosumer device, the MateBook falls face to the ground against devices like the Surface Pro lineup or Asus's Transformer Pro devices.
If you read the MateBook specification sheet, it falls short in terms of battery on paper, with only a 4,430 mAh battery, but it actually shocked me by lasting way more than the promised nine hours that Huawei and Microsoft promise on their web pages. It may not last nine hours of active usage with the screen on all the time, but in my particular case, I rarely have to bother with charging it before I'm ready. It's charged when I need it to, and not even once has it happened that the tablet discharged while using it.
The MateBook excels at what it's made for
All of this still doesn't explain why it's the best Windows tablet, and many manufacturers have come out with better performing devices, with higher resolution and quality displays. What makes the MateBook so unique is its relatively low price for what you get. After multiple price drops over time, it's hard to deny that if you're not a specification nerd and care mostly about the overall experience, the MateBook is a near-perfect device.
I am a prosumer and power user. After a long day of school (maybe not that long, but we students like to complain) I pick up my Surface Pro 4 and start writing articles on its amazing TypeCover keyboard. This is where the MateBook would fail, because the keyboard is poor. When I'm done, around evening, I pick up my MateBook from my coffee table in my living room, where it nicely fits into the overall aesthetics. It still has around 70 percent of battery left, even thought I forgot to charge it overnight, so I don't have to worry about that. Its aluminium back feels nice and cold, with a matte texture to it, giving me the strong feeling of "premium" whenever I hold it.
When I watch video on YouTube, everything sounds amazing with the stereo speakers on the top. When I'm done, I put the tablet back where it was if I don't feel like browsing Reddit or Twitter at the moment, and it's still cold to the touch. This is area where the MateBook has an advantage over the Surface. The Surface Pro 4 likes to get a little hot and uncomfortable, even with very light usage. The MateBook stays way colder to the touch and generally feels better.
Conclusion
The MateBook is a device with very few sacrifices, and if your particular workflow isn't too demanding, it may even be considered perfect. It feels amazing, looks amazing, sounds amazing and behaves just as well. It has a reasonable price, at least after all the recent price drops, and it does what it's supposed to.
If you're looking for something that "just works" and doesn't try to be something it's not, the MateBook is a perfect tablet for the price — with the exception of the optional dock and keyboard, which are underwhelming.
Huawei MateBook Forums at Windows Central
Get the Windows Central Newsletter
All the latest news, reviews, and guides for Windows and Xbox diehards.
Dennis Bednarz is a former writer for Windows Central and the guy behind ModMy. He has been a recognised member of the Microsoft community for years and owns everything from Lumia phones to Surface PCs. He occasionally likes to rant about Windows Phone and drink tea. You can go ahead and follow him on Twitter at @DennisBednarz