Huawei's Mate 30 Pro ditches Google services – is that interesting for ex-Windows Phone users?
Without any Google apps or Play Store does the Mate 30 could be an option for those who dislike Google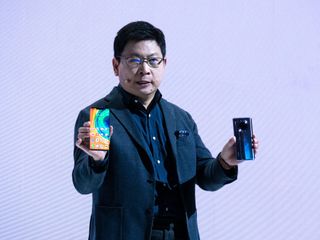 Huawei finally unveiled the highly leaked Mate 30 Pro (and Mate 30) today. The phone rocks some of the most impressive hardware on the market including two 40MP cameras (one regular, one wide) and an 8MP telephoto shooter that comes from the P30 Pro. There's also 5G, 27W wireless charging, 3D face unlock, virtual side buttons, and the powerful new Kirin 990 processor.
Perhaps the most interesting part is how Huawei cannot sell the phone with Google services, including the Google Play store. The reason for that decision stems from the U.S. Commerce Department's ban earlier this year that prevents American companies from providing technology to Huawei.
Selling a premium, high-end phone without Google services or the Google Play Store is quite a blow to what could have been the best phone of the year.
Ex-Windows Phone users are quite familiar with owning a phone in a Google-less world. Would such a phone appeal to some of that audience? Would the effort needed to make it functional in 2019 be worth it?
Huawei is not resting on its laurels, though. The company also announced it was going to drop a massive "USD 1 billion to encourage developers to build apps and get them marketed on Huawei phones outside China." Even revenue sharing will bump from 70 percent (what Google offers) to 85 percent.
Microsoft and Nokia tried a similar strategy with the Lumia line. However, the amount of money invested by both companies was never revealed. It seems safe to say though that it was never close to $1 billion (maybe over many years, but not in one shot). That money is a drop in the bucket for Huawei, but it does show they are serious about this effort.
Sideloading, custom ROMs, other app stores, and PWAs to the rescue?
A savvy user can, of course, "sideload" Google (and other) APKs on the Mate 30 Pro just like any Android phone – so technically this is not an issue for power users.
There's also just the good ol' web. Many sites – including almost all of Google's – now support the progressive web app (PWA) model. That means users can "install" a website as an app to their phone. That will work for YouTube, Gmail, Google Photos, Google Maps, Instagram, Outlook, Facebook, and many more.
Huawei is also reportedly considering opening up the bootloader to allow custom ROMs - a reversal of a previous policy. That could open the door to many new ideas and options too. There'a also consideration being given to loading other third-party app stores from companies like Aptoide and F-Droid.
The idea though of a powerful, feature-rich phone running a Google-less Android 10 experience is captivating. Huawei's app store already has plenty of apps, but it is not entirely clear if it will be enough (probably not).
Part of me sees the romantic appeal (and irony) of a Google-less Android phone with top-shelf hardware. But the realist in me knows it will probably be quite challenging to get by without Instagram, WhatsApp, Google Maps, and presumably even Microsoft software like Outlook, Skype, and Office. Sideloading is a nice runaround, but then security and trust of the APK source is a concern.
For those reasons, I am not confident a Mate 30 Pro has any real chance outside of China for success. But I cannot also help to be fascinated by the idea and would like to give it at least a shot. Am I alone, or is a workable Google-less Android phone in 2019 just a pipe dream? Let me know.
Daniel Rubino is the Editor-in-chief of Windows Central, head reviewer, podcast co-host, and analyst. He has been here covering Microsoft since 2007 when this site was called WMExperts (and later Windows Phone Central). His interests include Windows, Microsoft Surface, laptops, next-gen computing, and for some reason, watches. Before all this tech stuff, he worked on a Ph.D. in linguistics and ran the projectors at movie theaters, which has done absolutely nothing for his career.
WhatsApp is a must, and in fact the only reason I'm going to ditch my Lumia 950 at the end of the year is because of WA.

In a similar boat with the xl, but I still like using it so maybe I will just buy a small cheap 2nd phone for telephony/whatsapp and/or use telegram (that still works good on wp). Signal also seems interesting for on the pc.

It is such a shame that people around the world don't know about Telegram Messenger. WhatsApp looks like a back pack filled with horse excrement compared to Telegram.

I'm old man I just use the messaging app on my phone and the phone numbers in my contact list to send a message however the hell it gets sent. I spend more time talking to people through services like GroupMe and Discord these days. You kids with your thousand different messaging apps!

You can add another to the list Dan. As hypothetically - when ARM drivers mature the unlocked bootloader provides a gateway for much more tantalising prospects. Especially from looking at the past trend of custom roms and shoehorned o/ses.

Exactly. And there would be a cooked ROM for it eventually, which would open the Google Apps without sideloading.

nope, I don't like Huawei

Slight problem: reports coming out of Germany are saying that you can NOT sideload Google's apps either.
If that's true, then there's zero chance for these phones, specially considering they start at over 1000€. I would be completely OK with a Google-less phone so long as I could sideload apps like YouTube and Chrome which are pretty much the only two Google things I use. But I'm never giving 1000€ or more for a phone that doesn't even allow me to go around a silly 'murican ban which I shouldn't even be dealing with as an European. Reversing their bootloader unlocking decisions would also not help them unless they made a "installing custom ROM for dummies" and made it abundantly clear that they'd help people who messed up during the ROM installation.

"Slight problem: reports coming out of Germany are saying that you can NOT sideload Google's apps either."

That's where the custom ROMs come into play though as Huawei is considering that as an option too. You can also still use PWA for Maps, Gmail, Photos, and more. Issue with Google service is it's not just a single APK. You need a bit more to make them work.

https://www.xda-developers.com/huawei-stop-providing-bootloader-unlock-c... Has Huawei reversed this decision or something? I was under the impression you couldn't load a custom rom on Huawei phones for over a year now.

I would love to be free of google on android - I still don't use google for anything but the play store... so if other developers realize they will get more revenue from another android platform free from google - I could see a shift. I would be willing to try a Mate 30 Pro myself as a current P20 Pro user. I think as long as current applications can be sideloaded or fixed to work on the platform with Huawei services - I could see a shift occurring - MS and other companies (that develop android apps) have said that the US block against Huawei isn't "right" so perhaps they will modify apps to work on the devices without having to use google services... it will be interesting to see how things pan out.

It is funny people say they don't use google apps. But don't realise that many apps are using google apps, such as google maps for locations

Actually I am interested, but it would likely be another round of Windows Phone "nope, you can't get this app" for me. Denmark isn't exactly known for thinking outside the box when it comes to app development.
For that reason I am also fearful of getting burned again. But... I'll certainly keep an eye on this thing and see how it develops :D

I really want Windows Lite on a phone. I don't think the dual screen device is interesting. I'd really like it if Microsoft came out with a phone with Windows Lite though. I think it would really sell on the Microsoft Store with good advertising and four hundred dollar price.

That would be pretty sweet I think.

I remember that windows phone YouTube app. So nice until it was taken down...

I think the key difference between this and Windows Phone is apps wouldn't need to be rebuilt. Devs would just need to add their existing .apk to the Hauwei app store. However, I believe that this was the approach Amazon took with their phones. If Amazon couldn't make this work, then I don't think Hauwei will. Sure, Hauwei is willing to throw a bunch of cash at the problem, but I don't believe Hauwei is as household of a name as Amazon. Therefore, it will take more than cash. Don't get me wrong. I would love a phone free from Google Mobile Services and without the locked down/walled garden nature of iOS. But I don't know if there are enough consumers to make that happen.

"I don't believe Hauwei is as household of a name as Amazon"
Not sure that's true if you get out of the US, and less so if you are talking about phones. Amazon sells stuff. Huawei builds tech.

But what would be the benefit? You will still get crap to medicore update support and broken fundamentals within Android itself (permissions that are easily circumvented by sideroutes etc). And even crappier app stores and apps support may drop etc. Okay you will get less/no google data mining, but possibly chinese data mining (except if you use a custom rom).

I loved Windows Phone, but Android without Google apps is a no go, actually I would have loved to be able to install Androis apps on Windows Phone to have both the best phone experience and no lack of apps.

It is not only Google less, it's also paritial Microsoft less (e.g., xbox, onenote, your phone, swiftkey, skype) and you could name a lot of other non-chinese companies.
Just have someone travel from China with Huawei phone and there is no map app in the store that has US map info. Need to side load Google app as walkaround.
Maybe Huawei will care about these non-chinese market apps in the future, but for now, it's just even worse than windows phone.

Right, but if they add Aptoide and F-Droid as alternative stores, or let users flash custom ROMs, or users just fall-back to web (PWA), which is better than you might think) it may not be that bad.

Wished they just use windows mobile os and do something about the apps porting. And shame to MS.

I don't think so, most windows users switched because of the app gap

I don't like Huawei as well, and wish not to face the app gap again.

Nope.
What good is a phone from a sanctioned mega-company in China that can't run the apps that most depend upon? How good will their Huawei Store be? Chinese App developers are notorious for writing "trojan" applications that suck up all your data (and send it silently to Chinese Intelligence) and silently install malware on your phone for nefarious purposes. Yes, Google's App Store is not perfect, but it's way safer than Huawei's Store.
Anyway, what sunk WP was the LACK of Native Google Apps. Why would this be any different? In China, where Huawei is one of the biggest phone/software/services/networking infrastructure vendors, this is being marketed as a "Patriotic Phone" with no "evil US Software" in it, so why would we want to buy it to support that? (I have enough issues with Google and how cozy they are with the NSA here.)
Just say'in.

I didn't now that "native" Google apps are such an important thing? I use one "native" Google app sometimes and it is Google Maps and also Hangouts, while the rest are replaced. The latter service is something I rarely use on the device but instead through the Chrome extension, though. The rest of the issues can be mitigated by two things: 1. Unlocked bootloader and custom ROMs
2. Root I just don't trust any OEM/carrier software such as Android unless it can be controlled (i.e. root). There have been too many scandals (Carrier IQ and DT Ignite are two examples) over the years. The "safest" app store would be F-Droid when we are talking Android.

I could totally live with this so long as Microsoft apps are available. I use only a handful of apps these days day to day and most of those are Microsoft. YouTube would be a bummer but there's always some way around it.

I would like to remind the OMG APPS crowd that aptoide is a thing and allows downloads and purchases of pretty much any android app that isn't google. This is how they have apps in countries (such as China) where google is banned. That said, I don't particularly trust Huawei either. If Samsung did something like this, I would be there!

I have no issues with the idea of buying a device without Google services. A major issue with Android nowadays is all restrictions Google are enforcing through SafetyNet and modifications to the system itself (Scoped Storage is a major one incoming), which make the need for a Google free alternative even more important. Since bank apps and so on stop working with root and the idea of owning a device above $200 without system control is completely alien to me. I absolutely loath Android Pie even if it works as a payment system. A Google free "pocket computer" is an attractive idea since it is necessary to carry a "wallet" (Android Pie device with Google Pay) anyway and the two can't be combined. Mate 30 isn't attractive because of Android itself, though but Google free is a plus. I wouldn't complain about it since there are other stores and also APK Mirror as long as the device have an unlocked bootloader and root. If those two things are missing and the price exceed $200 - it's an instant no buy. My own solution to those issues are a "wallet" Nokia 6.1 that I use for Google Pay and transit apps instead of my regular "analog" wallet and a Surface Go for everything else. Google decided that Android should be basic so I simply followed suit and capped my budget accordingly (everything above $200 must run Linux or Windows before I can consider the product, Android itself is an instant no go). WhatsApp can be used in different ways and I have been running it through Android x86 and also Bluestacks without any problems. The only "major" restriction I can see with a Google free device is the lack of Google Pay BUT it's a pretty irrelevant issue since it doesn't work with root (OK, Magisk manage to circumvent it but it's a cat and mouse game). Better to manage Google on a "wallet" device instead. I would pull my hair out if I tried to use Android without root as a "primary" device. I can't accept it simply put. I even prefer my old Sony Ericsson K750i over "unrooted" Android interface wise.

I would say if one really has to switch from a Lumia 950 (XL) then a Samsung would be a great choice. Samsung now has a close cooperation with Microsoft.

No, for me, having learned from 7 years of windows phone, Huawei approach has no guarantees in a wild west of services for a long term servicing support. And for a 1000 dollar phone this gamble is too high a price. Mate 30, despite the gorgeous hardware, is nothing without a solid app service. And aHuawei promising a decent app store and incentivising developers of top apps to code for their platform based on faith, but not true support up and ready from the start is too good to be true. There are no guarantees for long term support without a solid service from the start. With google play store missing from the start is too big a gamble to pitch it as a sideloadable solution at the risk of the end user...again...for a 1000 dollar phone is a huge gamble in my view for everyday use.
Windows Central Newsletter
Thank you for signing up to Windows Central. You will receive a verification email shortly.
There was a problem. Please refresh the page and try again.