Huawei's Matebook teased with detachable keyboard and stylus, launch slated for MWC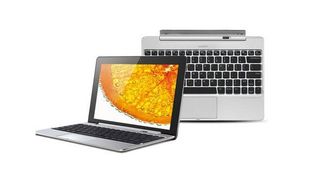 Huawei's holding an event on Feb. 21 at Mobile World Congress, where the vendor is expected to launch a hybrid laptop aimed at business users. Not much is known about the nature of the laptop, but a teaser suggests that it will offer a stylus and a detachable keyboard, allowing you to use the device as a tablet. It also looks like the laptop will be called the Matebook.
Not much else is known at this stage, but leaks indicate that we'll see a 12.9-inch display, an Intel CPU, and Windows 10 on-board. With the launch just under a week away, we'll have more to share from the ground in Barcelona. Stay tuned!
Lol. I misread it as Macbook first!

"If it's not a Surface, it's not a Surface"... P.S. I prefer the design of Samsung Galaxy TabPro S than this one.

Another Surface/Surface Book clone. Looks like MS may have redefined a segment after all. Everyone that is going to gripe about how it doesn't match up is missing the point. The Surface is supposed to be the cutting edge, price no object device. The OEM's then build devices they want to at the price points they are after.

Exactly, MS is in control of the tablet market. Lol who wants an iPad when the surface is much more functional? LOL. If this as good specs and is just as functional for cheaper then why not

Because the surface pro 4 has dismal battery life, quality control, and type cover is sold separately. Matebook may come with a keyboard, and the tabpro s comes with one as well. MSFT does not have control of the tablet market when the iPad Pro outsold the entire surface line.

Mine last a full 11 hours as my main computer at work. Don't know what the problem is with yours.

Can I have yours? Mine has never gotten anywhere close to that. And I need to exchange it at some point, because the glue holding the hinge on in the middle is peeling apart. I didn't pay $2000 for something that has that kind of defect after only a month of use.
Still love it though (except when windows 10 breaks something and causes trouble) Posted via the Windows Central App for Android

Same here. I only get a little over 6 hrs top on auto brightness and light useage (ex. browsing with Edge or IE).

The iPad pro may have outsold the Surface line, but so what. The real question is how did it do against all Win 10 tablets. Plus, how many of those are just upgrades from previous iPad owners that now had a reason to upgrade. The iPhone 6 showed there was a huge pent up demand for larger iOS devices, question is will sales continue? The consensus among analysts seem to be a downward trend for Apple devices whereas Win 10 2 in ones are the one growth area.

Yes that's true, but if you look at the bigger picture you'll see that Microsoft has indeed carved a niche for itself in the 2in1 segment. Even if the ipad pro outsold the surface line, what is the fact it outsold all 2in1 tablets from Microsoft surface, dell, hp, acer, viao, lenovo, and other oems, even samsung has joined the fray. Let's face the it, i'm sure if you add all the 2in1 from Microsoft and other oem, it sure well outsells the ipad pro. Btw the Ipad is losing costumers yearly while the surface is increasing daily. ..lol.

To go with their Mate line of phones.

If only they had windows versions for their Mate phones. One can only dream.

It looks like a MacBook when I first saw it. I think it will be affordable compared to the Surface Posted via the Windows Central App for Android

Won't makes wm10 device, but will make w10 hybrid??

*haven't made a w10m device. that's not to say they won't. :)

They said they won't be making any windows phones because there's no money to be made.

Laptop coming from an oem that has their government in their back pocket

Any different than most companies? Also, Microsoft still makes the OS, so not that big of a deal. Our government is just as bad. Posted via the Windows Central App for Android

Oh no they'll put red silicon everywhere!

Haha. What if it's called MaoBook or RedBook :P

Huawei w10m phablet will be awesome

Surface has done its job. So many choices now.

With that name, I'd expect it to be sold with it's own brown bag from off the top shelf :)

Roll on Apple banning it for sounding too like macbook

Matebook :) I sense lawsuits coming

Huawei burned any chance of me ever buying their devices when they made those comments about Windows phone.

Windows 10, 2 in 1, with an active stylus? Great. Keep 'em coming!
Windows Central Newsletter
Thank you for signing up to Windows Central. You will receive a verification email shortly.
There was a problem. Please refresh the page and try again.