Hues is a colorful game of Threes! that will challenge your brain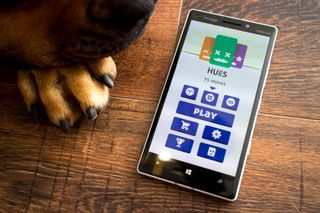 You've probably heard of the puzzle matching game 'Threes!' from your friends with Android or iOS devices. There's no official version for Windows Phone, but we've stumbled upon something similar called Hues. Don't worry; it's not a rip-off copy. Head past the break to watch the official game trailer.
Features:
3 game modes: Timed Mode, Moves Mode, and Endless mode.
Power-ups - Increase time, increase moves, level up your Hues!
Adaptive GUI! Watch the GUI change as you unlock more Hues!
View hilarious character descriptions and details in 'The Clan'
Leaderboards System
Tweet scores
Coin Shop
Swipe the display to slide the cards, also known as Hues, across the board. Match colors to combine Hues and upgrade to the next color. A new Hue is also created after every swipe.
There are three modes available. Timed Mode gives you 30 seconds to play to get the highest score possible. Moves Mode gives you 75 moves to get the highest score possible. There's a third mode called Endless, but it requires an in-app purchase of 99 cents to unlock. There's no time or moves limit in this mode.
The use of colors instead of numbers is an interesting idea, but it makes it difficult to plan moves ahead of time. With Threes!, you know that combining 3 + 3 gets you 6. In this game, combining Yellow + Yellow gets you Orange. Hues provide a cheat sheet if you want to memorize the order.
As you play Hues, you earn points you can use to purchase power-ups. This includes boosters to increase the amount of moves or time. There's also a power-up to level up selected cards. If you're impatient, you can purchase points using real money. For example, 50,000 points cost 99 cents.
Hues is a free download at the Windows Phone Store, however, you'd probably want to unlock Endless mode for 99 cents. We'd love to see the official Threes! game on Windows Phone, but Hues is an interesting alternative to check out in the meantime. Give it a try and let us know what you think in the comments!
Thanks for the tip, Ewert H.!
Get the Windows Central Newsletter
All the latest news, reviews, and guides for Windows and Xbox diehards.