Hues is a colorful game of Threes! that will challenge your brain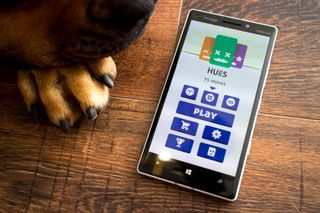 You've probably heard of the puzzle matching game 'Threes!' from your friends with Android or iOS devices. There's no official version for Windows Phone, but we've stumbled upon something similar called Hues. Don't worry; it's not a rip-off copy. Head past the break to watch the official game trailer.
Features:
3 game modes: Timed Mode, Moves Mode, and Endless mode.
Power-ups - Increase time, increase moves, level up your Hues!
Adaptive GUI! Watch the GUI change as you unlock more Hues!
View hilarious character descriptions and details in 'The Clan'
Leaderboards System
Tweet scores
Coin Shop
Swipe the display to slide the cards, also known as Hues, across the board. Match colors to combine Hues and upgrade to the next color. A new Hue is also created after every swipe.
There are three modes available. Timed Mode gives you 30 seconds to play to get the highest score possible. Moves Mode gives you 75 moves to get the highest score possible. There's a third mode called Endless, but it requires an in-app purchase of 99 cents to unlock. There's no time or moves limit in this mode.
The use of colors instead of numbers is an interesting idea, but it makes it difficult to plan moves ahead of time. With Threes!, you know that combining 3 + 3 gets you 6. In this game, combining Yellow + Yellow gets you Orange. Hues provide a cheat sheet if you want to memorize the order.
As you play Hues, you earn points you can use to purchase power-ups. This includes boosters to increase the amount of moves or time. There's also a power-up to level up selected cards. If you're impatient, you can purchase points using real money. For example, 50,000 points cost 99 cents.
Hues is a free download at the Windows Phone Store, however, you'd probably want to unlock Endless mode for 99 cents. We'd love to see the official Threes! game on Windows Phone, but Hues is an interesting alternative to check out in the meantime. Give it a try and let us know what you think in the comments!
Thanks for the tip, Ewert H.!
You should check out Lightbox. Not popular but rad.
Posted via Windows Phone Central App

If I knew how to label you as spam I would.... That said, Lightbox is an incredibly "meh" app anyways. I got it when it was free and still uninstalled it. Definitely not worth any money.

Why? It has so many features compared to other apps. The most popular flashlight app just has a button and a compass. This one has regular, SOS mode, strobe, softbox, and more. You can also add to favorite, take away sound, and pin each type to start. Even comes with birthday candles that you tap to change! Why does no one have any appeal for anything with tons of features? This is why Windows Phone is not very popular. Every person who buys it wants to be basic like grandma.

I had downloaded it already (didn't remembered lol ) so i tried it now.i liked it. It looks gorgeous. The strobe light tho... Maybe in an update it will...
Seems faster.

NIne app. Its really fun to play..

Pretty fun but having trouble with the app closing out in the middle of games.

I just tried the game. Pretty much interesting game with only one problem that the unlimited moves mode is paid. Rest the game is awesome and really an alternative for 2048

This game looks really funny and cute. I'll buy it. The game seems hella fun lol

Don't we already have million of the ice cream and candy games that are the same as Threes?

Interesting to see the mixture of reactions here. It's my humble request that everyone who is reluctant to download it due to it being similar to Threes, just try it out once, you won't regret it! :) Also, bug report/feedback/suggestion thread: http://forums.wpcentral.com/developer-spotlight/291945-5D-hues-t...

i ddint see highlight just i want to post a comment...lol
Windows Central Newsletter
Get the best of Windows Central in in your inbox, every day!
Thank you for signing up to Windows Central. You will receive a verification email shortly.
There was a problem. Please refresh the page and try again.