Hugely popular game Angry Gran Run speeds on to the Windows Phone Store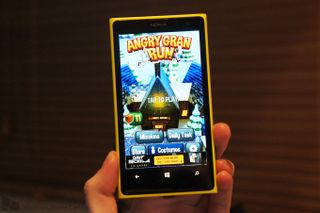 Angry gran is fuming and she needs to get running. Take to the streets and make some distance between yourself and the Angry Asylum, which is ran by Fred the agent in white. If you're a fan of your gran and view the elderly as superheroes, this is the game for you. Unfortunately, Granny requires some assistance in escaping. Leg it past the break for more details on this popular title.
Players are tasked with running, jumping, dashing and sliding over numerous obstacles in a rather humorous and crazy endless running adventure. Already established on both iOS and Android, Angry Gran Run shares similar traits with the likes of Temple Run, but adds its own take on the genre with different types of gran and even a whacky penguin costume.
If the endless fun wasn't enough alone, gran can equip optional upgrades like bullet time and invincible shields, just for that added "awesome." There are missions and tasks that can be completed as your progress through the run, including the accumulation of points and more. Since this a free game, there are in-app purchases available to give you a head start with coins and bonuses - but this isn't mandatory.
For instance, there's a 2,200,000 mega pack available for $79.99, just in case you're looking to really boost your account.
Controls are simple, the music is catchy and you're able to take out youths in tracksuits along the way - what more could a game possibly need? Oh, and be sure to watch out for aliens.
The game encourages you to collect coins to increase the score multiplier, but the currency can also be used in the store (if you play enough, you shouldn't require to purchase coins with real cash, but it's nice to have the option).
You can download Angry Gran Run from the Windows Phone Store for free (makes use of in-app purchases). If you're wanting to play through the original version, check out Angry Gran Run over on Box10.
Rich Edmonds is Senior Editor of PC hardware at Windows Central, covering everything related to PC components and NAS. He's been involved in technology for more than a decade and knows a thing or two about the magic inside a PC chassis. You can follow him over on Twitter at @RichEdmonds.
$79.99 for a pack? In the words of theRadBrad, "Jeezusss"

Lol, good to see more games arriving on wp8. I wonder if it is on the Unity engine, which is really hitting its stride on windows phone.

game is really great,no glitches or lag on my l620,graphics are exellent,this is the best running game available on wp store for now....

Star Wars Little Death Star has a coin pack for $99.99.

Could they not have changed the logo from rounded corners to a sqaure? It bugs me when developers don't do that. EDIT: oops, after install it has a nice pretty logo :D

Smooth gameplay on my Lumia 920. Now I can show my iPhone and android friends that windows phone too have nice collection of games that runs so well on just dual core processor with 1gb ram. Will try this on Lumia 520 soon. Want more game titles. :) :) :) :)

Runs beautifully on my 620 too.

Just dual core and 1gb ram❔.. Theses are still very high specs for a modern smartphone..

I hope that the death of XBOX-WP will bring faster and more popular AAA games
But XBOX services are needed on WP like iOS is doing with GameCenter!

I hope for a revision by Microsoft on publishing Xbox games on windows phone...

Microsoft needs to make more exclusive games like Halo

I downloaded and played it! It is fun. Now so sure about addictive though. ATM I play Reindeer Round-Up 24/7.

They'll still cry for "subway surfers".

Huh? It's actually pretty close to Subway Surfers with a better sense of humour.

No I don't need subway surfer which makes us wait for long time

Who the hell would be insane enough to spend $79.99 on an in-app purchase? You can buy a 520 for that money.
As for the game, meh. Another Temple run clone.

Awesome game, just as good as subway surfers

Nice, more major games the better

Game has crashed twice after I get the "L" , pissed about it

Need Granny Smith,Candy Crush Saga And Clash Of Clans please :(

When I first read the title, I thought it said angry birds run! :p

Works great on my Lumia 520 :)

Love it. Has anyone have an idea on how to remove the ads?

Nice game, has crashed a few times moving round the menus though. Does that robot flicker when it starts up? Looks unstable!
Windows Central Newsletter
Thank you for signing up to Windows Central. You will receive a verification email shortly.
There was a problem. Please refresh the page and try again.