Hulu Plus for Windows 8 gets updated - allows you to enjoy your favorite content even more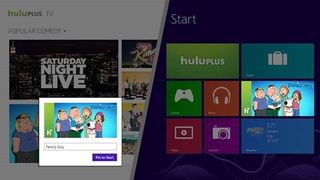 Hulu Plus, Netflix, and Amazon Instant Video are all great ways to enjoy your favorite TV and movie content wherever you are. This week, Hulu has released an update to their application, adding an addition of new features and, of course, a few bug fixes.
The update for the Hulu Plus application brings two new abilities. The first new addition, is the ability to snap the Hulu app to the side of your screen and achieve ultimate multitasking. Need to work on an article for Windows Phone Central because your stern, yet lovable, boss needs something done? Well, no need to miss out on your favorite shows any longer just to do so!
Hulu has also added the ability to easily pin your favorite content and shows to your Start Screen, so you can access that new episode of Almost Human (seriously awesome robot show), quicker than ever.
The new update has focused on allowing you to enjoy Hulu Plus, no matter what you are doing. Click here (opens in new tab) to download the latest version of Hulu Plus now!
Do you subscribe to Hulu Plus?
Source: Windows Store (opens in new tab)
Windows Central Newsletter
Get the best of Windows Central in your inbox, every day!
Even more? How do they compare to Xbox Videos?

Netflix >> Xbox Video >>>>>>>>>>>>> (infinity more) >>>>>>>>>>>>>> Hulu Plus.

And yet they got better support and updates than Netflix... *shrugs*

Netflix is just a better service. Hulu, from my experience, has been much slower to get new and current series at a decent pace. Not to mention Hulu has ads (even if you go premium!).

Netflix is more for older seasons of shows or movies. Xbox Video is great for pay per view or buying video outright. Hulu Plus is best for watching current seasons of television shows or classic movies. However, Hulu Plus is the only one that has ads mid-video.

Does Xbox Video get movies and videos as soon as movies are released in DVDs or its more like wait for 5-6 months?

XBox Video gets them the same time as all rental companies (Vudu, RedBox, etc.)

I disagree. Netflix gets series nearly has fast has they come out.

Netflix gets series as they come out to DVD.

If only the Hulu Plus app worked on my desktop... I always get an error after it tries to load a video.

Ditto. Netflix used to do the same but now it finally works. I think it has to do with AMD video & Hyper-V.

Yep same here! I'm running a Radeon HD 7870. Netflix didn't work for a while, but now does. Hulu still craps out.

Do you have Hyper-V running? I do for WP dev. Also, this update isn't showing for me. Shows last updated on 10/17. So maybe once I get it it will finally work, too!

Yeah I probably do. I'll test the update when I get home from work.

It may be a video driver issue, I have the same issue in an old laptop updated to Win8.

Yeah I probably do. I'll test the update when I get home from work. It probably is... I get hopeful it will work every time AMD releases new drivers :P

I have a stupid hp version of the AMD card which they don't put out updates for and the official ones don't work GRR!

Every time I cancel my subscription at Hulu, they come out with an update and give me another reason to restart my subscription.

If only they'd allow the app to work for both regular Hulu in addition to plus. One of the reasons I stopped using it a good while ago.

Is it available in the UK?

so many news about windows 8,, I thoug this was 'Windows Phone' Central....

What's wrong with covering Windows Phones brothers a little? ;)

Windows Phone runs on Windows.

I still don't know why they haven't made a Windows Phone app emulator for Windows 8 that only allowed WP apps to run in snap mode or something.

Hulu / Netflix work great on my computer / phone. I just wish Amazon would put out a app. They have one for the Xbox.

Wish it were a Hulu (not Plus) app instead. Netflix already gets my subscription video money but I'd gladly watch newer shows (with ads even!) on a Hulu app. Until then I'm content with streaming off website for anything not on Netflix.

You could do all those things with the app now on W8. I haven't upgraded to 8.1 because my music software doesn't support it yet.

Wish they would play all content in the app, some shows like Face Off can only be viewed through a browser labeled as "Web Only".

..."stern, yet lovable boss..". Haahaa Daniel gets a mention, or someone is fishing for points.

Stern yet lovable? Hmmm....;) go Hulu!

Actually, BOTH of these "new" features have existed in this app for 1-2 months - I know because I use them all the time (snap and pinning).