Humble Bundle offers up Borderlands and Borderlands 2 with tons of DLC on the cheap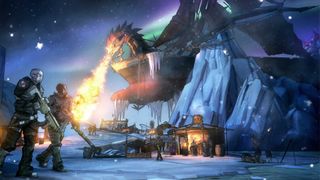 If you've been looking for a way to easily jump into the Borderlands series on your PC, Humble Bundle has your back. Everybody's favorite way to pick up games on the cheap is currently offering up Borderlands and Borderlands 2, along with all of the DLC.
As with all Humble Bundles, this one is split into tiers. You can pay whatever you want to pick up Borderlands and its DLC, while Borderlands 2 and 3 of its DLC packs will cost you more than the average ($4.34 at the time of this writing). As a bonus, in that second tier, Humble Bundle is throwing in a coupon for 75% off of Borderlands: The Pre-Sequel at the Humble Store. Finally, if you pay $15 or more, you'll snag all of the previously mentioned Borderlands goodies, along with the following:
Borderlands 2: Ultimate Vault Hunter Upgrade Pack 2
Borderlands 2: Headhunter 5: Son of Crawmerax
Borderlands 2: Season Pass
2K Store 25% off Merch Coupon
Overall, this is probably the best route to go if you've been itching to jump into the Borderlands series. And honestly, that 75% off coupon for Borderlands: The Pre-Sequel is probably worth it alone. If you're interested, you can pick up all of the Borderlands mayhem from Humble Bundle at the link below.
Purchase the Borderlands Humble Bundle (opens in new tab)
Dan Thorp-Lancaster is the former Editor-in-Chief of Windows Central. He began working with Windows Central, Android Central, and iMore as a news writer in 2014 and is obsessed with tech of all sorts. You can follow Dan on Twitter @DthorpL and Instagram @heyitsdtl.
I had issues with those games, issues you shouldn't have in 2013 like falling through the world. not worth it to me

I wish I could add emojis to my comments.

Does not include all DLC, unless the rest gets unlocked later. Plus in tier 1 they intentionally removed one DLC from BL1 which most likely will be in tier 2 next week to force you to pay BTA even if you just want full BL1. Still if you don't own any of it, its not a bad deal, but shady practice to cut up BL1 and not include the whole thing in tier1.

Except Tier 1 you can get for only $1... so if you just wanted the full BL1 it's still worth it, even if you have to buy the missing DLC (Claptrap's Robot Revolution) which can be picked up for as low as $3.29 during the sales (it's been offered at that price a few times already)... so that's $4.29 for a complete BL1. The cheapest BL1 GOTY has been on sale for on Steam is $7.49.

I have BL2 on Steam, Season Pass 1. I still need the Headhunters Season Pass. Yet I'm barely half-through through the game.

1 dollar for the original Borderlands + dlc is a great deal.

I'm still not sure if BL2 is worth it as the GOTY edition (which includes Season Pass) was recently on sale for US$ 6.39. You need to pay US$ 15 to get the same deal, but you're still missing the "Collector's Edition Pack" DLC (worth $1.64, discounted). But at that price point you do get "Ultimate Vault Hunter Upgrade Pack 2" and "Headhunter 5: Son of Crawmerax"... which have been discounted to $1.64 and $0.98 respectively. Sooo let's assume I don't have BL1, I can buy this deal for $1 + pay $3.29 for the missing Claptrap's Robot Revolution DLC... Then buy the BL2 GOTY for $6.39 (during steam sale) and add the 2 missing DLC from the HB deal ($1.64 + 0.98). So that's $13.30. But the GOTY has an extra DLC (Collector's Edition) which is worth 1.64. So if I bought the entire Humble Bundle for $15 I'd pay $15 + 1.64 = $16.64 to have the deals match. There's still more DLC to be added to HB which could sweeten the deal, but as it stands the full deal is $3.34 more expensive than buying only BL1 + the BL2 GOTY during the sales. I already own BL1 + all DLC, so I'd basically be paying $15 for $9.01 worth of content... or actually $7.37 of value as I'd have to buy the missing Collector's DLC. Note: I don't count the 75% off voucher as having any value... realistically BL:TPS has already been offered before at 66% discount on Steam, and likely to be discounted more in the future.

What you'll be doing.... Is donating money to charity so people less fortunate than yourself can get a chance at life and get an education, learn to be analytical, decisive, use maths and logic in everday situations.... We would probably see more posts like yours then. Ahhh....we can dream right?

Well, normally, yes. In this case they're donating to the "National Videogame Museum" which is some random museum in the US. I'm happy to support their normal causes, but this one is a bit lame (although not as bad as supporting the EFF, which are basically a bunch of lawyers)
Windows Central Newsletter
Thank you for signing up to Windows Central. You will receive a verification email shortly.
There was a problem. Please refresh the page and try again.