Hungry Monstr gets ported over to Windows Phone 8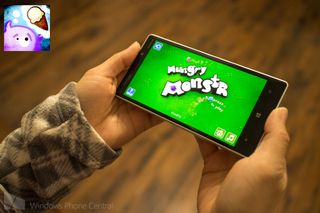 You're probably tired of hearing this, but we love it when more developers port their iOS and Android games into Windows Phone. Another example is Hungry Monstr. Originally released over two years ago on other platforms, it's now available for Windows Phone users.
Playing Hungry Monstr is simple. The aim is to keep all Monstrs away from your ice cream cart. Head past the break for our hands on video and gameplay using the Nokia Lumia Icon.
This games tests your reaction time. Stay calm while waves of Monstrs rush for your ice cream cart. Just flick or drag the Monstrs into their matching colored tubes in the corners of the screen. It looks easy at first, but then feel the addictive rush as the Monstrs come faster and in bigger numbers.
Features:
Hi-res graphics
Full multi-touch gameplay
2 game modes for short or lengthy play
Cute Monstrs and animations
Simple addictive play
Deep scoring mechanics to discover
In game Statistics - all sorts of interesting tidbits!
3 difficulty levels - suitable for kids to adults
Game does not require internet access and will run 100% without it
There are two game modes in each level. If you only have a few minutes, select Monstr Frenzy where you only need to keep out 3 frenzy waves for a total of 3 minutes. If you have more time to waste, then select Endless Rainbow where the waves gradually get harder. It's all about how long you can survive in Endless Rainbow mode.
Flicking a Monstr into the wrong tube creates a bad situation that can escalate very quickly. They get stuck, blocking the tube for other Monstrs for a few seconds. Quickly flick the other Monstrs to the other corresponding tubes or else the numbers will overwhelm you.
Hungry Monstr is a free download from the Windows Phone Store. Blowfish Studios, the developers of the game, are testing if there is a market for Windows Phone and are looking to port over a few of their other games in the coming weeks. Check out their first game for Windows Phone and let us know what you think in the comments!
Windows Central Newsletter
Get the best of Windows Central in in your inbox, every day!
Cool , nice to see more and more games / apps are ported to our platform

Yes, it'd be a no-brainer for me if I were a developer. You miss 100% of the shots you don't take. I don't get why they don't want to be first out of the gate on Windows Phone for some of these titles. Do they want to wait until the Store is saturated?

I am still learning how to develop applications ;) most of the dev. are more interested in more popular platform so that they could have more benefit , many people choose android or ios as mobile platform so dev want to firstly develop apps for them and then test or thought oh windows phone is growing rapidly , I should develop one here :D

Excellent. It is always good too see more and more and more official apps ported to WP. Better late than never. Hungry Monstr dev's if you are browsing thanks for porting to WP.

Never tired of hearing this!

أنا أحب استخدام لغتي الثانية!
Anyway this game is alright, but I have to many games to play.

Good to see a new addictive game

My phone is overdosing on games huehuehue

No problem mr nadella.id be happy to share your burden.

im starting to care less and less about games and apps, is that weird?

It was okay. I mean, I love these sorting action games, but if they thought it was good for children, forget it! The whole idea of this is to make 'rainbows', which involves two to four monsters in a pipe, then go like a clock, another two-four. That's how you get the 'trophy' in endless. It's... wow. And the fact that it's hard to crowd control on a small screen, like on the 822. God forbid those iPhone screens... lol.

Bring me something fresh, not warmed leftovers.

All games are welcomed but imangi is Asshole

They spelled monster wrong in their game. That is poor form.

Nice game...good for time pass!
Windows Central Newsletter
Thank you for signing up to Windows Central. You will receive a verification email shortly.
There was a problem. Please refresh the page and try again.