Hurricane Harvey relief: Do your part to help those in need
The devastating Hurricane Harvey slammed the U.S Texas Gulf Coast last week, and its effects are still wreaking havoc in the area and on the people who live there. But you can help.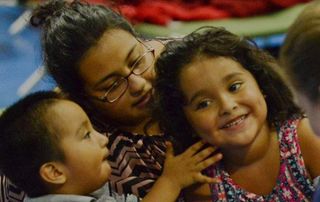 This is Windows Central, and as a Windows blog, we focus on Microsoft, Windows, Xbox and other related subjects for obvious reasons. But all of our writers and editors are people, too, some of us Americans, and as such, it's been hard the last week to watch Hurricane Harvey tear up Houston, Texas, and the surrounding areas. We have at least one writer who currently lives in Texas, though thankfully, he's not located in the area that was hit the hardest.
This latest massive storm also happened to come exactly 12 years after one of the worst Hurricanes to ever hit the U.S. — Hurricane Katrina, which made landfall on August 29, 2005. The city of New Orleans is in some ways still recovering from that storm, and the Texas Gulf Coast will be dealing with the aftermath of Harvey for a long time to come. That's why the people there, and the relief organizations on the scene, need you.
Every little bit helps. And Microsoft is admirably doing its part.
Whatever you can afford, be it $1.00 or $1,000.00, is money well spent. And we encourage you to do your part. However, when tragedies like Harvey hit, the scammers come out in droves, so you want to be careful about the charities you pick to contribute to. Both the American Red Cross and the Salvation Army are legit, trusted organizations, and you can feel safe in donating to either or both.
If you can, we ask you to please contribute to the Hurricane Harvey relief efforts. Every cent you share can make a real difference.
Windows Central Newsletter
Get the best of Windows Central in your inbox, every day!
Al Sacco is content director of Future PLC's Mobile Technology Vertical, which includes AndroidCentral.com, iMore.com and WindowsCentral.com. He is a veteran reporter, writer, reviewer and editor who has professionally covered and evaluated IT and mobile technology, and countless associated gadgets and accessories, for more than a decade. You can keep up with Al on Twitter and Instagram.
Why of course. I would be a hypocrite if I praised Microsoft for being so inclusive and human nature focused, but did give what I could spare ❤

while i agree with the sentiment we should be donating, i find it odd that mobile nations has no articles discussing the famine currently ongoing in Africa, the crisis in Syria or Yemen, or many other far more dangerous issues, yet for literally the worlds richest nation we find calls for action...

While I generally agree people should pay more attention to international issues, it's not surprising to me to find this article here. WC is mostly based in the US and you usually pay more attention to your home. EDIT: I didn't see you said mobile nations and I'm now realizing this is an article on all mobile nations websites. Though my point is still the same if mobile nations is based in the US

for example: http://www.independent.co.uk/news/world/asia/india-floods-bangladesh-nep...

I've been through Andrew, Katrina, Rita and more. But im gonna pass on this. Learn to evacuate, and get flood insurance. Government taxes us so FEMA can give them money. I'll keep saving up for the next tech gadget.

I should too? Thanks for being my moral compass, but frankly, I don't like Houston. 3 of the last 4 times I've been there, my car was either broken into or a coworker was robbed.

Yes.
I'm a petty, horrible person.

What a terrible article. We ALL know of the natural disasters happening around the world, who do you think you are to tell us where to spend money...what about Bangladesh or India? the floods are MUCH WORSE, wheres your article telling people to donate to those people who need it a lot more....

Flooding due to complete lack of expenditure on infrastructure. This is the kind of crap that happens in Philippines and India. If the US were able to invest in itself rather than pouring money into large government and the "democratic plantation" of welfare, then these kinds of severe weather incidents would have far less impact. This was a man-made disaster and an entirely predictable result of the previous administrations' incompetence, as well as the local government's also.