ICICI Bank brings another app for customers to track deliverables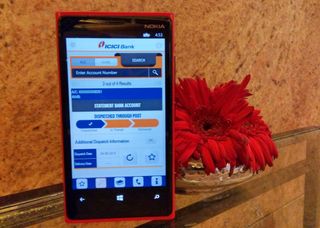 ICICI Bank is the second largest bank in India in terms of assets and market capitalization. With a network of 3,539 branches, the Indian multinational bank has a presence in 19 countries.
ICICI Bank launched their mobile banking app – iMobile – last month after a long wait, but have followed it up nicely with a simultaneous platform launch of iTrack, the bank's official deliverable status tracking application.
iTrack offers an easy and convenient to check the status of deliverables dispatched to you by ICICI Bank like statements, letters, and cheque books. The app offers status of deliverables sent for your savings, current, loan as well as demat accounts.
The app features an account number or air waybill number (sent by the bank as an SMS) based search to track the status. The dispatch status for the deliverables are - Shipment dispatched, In-Transit - Awaiting Delivery information, Shipment Delivered, Contact Customer care or Nearest ICICI Bank Branch, or Undelivered - Returned to Bank.
You can also add a particular deliverable as favorite to keep a watch on a critical delivery, or you can use the history option to quickly view the previously searched deliverables. The app also packs in direct access to the bank's call center numbers
ICICI Bank's iTrack app is pretty handy app, and I'm surprised that other banks don't have this integrated facility, and are instead making customers rely solely on shipment tracking provided by delivery agencies. Being an Android port, iTrack doesn't have the best UI, but it is quite functional and a good app to have if you are an ICICI Bank customer. Download the iTrack app for free for Windows Phone 8 devices from the Windows Phone Store, and let us know how you like it.
Get the Windows Central Newsletter
All the latest news, reviews, and guides for Windows and Xbox diehards.
Great. Would have really loved if HDFC had done this

ICICI released their app on WP? when did this happen?

June 3
http://www.wpcentral.com/tag/icici-bank

Thanks Abhishek. I'm still trying to figure out how I missed that article.

Last month as the article states :P

I saw that. I wanted to know the date.

Great! I'm still waiting for Axis bank's app though... And I don't know if Federal Bank will ever release their app for WP :/

Axis bank where art thou?
We're waiting for your app!

I hate to be a tease, but it's coming very soon. Confirmed.

Nice!!! I've waited a long for that app. Now lets hope it comes soon enough :)

Federal Bank has 2 apps for WP. Fedmobile and Fedpassbook.. Both works well.. Fedmobile is available for nearly 1yr.. Search for the apps first before commenting :P

I knew there's one app called "Federal Bank" and it never worked for FedNet (which I use). I mailed them several times but never got a reply...

You need to call them and get the access approved.. I did it like that only.. But once you uninstall the app then its difficult to get the access again.. Call and see.. App works well and I don't use it anymore so didn't get the access again..

I tried that like two months ago. I was also sent an OTP for verification but it didn't work for some reasons. Now that's bad because I lost the app during a phone reset. While I can access it through IE, Its not convenient. I'll give it a try again... Thanks!

Federal bank app released an year ago. http://www.windowsphone.com/en-in/store/app/federal-bank/5ca0c3ad-4204-4...

I should have said FedNet instead of federal bank. It never worked for me.

Lol at the android reference & UI

Oh Citi... where are you??


All bank ll release their app s soon, cause there are 2 more Windows phone mobile maker in India. It must grow windows phone share at least a bit.

SBI really need to refresh their apps. Why can't government software and websites have nice UI?

Agree with your second statement... Maybe they want it to look "official" which looks rather boring...

Coz they should look like govt apps. Bro they wont spend their money on developing app design and UI

Not from India but still I LOL'd

I don't live in India anymore but I checked their app out and it actually looks better than this from the screenshots it actually follows the modern UI guidelines more. If you want to see bad UI look at the android app for SBI.

Wish hsbc would pull there finger out

for others who are not making official Windows apps - "Babaji Ka Thullu"

They also need to update the Podcast app.....