ICQ for Windows Phone updated with new Live tile and faster launch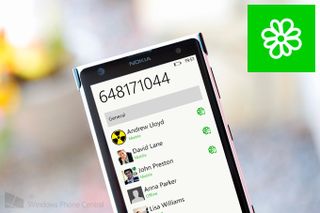 It's hard to keep up with the number of instant messaging services out there. Windows Phone is home to many of the most popular services, but today we're going to look at one of the oldest and most resilient platforms out there – ICQ. The official ICQ app for Windows Phone has just had an update, let's check out what's new for Windows Phone users.
ICQ was first announced for Windows Phone in late 2011. It then launched a handful of months later in spring 2012 for Windows Phone 7.x users. Today we're looking at version 1.8.7.493 in the Windows Phone Store that adds:
Live tile (message notifications)
Faster launch
We fired up ICQ on our device and did note a speedy start up for the app. We're sure fans of the app will notice it too. The Live tile should make keeping a tab on messages easier with its ability to display notifications.
ICQ also allows you to chat with other ICQ users. You can interface with Facebook Chat, Mail.Ru agent, Gtalk and Odnoklassniki within the ICQ app.
Using ICQ on a regular basis? Let us know what you think of the new update below.
Grab ICQ for Windows Phone in the Windows Phone Store for free.
Via: Winbeta
Is there someone here who's still using icq? (this is a serious question)

Thats what i also wanted to ask. I even forgot it existed.

haha, same here. I didn't think anyone still used ICQ. I started using it shortly after it was released.

I haven't used ICQ for well over a decade. Didn't know they were still around! Good for them!

Funny that I still remember my 9 digits number but yeah nobody does

I remember, at the olden days, that the smaller the icq# the cooler :P
I have a 8 digit #, I'm cooler than you XD

And I have a 7 digit number -- 1108375 :). If it had been available for Windows 3.1 I probably would have actually had a 6 digit number... I couldn't use it until I upgraded to Windows 95.

Very close to my 7 digit 1107891 though haven't touched it in years. For awhile there the sound of "uh-oh" was really nice to have as the whole IM thing was new. After awhile you wanted to strangle it though lol. I think the last time ICQ popped into the news, I tried it and none of my friends were on it, not like I expected any different.

6-digit # starting with 3. BOOM! haha Yeah haven't used it in like 10 years. Used to be big in the late 90s/early 00s with gamers.

Wow ... When I see your comment, I try to remember my 9 digit number, and trying to login ... I can even remember my password I used back then. And of course, my friend list are all offline
But yeah ... last time I use it was around 2000 to 2002 before switching to yahoo.

Yeah, I used it in the late 90s. Who knew it was still around?

ICQ was the first chat messenger I ever used way back in the late 90s. Nice to see it still around

Does this app reliably connect to FB and Gmail chat? Been looking for an app that does.

I use JiTalk for gtalk, most reliable gtalk client for me

It does. It is actually a great option for them - push notifications work great, startup time is impressive (it was even before this update).

i think it still very popular in russia and there only.

Yes it as it is in the middle east as well Israel more so. 7 seven diget with me...though the last time I used ICQ Excite chat and all the killer Klans ruled the Avatar world.=)

I live in Russia and I do not know a single person, who still uses ICQ. Everyone use VK here, much better than ICQ now. But ICQ sure was popular. I still remember my uin. Good, old times...

No it's not. I have no contacts online and none of my friends ever use it. Only some older people who don't know that anything else exists. Though it was popular here for a long time.

yeah i made my first pals with icq and still have them as friends on facebook, plan to meet up sometime also and we from different continents

Recently I knew that one of my friends from ICQ is already dead :-(

I had no idea ICQ still exists. Nostalgia just slapped me in the face though.

Your mama's so old her ICQ number is 1! (cue rimshot)

hehe Well technically I believe the ICQ numbers started at 100000 for the public anyway. Might have been some lower numbers for Mirabilis employees and such. (Original creators of ICQ)

Wow... The times IP Addresses were still visible in the users info page in ICQ. One of the first chat clients I used in the 90s. 7 digit number for me. :-) It was still nice when owned by Mirabilis before they started bundling a bunch of features that made it kind of slower.

Wow! haven't used this in over a decade. Actually longer probably, but still remember my ID - 21442078! BOOM!

Got excited then because I thought it said ICO for Windows Phone

I believe ICQ is owned by AOL.

ICQ was originally developed by a company named Mirabilis, acquired by AOL in 1998. AOL sold ICQ to another company named Digital Sky Technologies in 2010.

I don't see the point of these messengers when there is basic text messaging on cell phones. I realize that these have prettier GUIs and whatnot, but why all the bother. Now if ICQ would add on non-browser based public chat rooms for mobile and PalTalk would fix theirs, I would be using both. And as for Yahoo! and their railroading of Jerry Yang....no, just no.

Text messaging costs money, and in many countries there is no unlimited messaging, but if you have data, you can use tons of IM messages on your data plan without worry of adding cost.

I remember ICQ fondly. First experience talking to people from other countries. Had a huge crush on an Australian girl and didn't even know her except for pictures. LOL. Dat accent

That was me and I'm actually a guy.. Haha :)

Actually ICQ is one of the best Facebook chat & gtalk options for wp7 at the moment. Much faster and as reliable as im+

ICQ, MIRC, YM... classic messaging... the whatsapp, line, viber of the 90's:D

Oh yes... mIRC... Loved that too! That was actually my first internet chat experience. Lots of fun!!

Does it still go "WAT-OH!" when you get a message?

Mine is 195452, first 100k were reserved numbers.

My girlfriend has an Android device and doesn't pay for texting, and since I have a 920 I have struggled to find a good app to use for gchat. I've been using IM+ but it's slow, crashes, and autocorrect doesn't seem to work. This ICQ app is pretty darn tootin' fast, and autocorrect works great! Only weird thing is that if you use a small live tile the notifications and lock screen notifications don't work after opening the app for the first time. Using a normal sized live tile the tile and lock screen notifications work fine. Weird little bug, but I'll cope with it and just rearrange my start screen a little. :)
Windows Central Newsletter
Get the best of Windows Central in in your inbox, every day!
Thank you for signing up to Windows Central. You will receive a verification email shortly.
There was a problem. Please refresh the page and try again.