India's local recommendation service, TimesCity finally arrives on Windows Phone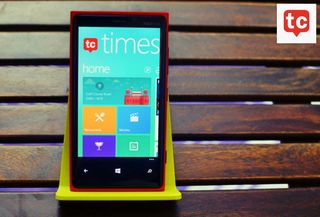 TimesCity.com, a Times Internet service, allows you to access information about restaurants, nightlife spots, and movie theaters around you. Available for eleven cities in India as of now, the app helps you search and find restaurants and pubs to decide where to eat and party as well as the latest movie showtimes.
Times Internet has had a history of delayed launches on Windows Phone platform, and the TimesCity app continues that tradition arriving a few months after the launch of Android and iOS apps.
The app allows you to find new and trending restaurants in your city, search for restaurant menus, and read reviews as well as rate and write your own reviews. Also, you can search for movie show timings, movie reviews, and find movie theaters near you. The app includes a list of the events happening in your city.
TimesCity positions itself as a discovery and recommendations service than just vanilla listings. It has a nice modern UI, and the user experience is very intuitive and engaging. The colors and photos add to the visual appeal of the app.
While the app picks up your location automatically to serve you recommendations nearby, you can also manually set a location which is helpful if you are looking for places to visit around a location that you are heading out to.
In its previous avatar, TimesCity.com was powering timesPoynt, an app from Poynt for India that is featured in Nokia collection on Windows Phone Store. But this app hasn't been updated since 2011 though.
Download the free TimesCity app for Windows Phone 8 devices from the Windows Phone Store. It's a pretty useful app if you frequently go out to eat, party, or watch movies. Give it a whirl, and let us know how you like it. The app lets you discover what's trending in your city and answers the eternal question, 'Where's the party, yaar?'
Windows Central Newsletter
Get the best of Windows Central in your inbox, every day!
Great addition to my lumia 820 local apps.Thanks :)

It's a great apps guys must have Indian ver or foursquare..

Thanks chataddicted. Really glad you digging into it. Hope to see you recommend your friends about the app. Incase you have any feedback or improvements please feel free to reach out to me at chiragh@timescity.com Regards, Chiragh Head of Mobile, TimesCity

A question to my Indian friends.. Is the windows phone platform lifting off in India? A lot of the time, I see indian centric apps appearing. Much more than here in the UK. Its great to see the ecosystem becoming so widespread in India. At least, that's the perception.

Yup...wp is nicely growing in India..more than wp its the Nokia brand name that made it grow....in my class room out of 70students there are more than 20 Lumia users...:P.... Mobile shops too are promoting wp very well

My class 14 students 6 WP user

Wow. So different from where I live. :-)

I don't know any numbers, but based on my gift of sight, I can say that WP marketshare is way greater than iOS out here :p

True.. Windows Phone is surely rocking the scenario here.. And I'm hoping wp 8.1 will deliver the much needed momentum..

I have at the most 4 in my classroom of 78... But that doesnt do justice to actual marketshare.. Its quite popular i would say... But in urban areas like mine, iOS is far more popular

Well the android using frnds uses wp themes cause its way easier to use and more functional....

Yah thats something im interested in too is the platform pushing well in other places i my self am a bulgarian and the platform is running great all my friends run a mid-top range lumia

Missed WPCentral from last day so much due to bloody fucking narrator enabled in ease of access.

Yes did it. it was difficult to disable coz in narrator mode it is like entering in the hell !!! Finally disabled with holding volume up+windows button(start menu).

Not available for Lumia 720.. :(

Windows phone is all famous in India beacause of nokia people in India trust nokia as a good brand and since all its smartphone are in windows so yup that shows the high growth of the Windows phone user here

Yeah now Microsoft can take advantage of gaining profit from simple smart phones to the to the ppl who reside in villages. They all have a deep trust in Nokia devices. Microsoft should take advantage of it.

It will no longer be Nokia.

I'm guessing India has the most complete windows phone app experience, not accounting for the lack of the Microsoft apps and features.

We need local scout here. Though it may not be as useful regularly but such features encourages customers to buy windows phone. The main problem here is improper internet connection facilities and plans

I think the problem with Local Scout here, is the sheer amount of data they have to collect and maintain. And, not all the businesses running here have online data, which makes data collection even harder.

Local scout on windows phone 7 works just fine in India when the phone region is set to US.. Does not work at all on windows phone 8 with that trick. I don't think data is the problem.. It's Microsoft's reluctance to enter certain markets is what is.. We don't have the video and music service either whereas apple has brought it's whole service range here in inspite of its smaller market share than windows phone..

Local scout on WP7 - that I didn't know. wow. I hope Microsoft will update the condition soon :/

Yeah buddy almost all major banks and government departments got WP apps. So in India Window phones are doing good

But there's no official apps for ICICI bank.Microsoft plz do the needful....plz...

Microsoft doesn't make icicibank apps. Its ICICI who has to phut thi their efforts and port their apps to WP.

But I think facebook app is developed by Microsoft..m I right?

But times internet never updates their apps..

Hi Vikrant, Thanks for trying out the TimesCity WP app. I head the mobile team for TimesCity and really taking this space seriously. I personally will assure you that the TimesCity app will have regular updates and improvements from here on. You can personally reach out to me at chiragh@timescity.com if you have any feedback/suggestions to improve this app. Have a great day. Regards, Chiragh

Hey Chirag, Great to hear from you. I'm on WP platform from 3 years and first time getting a response from indian app maker :) This itself shows you guys have taken WP seriously. Looking forward a great service from Timescity. Cheers!!

Wp is no2 os here.... Far ahead from ios...

Want surface to become a hit here. The tablets released are very expensive from other OEM costing ₹30000 and sirh that money we can buy a surface 2. So they should release a commercial advt on television of surfaces and their features and let the sale begin atleast on a smaller scale first.

Not available on Lumia 520

Dude u mihg tbs in the US region using Cortana. Change your r back to India

I think Microsoft should retain Nokia name for all devices.should not change the name Nokia.

But still no ICICI mobile banking application

What are Nightlife spots??As in Gurgaon??

I think You should install the app and check out yourself!

There is no official mini opera app for wp8 or 8.1...

Guys I have installed both the application.but location is showing of Kolkata where as my location is JORHAT Assam .my GPS is on Lumia 625...,

@Pawan, search location manually instead. It seems I live in Lonavala, a place 100kms away from Mumbai, where I stay. Anyways, the app seems well sorted and useful. We do have a lot of WP penetration happening in India due to the fact that people are frustrated with the laggy behavior of the low to mid end Android devices (thats where most sales are concentrated) and devices like the Lumia 520, 525, 625 and 720 feel like a revelation in comparison. Also, I'd say the once dominant Nokia brand is getting a fresh lease of life with the snappy WP 8 OS. People buy these phones due to the brand recall factor of Nokia and are pleasantly surprised with the user friendliness of the OS, something that Nokia was always known for in the past. Plus, the average consumer gets all or moat of his apps in the store. So a good collaboration it would have been...don't know how the market would take to Microsoft Mobile now. However, the iOS fans do not budge at all! Like anywhere else, holding an Apple device in your hands means you have "arrived" in life!

Tnx frnd.i tried to set location manually.but not showing any results.yeah I m proud user of wp 8.1.and I recommend Lumia phone to every Indian.its simply awesome....

Thank you Arivazhangan. Please do circulate it to your friends.

For those who r using cortana just go to ur settings change region from Us to india restart ur phone.. Now u can download this apps. After downloading again change ur reason to us for using Cortana.. That's it...