Indian airline, SpiceJet launches official mobile app as a Windows Phone exclusive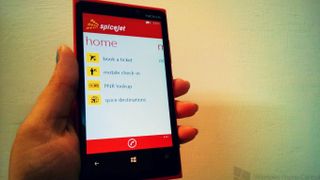 The Windows Phone ecosystem has been on a roll in India over the last year and the juggernaut appears to be powering on into 2014. While one of India's leading airline, Jet Airways, released a Windows Phone exclusive app last year, competing carrier SpiceJet has joined the party by launching their mobile app, exclusively for Windows Phone devices.
The app has a great, modern user-interface, although it has an awkward casing in the title – spiceJet. The app allows you to book tickets, check-in, or do a PNR lookup. You can quickly check out your recent searches or existing bookings. The app also offers a handy tap-to-call option to quickly dial their 24/7 Sales & Reservations number.
Apart from a seamless booking process, the app also offers a very well-compiled travel section called Spice Destinations. It lists all the cities in India and abroad where Spicejet flies and compiles travel, eating out, shopping, and lodging options for that city. It's a useful, quick travel guide which you can use even if you're not flying SpiceJet.
SpiceJet is a great example of a fine Windows Phone app from an airline. As an exclusive, it's a great win for Microsoft India. Download the free app for Windows Phone 7.x and Windows Phone 8 devices from the Windows Phone Store and tell us how you like it.
Thanks @HarishV for the tip!
Nice to hear the word exclusive for Windows Phone

yes,it's because Iphone and Android users travel by train,it's safer

Sounded like both Indian Airlines & Spicejet came onboard, please remove the comma after Indian airline, misleading...

It's no more called Indian Airlines now. Merged into Air India, so we are good. :-)

India is taking over the Windows Phone store. Nice to See so much commitment. Where are the Dutch? ;)

Meanwhile my email responses from southwest finally changed from "we're evaluating our options" to "it's in development, keep following us on social media for info on when it's released" (and also "sorry our new mobile site is completely broken in IE because we didn't bother to test it, we'll get right on that")

Thank you Abhishek for the info.

I must say the devs from India are rather neat and get apps out quickly!!!

A few grammatical errors here and there. Sorry to nutpick, but that's the way i am ;)

This is how you do it, companies. Yes, I'm looking at you, Swiss companies. There are non-iFruit-users in the paradise of chocolate and watches, you know.

So now India has an airline company ? that is absolutly fantastic news,they finaly cought up with the rest of the world :) complements India !!

Ahh let me guess....you never went to school??...thats the place where people attain general knowledge....you arent too bright are you? :D

Dear "Hashish 25789" (hope the name isn't refered to some mixture that you smoke) if there is one thing that Indiands don't have, it's a sence of humor,and with your smart answer you confirmed it,now on the other hand i was thinking of going to school in India so i could get knowleged,:) I have to say though that the quality and usfullness of the apps that are released by developers for Indian users of WP reflect there .........:)

Dear Mr. Slain
Whatever school you attented didn't teach you not to make fun of others name and use a Country for humor.
Sorry for any typing mistake, we Indians may not be good at a foreign language.
And as far Airlines are cocerned that is small thing, India can launch satellites and send mission for Mars. No need to go to school just use Google for that.

Dear pradeepKr, Now that i know that India has rockets,satellites,and sends Indians to Mars,i can sleep well at night because i know that the whole world will be protected from enemies coming from outaspace :) as of making fun of what i presume is a nickname, i don't actualy thing of it as offensive (maybe choosing another nickname could be less misunderstanding,or not ? well doesn't matter !!?) and unless you are the person involved,why are you taking the defence of that person ? htere is a saying in my country that says "making your own business makes you live better and longer"so i will stop answering any further alusive coments and finish with .....India should spend less money in atomic bombs,satellites,and missions to Mars and use that money on makign people in India live better,o by the way India also has a record on people dying on the job as no other country.....Compliments ! !!

Oh man the super colonizer who think that they have no problem in their country, did I mentioned any facts or figures about your country. As I said you are not decent enough to respect other country or may be you dont have culture to respect others. We also have a saying here "Argue with a knowledgable person and increase knowledge, Argue with ignorant and make fight". So enjoy your superioroty as I am not at a level to argue with you.

Bye PradeepKr (what queer nickname) enjoy your trip to Mars,and don't argue with the Martians they fight hard...:)

Here's something funny. Whatever job you or your friends might have, will be outsourced to a Harishkumar in India or a Lie Xie in China. The only option for your people will be to work in retail or end up being an waiter. It's not a joke, it's not even trying to belittle you, it's just plain old reality.

Seems we have a lot of angry Indians here ! Just try if you can manage ! to remember that you and all of India were under British Colonization,and we gave you people health, prosperity,and education,and as far as i know,no,Indian or Cinese person ever invented anything without the aid of a European or American person.So keep that in mind always.Even the phone you use was invented by a european,and if they build them in Cina or India is't because it costs less,so you are working for us...get it strait man !! Chears Mate !
Windows Central Newsletter
Get the best of Windows Central in in your inbox, every day!
Thank you for signing up to Windows Central. You will receive a verification email shortly.
There was a problem. Please refresh the page and try again.