InPic for Instagram on Windows Phone 8 goes on a diet, gets security fixes in latest update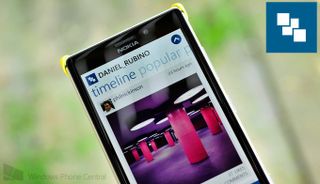 InPic, developed by ApplyF, is full featured Instagram client for Windows Phone 8. It falls into the same camp as Instance and 6tag in that it allows users to directly post to the popular photo sharing network. It's also available as a Windows 8 app, is completely free and it easily has one of the nicest UIs we've come across.
Version 1.1 is now live in the Store and with it, brings numerous changes worth revealing. The biggest one is InPic now has the Instagram security requirements enabled, including full logout from the service.
Official Instagram apps basically insert a marker into your photos before being uploaded. In doing so, the service marks these images as legit and allows them to be indexed for tagging. It's akin to how antibodies work, if you're familiar with biology. The security feature was introduced to prevent spam on Instagram, but as a side effect it initially caused issues with photos being posted by nonsanctioned apps, including the famous "hashtag issue".
InPic v1.1, like 6tag (and Instance version 2, which is in beta) has this security feature supported, giving users solace in knowing that their images won't cause the Instagram service to flag their accounts. In fact, Daniel Gary of Instance actually assisted the developer of InPic to get this missing featured enabled. Kudos to Windows Phone developers who help each other out.
The other big change in InPic version 1.1 is the app is now much smaller. The initial release of InPic had the app at a monstrous 31 MB but that has now been slimmed down to a slim 6 MB in today's update. That's essential for people with the entry level Windows Phones, where space is a premium. Indeed, early reports suggest that InPic runs very well on 512 MB devices too.
The only significant feature limitation on InPic is it doesn't allow video uploads, though users can view and even download other people's videos. Video uploading requires external servers to be setup and maintained, which is no easy task, nor cheap. Seeing as InPic is completely free with no ads, it seems to be a fair tradeoff (and some of us never touch the video upload feature anyway).
InPic version 1.1 is a solid, well-built Instagram app for Windows Phone 8. It follows the Instagram security guidelines and has a gorgeous UI. It's also quite fast and fluid, making it worthy of your attention if you're a regular Instagram users.
You can grab InPic here in the Store. Windows Phone 8; 512 MB devices OK
Thanks, zhoulhas, for the tip
Daniel Rubino is the Executive Editor of Windows Central, head reviewer, podcast co-host, and analyst. He has been covering Microsoft here since 2007, back when this site was called WMExperts (and later Windows Phone Central). His interests include Windows, Microsoft Surface, laptops, next-gen computing, and arguing with people on the internet.
Which UI do you prefer Daniel, 6tag or InPic? Just curious :)

I think InPic and Instance v2 have the best UIs. I don't have any significant issue with 6tag, but I do like swiping more than tapping, InPic is more of the former.

I do like 6tag UI more than others.

I have used InPic on Win8 and it is good. I prefer the UI of Instance V2 but 6Tag is faster IMO.
In addition, I like the "adjust to fit" option in 6Tag when uploading a pic.

Congrats to Applyf for getting this out there! I like their work!

Hey when can we be expecting version 2 of Instance to come out of beta?

I signed fr th instancev2 beta, but nothing came through.. Would like to know the release date of the v2?

Yeah, me too. Pinged the dev on Twitter a bunch of times, he never repied. *shrug*

Guess, we will have to wait for the final update of v2 whenever that is ready for store release/approval..

Yea I message him on twitter too with no reply :( for now I'm happy with 6tag I guess...

Sir Daniel Gary, does inpic resolve the hashtag issue when you log out and log in?? or still have a flagged account after you log out and log in?? is there any way to resolve that or the only solution is to create a new account? thanks!

The main problem with InPic is that doesnt support posting to social networks like twitter and facebook

Just found this out: it sure does support posting to other social networks. It's just not automatic, and it's different than the way 6tag or Instance does it.

So... once you've posted a pic and it shows up on your feed, tap the icon under the pic which looks like two arrows curving over each other. That will let you send a link to FB/Twitter using WP8's built-in integration (so if you have your FB and Twitter accounts integrated, you can post the link to FB and Twitter).
Like I said, different and not automatic, but it's in there. :)

So how do we know if we are blacklisted and what can be done about it?

Right? And to think that at one time WP8 was maligned for its lack of an Instagram app. Now there's a handful! :D

The one problem i have with Instance and Inpic is the lack of automatic tagging when commenting. Thats why i have to atleast use 6tag when replying to comments cuz as soon as i press @ the names of ppl i follow pop up so i can tag them. unlike instance and inpic i have to remember their usernames to add them to a comment

I love 6tag but it makes my phone heat (920, not yet on Amber/GDR2). Figured I'd try InPic because of the footprint, might be less processor intensive. Downloaded, installed, won't log in. Keeps saying "invalid user name or password", even though I've gone to the Instagram website and login-cycled with the same UID and PWD. So... cool! :D

Uninstalled and reinstalled InPic from the Store, I can log in now.

Defiantly like switching to different to different apps for different UI as long as they are good and work that's what's fun about windows phone but instance v2 seems very interesting!

the windows8 version cant post to instagram and twitter, facebook for some time

Nice update altough there are 2 points that I noticed (anyone can confim this? )
- In the upload screen, the bottom bar has 3 icons but all of them says upload (@ upload / # upload / the last one is correct)
- Cannot get my location, keeps searching but nothing appears

Note: It's possible to share the image that we uploaded but only after that :) When the image is uploaded to Instagram we have an option to share using Windows Phone social networks (Twitter, Facebook)

I can confirm the 3 icons all named "upload" on the upload screen.

I contact them this afternoon and they are aware of this issue.
It will be solved in the next update.

I prefer 6Tag just because it has the official filters, and the UI is fluid and easy to use.

Well none of my photos uploaded to Instagram via 6tag have been added to any of the Hashtag areas I've tagged them with so that's a complete lie. Messaged the dude who made it but heard nothing. Very disappointed.

cause an other app has already flagged your account as suspicious ;)

Your account has been flagged suspicious while using another instagram app like instance, so create a new account and you will not face any problems with 6tag.

Love this app so far...but how does it not have a live tile?? Would also be nice if it displayed in the list of global Share To options like 6tag and other apps do.

Sir Daniel Rubino, does inpic resolve the hashtag issue when you log out and log in?? or still have a flagged account after you log out and log in?? is there any way to resolve that or the only solution is to create a new account? thanks!

I've been using 6tag. I guess Im gonna try InPic now.
Windows Central Newsletter
Get the best of Windows Central in in your inbox, every day!
Thank you for signing up to Windows Central. You will receive a verification email shortly.
There was a problem. Please refresh the page and try again.