Instance v2 Beta: the first Windows Phone app with direct uploads to Instagram returns with a new UI, video support and more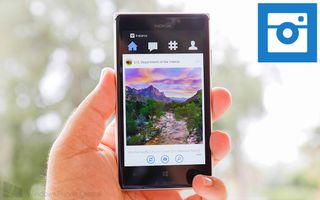 Guess what, Android and iOS may have official versions of Instagram, but they don't have choices. On Windows Phone we have two solid apps to go with right now, 6tag and Instance. 6tag is the newcomer to the scene, while Instance has been around for quite a bit longer. Instance was the first app to bring direct uploads to Instagram on Windows Phone. Daniel Gary, the developer, has been hard at work on the next version of Instance. So let's take a look at it.
You'll notice that the latest version of Instance brings a new look to the app. That'll be the most obvious change at first blush, but dig around and you'll notice a handful of other new features. Stuff like:
Video uploads
Filters and boarder
Location support
New UI for both browsing and capturing
Performance improvements
Manual Focus
Activity feed
User tags on media view
Support to share to Pinterest, Facebook, Twitter, Tumblr, and Flickr
Ability to check in on Foursquare
Fixes for Live tile and notifications
Fixes issues with hashtags on images not showing up in search
Implements Instagram's latest security
When it comes to the UI, we happen to be fans of it. You can select either a dark or light theme within the settings of the app. Or use the auto selection which will select the theme based on what you have selected as the theme for the OS itself. Version 2 of Instance also addresses some issues users had with the live tile and notifications. We've been using the beta for about a week and have noticed notifications working like a charm.
Video uploaded to Instagram through Instance v2.
Outside of the UI, a lot of features were added at the request of users. Video uploads and the ability to check in on Foursquare happened to be the some of the most common requests from users and Daniel Gary added them both. In addition to Foursquare, you can interact with most other major social networks you can think of like Facebook and Twitter.
Like the official Instagram app, you can add images to your account from either the camera itself or pictures you've previously taken. The UI for the camera itself has also received a new UI. The filters have been overhauled as well. Daniel opted to mimic the look and feel of the official filters you'd get with Instagram on either iOS or Android. Lens support isn't in this current build of this beta, but will make it in during development and hopefully be available during launch.
When it comes to videos, Instance works perfectly. To be honest, I'm in the minority that won't really use Instagram to share videos, but did just test it out and didn't have any issues at all. The video was uploaded nearly instantly to Instagram through Instance. Like with photos, you can share the video to your social networks when uploading. Instance has two versions in the Store, free (ad-supported) and paid. Daniel is still currently evaluating how to implement it for both versions in terms of monetary support. The videos need to go through his server to get to Instagram and those servers cost money. He'll announce a pricing model closer to launch.
The other thing we're happy to see is the activity feed you find in official apps on Android and iOS. The activity feed is broken into two parts – what your friends are doing and notifications for yourself. In the following section you'll see recent activity from people you follow, like who they've recently followed or photos they've recently liked. The inbox is where you'll see your own notifications, things like who has followed you, mentioned you, or liked you're a photo of yours.
If you previously signed up to be part of the Instance beta check your inbox within the next 24 hous. The beta will be going out between now and 24 hours from now. Don't worry if you missed the sign ups earlier this summer, you can still join the beta. If you're interested in trying out version 2 of Instance go sign up. You'll need to have a device with Windows Phone 8 in order to try it out. If you join the beta be sure to leave Daniel feedback on things you'd like to see or any issues you run into. This app isn't for him, it's for you. So make sure you help improve it by reporting on any bugs/errors you encounter or things to improve it.
Get the Windows Central Newsletter
All the latest news, reviews, and guides for Windows and Xbox diehards.