Instance v2 Beta: the first Windows Phone app with direct uploads to Instagram returns with a new UI, video support and more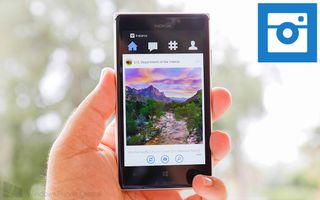 Guess what, Android and iOS may have official versions of Instagram, but they don't have choices. On Windows Phone we have two solid apps to go with right now, 6tag and Instance. 6tag is the newcomer to the scene, while Instance has been around for quite a bit longer. Instance was the first app to bring direct uploads to Instagram on Windows Phone. Daniel Gary, the developer, has been hard at work on the next version of Instance. So let's take a look at it.
You'll notice that the latest version of Instance brings a new look to the app. That'll be the most obvious change at first blush, but dig around and you'll notice a handful of other new features. Stuff like:
Video uploads
Filters and boarder
Location support
New UI for both browsing and capturing
Performance improvements
Manual Focus
Activity feed
User tags on media view
Support to share to Pinterest, Facebook, Twitter, Tumblr, and Flickr
Ability to check in on Foursquare
Fixes for Live tile and notifications
Fixes issues with hashtags on images not showing up in search
Implements Instagram's latest security
When it comes to the UI, we happen to be fans of it. You can select either a dark or light theme within the settings of the app. Or use the auto selection which will select the theme based on what you have selected as the theme for the OS itself. Version 2 of Instance also addresses some issues users had with the live tile and notifications. We've been using the beta for about a week and have noticed notifications working like a charm.
Video uploaded to Instagram through Instance v2.
Outside of the UI, a lot of features were added at the request of users. Video uploads and the ability to check in on Foursquare happened to be the some of the most common requests from users and Daniel Gary added them both. In addition to Foursquare, you can interact with most other major social networks you can think of like Facebook and Twitter.
Like the official Instagram app, you can add images to your account from either the camera itself or pictures you've previously taken. The UI for the camera itself has also received a new UI. The filters have been overhauled as well. Daniel opted to mimic the look and feel of the official filters you'd get with Instagram on either iOS or Android. Lens support isn't in this current build of this beta, but will make it in during development and hopefully be available during launch.
When it comes to videos, Instance works perfectly. To be honest, I'm in the minority that won't really use Instagram to share videos, but did just test it out and didn't have any issues at all. The video was uploaded nearly instantly to Instagram through Instance. Like with photos, you can share the video to your social networks when uploading. Instance has two versions in the Store, free (ad-supported) and paid. Daniel is still currently evaluating how to implement it for both versions in terms of monetary support. The videos need to go through his server to get to Instagram and those servers cost money. He'll announce a pricing model closer to launch.
The other thing we're happy to see is the activity feed you find in official apps on Android and iOS. The activity feed is broken into two parts – what your friends are doing and notifications for yourself. In the following section you'll see recent activity from people you follow, like who they've recently followed or photos they've recently liked. The inbox is where you'll see your own notifications, things like who has followed you, mentioned you, or liked you're a photo of yours.
If you previously signed up to be part of the Instance beta check your inbox within the next 24 hous. The beta will be going out between now and 24 hours from now. Don't worry if you missed the sign ups earlier this summer, you can still join the beta. If you're interested in trying out version 2 of Instance go sign up. You'll need to have a device with Windows Phone 8 in order to try it out. If you join the beta be sure to leave Daniel feedback on things you'd like to see or any issues you run into. This app isn't for him, it's for you. So make sure you help improve it by reporting on any bugs/errors you encounter or things to improve it.
Windows Central Newsletter
Get the best of Windows Central in in your inbox, every day!
Love 6tag but love choices more. Keep the updates coming.

It's ironic that even though WP doesn't have an official instagram app, we still have plenty of unofficial apps and at least two of them are far more nice looking than iOS/Droid apps. Seriously, we rock.

Says you don't have permission to download.

I removed the link to the Store since you guys aren't reading. Read! lol. Sign up for the beta, you'll get the link when it goes out if you make it into the beta.

where do i sign into the beta?

You're going to put me on blood pressure meds if you keep it up! Click this link to sign up lol

:P already did thanks! im on the list already :D

How long does it take for me to get the invitation? Signed up yesterday ... But still can't see an email in my inbox. I'd really like to test the app.

It says i don't have permissions to download this app wtf

Did you read the article at all? It's in beta, join the beta, invites go out in 24 hours. READ.

It says I don't have permission to download this app. SAM!!!!

iOS and Android Fans, You have only one instagram now we Have two great Instagram Apps 6tag, Instance V. 2

So true. We may not have the official app, but we have two apps that you can't go wrong with. Sign up for the beta for Instance v2!

Instagraph, inpic, 2instawithmassive...,6tag, instance.....5 apps at least...well most are crap, 6tag is great. Still most people would take the one official app over 10 3d party alternatives. We got many choices in youtube too....lousy ones though most of them

The UI looks great. I always enjoyed the twitter UI and the redesign seems to follow it nicely.

I got the same feel from it, now we just wait for twitter to complain about it...jokes aside, I can't wait for this to exit beta!

+2 love 6tag.. But love twitter theme on instance v2

Same! I love 6tag but Instance 2 looks amazing. I love flat "metro" UIs.

Sorry, imo I can't all that wasted real estate, especially when its an app for viewing pics

Jaja yeah, it looks almost like twitter

Looks really good! I love 6tag but will definitely use this again for my 2nd instagram account, when updated.

Really nice app, fast and beauty. Really hard to choose between 6tag and Instance.

Only two solid choices? What about InPic? That is also a very good Instagram app

If not mistaken, if you upload photos with InPic, your account will be flagged as suspicious, unlike 6tag which presents no such issue. correct me if I'm wrong.

So with the new instance v2 we won't get flagged anymore?

Actually, Daniel Gary the dev behind Instance, reached out to to the guys at InPic and helped them with the flagging issues. So that should be fixed for them soon.

does it support Toast notifictions? if so, I'm moving to Instance.

Yes. I've received toast notifications from v2 Instance.

I said this buts its a lil laggy and no front cam for vid recording...plus you cant tag in comments as easy as 6tag -_-

Congrats, Sam, you're the 2nd WPC author the be featured in the screenshots of an Instagram app!

Wait, so 6tag is basically approved by Instagram so the hash tags work on it right? And this app now has working hash tags. Does it mean it's also approved by Instagram?

6tag isn't approved by Instagram, its a common misconception. Instagram simply reviewed it to make sure there were no legal issues in the app. That's it.

Thank you for clearing that up. By any chance do you know if the v2 of instance will be able to fix my account's hashtags being blocked?

Both apps are good. I use both. But metrogram sucks.

Just downloaded, time to play!

It looks like the twitter app

PS: Those yellow corners on the phone, is that a case/protector/skin? It looks great. Where can i buy it?

That is a wireless charging cover for Nokia 925, and 1020 has it too.

Thanks bro! In that case i don't need it, i own a 920. Thanks for your answer!

So how will this change for those that already have the paid version of instance? Do you think we will have to pay again for the video servers, an in app purchase to unlock this feature?

Anyone on version 1 of Instance will get this app after the beta period. Pay again for video servers? Daniel Gary is still working out how to implement this. Give him your feedback on how it should work for the free app and paid app.

How about the "spam" issue from Instagram? Has it been fixed so that when you upload a picture it wont be marked as spam?

Looks like my getgloo app which looks like twitter app :) Looking forward to this!

I signed up, hope to test it soon

Rafael needs to email Rudy next time and not use twitter to whine. Looks good Daniel! Keep it up.

Love the new UI. Looks very polished. Really appreciate the hard work Daniel's put into updating the app with new features, UI overhaul and performance improvements. Its really hard finding time to work on a side project when you have a day job and a family. Thanks for your dedication to bringing us an improved version.
Quite a few people kept pestering you with questions about when you would release v2. Some to an extent I found rude and impolite, but you've stayed the course and handled things pretty well. You're an asset to the WP community - even lending a helping hand to devs of other IG apps to navigate Instagram's latest security. Thanks once again!!

Noticed the same thing. +920

Ooooh, the competition responds, your move, 6tag. *grabs popcorn*

I will be on the lookout in the next 24hrs. Did I read too fast but thought he may have to rename the app again? Hope I'm wrong.

Instance has already had a name change because IG weren't happy with Itsdagram. Instance is ok though since it's an actual word even though it contains the letters, but not the phrase "Insta" that's associated with Instagram.

So, buying a new phone is the answer... tell us more, how consumerist you're...

it's not consumerist but come on at some point WP7.8 must be erased. Devs spend a lot of time to keep up with WP8 so it's hard for them to look at 7.8. Also that's why Nokia offers phones like the 520 so you're jump to WP8 it's not that expensive...

So, my 599 (euros) 1 year old Nokia Lumia 800 goes to the garbage...?
Im not blaming the devs, I only blame Microsoft for this BAD support. I don't even ask for new features, but at least a WP8 update to suppor new APIs and Frameworks to make all WP8 apps compatible with our phones, like Apple does with their old devices.
There's no reason to defend this kind of crap.... especially when we have spent so much money on one device that was meant to be "high end".

kinda hard when u live in a country where only one provider has a windows phone (620 :) ) and u gottta pay full price for it and any other phone has to be bought and shipped by myself...

Instagraph is available on WP 7.8.

i have that to post and wpgram to view and like photos... i want one app to do it all :(

rudy are starting to make 6tag version 7.8

Give me the download link, i signed for his beta 3 weeks ago

You didn't say please. So no. (or just go look at my timeline on Twitter ;) )

got it, thanks and please. lol

It looks great. Very windows phone... -esque.. It was definitely worth the wait.

I said the same thing when I saw the screen shots! Lol

I've been waiting for the Beta (since it will come before the update) for ages. So long that I've actually unpined the App from the start screen and kept 6tag only. I'll give this V2 a shot (since I paid for the App anyway)...but he took so long that now I'm really doubting I'll ever go back to Instance from 6tag.

"Guess what, Android and iOS may have official versions of Instagram, but they don't have choices"
It's kind of silly you saying that because as a WP7.8 user I can't have any of them and seeing my friends with old iOS devices where Apple didn't messed up with retrocompatibility... I think WP in general are facing a worst scenario!

You can checkout Instagraph, it supports WP7.5/7.8

Well if Apple rewrote their kernal and had to have apps rewritten for their platform, they would be in the same boat. It wasn't a pretty situation but it was a necessary one.

Big brands like Microsoft and Apple should plan and foresee better all the roadmap of their systems to avoid this kind of stuff. Makes me belive that they had no trust at all on WP project.
In the past, Apple with the OS9 changed the whole system when introduced the OSX, but they have made the "Classic" to maintain the retrocompability. OSX, in the middle, changed the binary from PowerPC to Intel, once again, they invented the "Rosetta" to translate those binaries to maintain, once again, the retrocompability.
It kind of sucks for us with great devices like Nokia Lumia 800... 900.. that had such a poor support. Because in theory, both are better than any iPhone 3Gs and in some kind of stuff, better than the iPhone 4.
So, Microsoft at the end should predict this and / or write a special version of WP8 for single core devices at least to keep the API and Frameworks updated to guarantee the apps compatibility. I can deal with not having new features, but at least the hability to install WP8 apps.
So conclusion. If I get a WP8 mobile device, who can assure me that in some day I'll get the WP9...? Is this some kind of Planned obsolescence from Microsoft and all the brands envolved to force us to buy new devices every year?

Uhoh now we got a competition going

Nice. I'll give it a go. I bought this previously but I am a Rudy man myself.

Cool! I'll have both apps just because lol

Does anyone think instance v2 better than 6tag?

Soooo Windows Phone happen to be the only platform with greatest instagram experience but not yet has Official apps
Man! Our third party developers are really starting an instagram revolution man!!

I still have Instance, 6tag not having toast notifications is a bummer

Received the confirmation email but when I try to download the beta app it wont allow me?

same here. i checked the website/windows store link in the email from the V2 beta list i signed up to a while back and it gets an error from he windowsphone store when trying to open. look forward to the actual beta invite. also, if toasts are present and correct and this doesnt heat my 920 like a mother...then im sold.

Maybe there's another email after that. Since I am just getting the store link from Sam's twitter post

So if this version 2 eventually gets published, I need to buy it again? Or I can just update the current v1.3 to v2.0? Cuz I already bought v1.3. Any ideas??

When it's published for regular folks like yourself you just update to v2 with your current app.

And I suspect that I'll need to pay extra if I want to upload videos, right?

Daniel hasn't decided on the best way to implement that just yet, he'll announce what he comes up with closer to launch.

I am soooo loving the competition between Rudy and Daniel! They are both too awesome!

I hope you guys run a comparison review between Instance and 6tag when Instance is released.

I've paid for both and will have a decision to make.

I sold my old lumia 800 ( the best phone I got so far) and bought a Lumia 520. By recomendations from all the articles on this site. It will arrive in a few days. I hope that I made a good decision, and I am really looking forward to try Instance, since Daniel Gary is specially dedicated to Lumia 520, testing his app a lot on my next phone.

From the 800 to the 520(my mother owns the 521), there's a huge difference. At least in build quality and feel, you'll miss your 800 but at least the 520 is highly competent in hardware specs and updates as well as its wp8 so you'll notice major upgrades in os. Hope you enjoy!

Thanks a lot. And the Pictures, anything to say, between the two phones?

Let's wait to be approved to be beta tester

I like the new UI but the home and activity icons don't look nice to me!

Btw, image publish or private again by server API instagram ?

Where can i report any bugs?

Send them to Daniel Gary the developer. If you're in the beta you should have his email address or a way to leave feedback. Or else just hit him up on Twitter.

I've been approved for the beta test...yeah

i don't like UI design at all :(

The battle of the Instagrams

Daniel took way too long to get this out and i moved over to 6tag.

I am definitely a fan of 6tag because it is at least officailly acknowledged or backed by Instagram and I am afraid that something again will happen with Instance and the UI on 6tag is quite attractive. I'll of course you Instance V2 since i already paid for it(my second instagram account)but in all honesty, while it is good to have choices, the app doesn't seem as original looking as itsdagram and the instance v1 UI...it looks like a knock-off twitter.

No it's not. It's not official, and it's not backed. Get your facts right. Looks so much better.

No apps on Windows Phone are backed or approved by Instagram, not even 6tag.

He meant to say, Instagram checked over 6tag to see if it violated any copyrights
http://www.wpcentral.com/6tag-instagram-windows-phone-now-available

Thanks kkrlessey, that's what I meant. While instance is a decent app, I at least like the fact that instagram has approved of the 6tag app. I'm afraid I will run into issues down the road should instance run into similar issues like they recently had.

Just to be clear, Instance weren't the only app that run into thoose issues, everyone did. And the same thing would have happened to 6tag if it was out by then. I will choose wich one I will use based on the qualtiy and performance, and not by the chance of getting taken down. If the same thing happends again, it will happened with both. That's how Instagram does their business.

I disagree...6tag has backing from Instagram to at least more or less use their api so the chances of 6tag suffering the same issues as Instance and other apps(including 6tag) just a few weeks back is far less likely while on Instance, instagram has not given them their blessing to use the apis.

I do certainly share the sentiment though about using the one best for quality and performance but given how slow Daniel took to fix some issues within Instance(Verson 1) and again the api & hashtag issues, 6tag definitely appears to be a better supported and more stable app. Though V2 could certainly change that in Instance's favor.

Actually its still the majority that dont use Instagram for videos so much. But that doesn't mean that our apps shouldn't have the feature. Lets wait until Instance 2.0 is out of the beta before we can truly compare it to the new version of 6tag. Daniel isn't as fast as Rudy so i dont expect it to hit live before end of September. Still its obvious instance 2.0 dont replicate all original filters and doesn't replicate them as good as 6tag imo.

I paid for instance the first time but moved on to 6tag cause at the moment its better but I like instance v2 alot. Will I get it as a free update or will I have to pay again?

This is the update coming to both versions of Instance v1.

So much choice and great UIs, I'm loving windows phone!! The official app can't beat this.

Where I can get the app link,I signed up and got verified as beta tester..

where can i load the app, ive signed as a tester ?

I like it. Even if Rudy explained why, I don't like that 6tag is just a clone of 6sec but for a different service. Competition is good after all.

lol it makes sense since it is his brand of apps :P It's not really a clone of 6sec so much as it just has rudy's signature brand/look. I think Instance looks like a Twitter clone personally.

I don't use instagram but I find it sweet how these 2 devs are duking it out for the better app everyone wins!!!!

The beta is ready! http://www.windowsphone.com/en-us/store/app/instance/dacc888f-4eb4-4a1f-...

Signed up for beta.
Stoked! :)

Let the competition begin..

#2InstaWithMassiveLove is the best Instagram client for WP 7.....and its frequently updated too and soon to get video uploading

Check out "Instance" for Windows Phone http://www.windowsphone.com/s?appid=dacc888f-4eb4-4a1f-a204-3c8348f74bdd you need to sign up for beta testers first

Where i can sign in to "beta tester" to try the App?

Not getting notifications or toasts with V2. annoying.

Ahhhh waiting for that email is killing me. I signed up a week or more ago.

Unofficial instagram Clients FTW!

How can I download the app, I`ve already signed as a tester?!?! please tell mee!!!!

Have yet to receive the email to download the beta. Grabbing another Snickers!! Daniel I'm gaining weight over this!! LOL!

So far this looks good, really like how well designed it is.

So about that video..........

more than 24hrs have passed, yet I haven't received any email to download the beta.. hmmm

This looks simple, clean and Metro-esque. Waiting for my mail (and just bought instance). :)

When is this thing coming out with the official version??? I don't want to buy 6tag too

What happen with Instance V2????
Windows Central Newsletter
Thank you for signing up to Windows Central. You will receive a verification email shortly.
There was a problem. Please refresh the page and try again.