Insomniac Games is looking for a publisher for Sunset Overdrive 2
By Asher Madan published
Sunset Overdrive surprised everyone when it launched due to its thrilling gameplay, bright colors, and hilarious dialogues.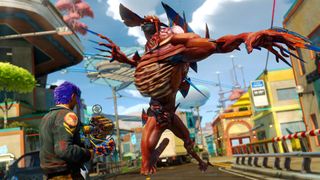 The open-world setting took everyone by surprise as well. Additionally, this was the first time Insomniac Games was working with Microsoft on a project of this scale—which also happened to be an exclusive—so that added to the hype.
While the game failed to make a big dent commercially, it was still lauded by critics because it was a very unique experience, one that isn't usually found on Xbox One. Since then gamers have been asking Microsoft for a sequel, but it seems like the company hasn't responded to Insomniac Games. In a recent post by the studio on Twitter, it appears that the developer is without a publisher for Sunset Overdrive 2.
If Insomniac Games are looking for a publisher then hopefully Microsoft will step in and finance the project. However, Microsoft may not consider this to be feasible, as Redmond doesn't own rights to the Sunset Overdrive franchise. One of the reasons Insomniac Games went with Microsoft initially was that the company let the Insomniac keep the rights to the franchise.
we'd love to, we just need to find a publisher!we'd love to, we just need to find a publisher!— Insomniac Games (@insomniacgames) October 24, 2017October 24, 2017
One of the many criticisms that has been levied against Microsoft is that they don't have enough first-party exclusives. Why would Microsoft want to invest in a game like Sunset Overdrive if it's going to eventually end up on a competing platform? Why not take those funds and invest in a new first-party title or proper exclusive? Sunset Overdrive 2 would be a unique experience but it may not sell well again. All of these factors need to be evaluated when Head of Xbox Phil Spencer and his team sit down and decide to fund projects.
At the same time though, Microsoft is funding PlayerUnknown's Battlegrounds even though it might end up on another platform eventually. Microsoft is just publishing it on Xbox One. PlayerUnknown's Battlegrounds is an absolutely sensation so it's understandable why the company would want any deal but that shouldn't preclude unique titles like Sunset Overdrive.
Aside from the lack of exclusives, Microsoft usually gets criticized for a lack of variety in their games. Sunset Overdrive 2 would definitely go a long way to address that. Here's hoping that Spencer at least calls Insomniac Games and discusses the future of the franchise. It would be a shame if such a stellar game didn't get a sequel. However, at the end of the day there are numerous business decisions that have to be made.
If you haven't played Sunset Overdrive, be sure to do so because it's a lot of fun and absolutely hilarious. Apart from that, it now costs around $10 on Amazon.
Keep an eye on WindowsCentral.com/Gaming for all the latest in Xbox and Windows 10 gaming, accessories, news, and reviews!
Asher Madan handles gaming news for Windows Central. Before joining Windows Central in 2017, Asher worked for a number of different gaming outlets. He has a background in medical science and is passionate about all forms of entertainment, cooking, and antiquing.
I loved the look, and even pre-ordered it, but hated the rails and sliding. Beautiful game though, worth a sequel.

Microsoft: Fund these guys.
Insomniac: Get to work on my One X update. I know you're busy doing Spiderman but please, it can't be that hard to get the game to 4K.

Sunset Overdrive was fun. I think sales were lackluster because it was so different and people didn't know what to expect. I do hope MS chooses to publish a sequel.

Please I will preorder this instantly!! I loved sunset overdrive

Yup, Sunset Overdrive was one of my best gaming experiences of my life. I absolutely cannot fathom why this wasn't a smash hit. Crazy fast and slick movement like Titan Fall 2. Fun and very varied weapons. Great sense of humour. Easy to understand, great cut scenes. Funny twists in the story. Amazing fun. Very polished, very different. In a world of constant dullard shooters, this was a breath of fresh air. Love the game, love Insomniac -- I vote for someone publishing version 2 of this epic game.

So why is MS not buying the license or the whole studio?

Maybe because the studio doesn't want to get shut down?

can't believe that MS has not picked this up yet

"Why not take those funds and invest in a new first-party title or proper exclusive?' Kind of a silly question when Microsoft hasn't been actually investing in new first-party titles or proper exclusives. Sunset Overdrive never moved to PS4, nor did Quantum Break, Ryse, or the first Titanfall. What keeps Microsoft from having the same kind of deal for Sunset Overdrive 2 as the first? Microsoft's doing just over the bar of "nothing," in terms of investing in exclusives as it is. Sunset Overdrive was loads of fun, and a sequel would, to me, be of greater interest than anything Microsoft has done in 2017 or announced for 2018.

I would be all over a sequel to SO, that game was mad fun. Even just running around the city destroying mutants and bots was enjoyable.

I'd probably play the first Sunset Overdrive if it was available for PC. Wouldn't kill Microsoft to have them make a port, you know.

If they have to look for a publisher, obviously microsoft doesnt want them.

Sunset Overdrive was meh at best trying too hard to be funny. It's funny how Xbox has overhyped this game before its release and now they aren't publishing the sequel. It was the first game that make me become very cautious when Xbox team are trying to overhyped game. Seeing Forza 7 loot boxes scam, next disappointment will be Sea of Thieves and then Crackdown 3. (I'm at 140k GS and One X pre-ordered already, please consider it before replying)

this is the issue with Microsoft. They never invest on exclusive titles after they see the sales tank. I'm so ******* disappointed because I loved this game. I also enjoyed the story of Ryde and Quantum Break but none of these have had success in sales so now they dump the concept, characters and story. Its ******* retarded. I mean did ratchet and clank become success in the beginning? Sony still put that out even if it's not breaking the bank. Microsoft can't even do this. And now they're betting on "Super Lucky Tale" I mean gtfo!!! Wtf is that pos game. I'd rather you let Rare bring back Conker or that stupid fairy that changes into monsters. Stop creating new Xbox characters and expect us to fall in love with them only to not continue the story. Ffkccc!!!! This is the only thing that passes me off about ms. And I give them a free pass at windows mobile. But come the fkc on!!

If MS don't pick this up, theres the danger Sony could pick this up as an exclusive just to spite MS.

Good, then I'l still get to play it. Honestly I couldn't care less who publishes this game, I just want a sequel.

Sunset overdive great fun to play and does deserve a sequel.

YES PLEASE - Love this game on XBox I regularly go back in for a run or two.
Windows Central Newsletter
Get the best of Windows Central in in your inbox, every day!
Thank you for signing up to Windows Central. You will receive a verification email shortly.
There was a problem. Please refresh the page and try again.