Instagram client 6tag gets regram, location awareness and new Live Tiles in latest update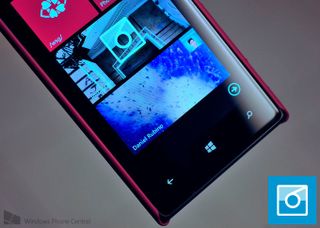 6tag, the defacto Instagram client for Windows Phone 8 users has received another update tonight, just one week after its last. Version 1.5 is now live in the Store after being teased by developer Rudy Huyn earlier in the week.
Version 1.5 though is not bug fixes but some very interesting new features, which will only help solidify 6tag as the go-to Instagram client for Windows Phone.
6tag version 1.5 changes
View posts around your position
Regram: share an existing Instagram post
2 new live tiles: pin your feed or your profile
Manage new Instagram securities
Those are some fairly significant additions to the app. Let's take a closer look.
Geolocation and Instagram posts
While in the main feed of the app, users can tap the menu dots near the bottom and select 'nearby' to bring up a stream of photos around their location. That will certainly keep you busy if you're ever bored and want to see what's going on around you (or without you, sad face).
Near the bottom of the geolocation feed are two options (both oddly say 'map'); one will allow you to change the distance and the other shows a physical map with the Instagram photos and their locations. You can also move around the map and hit 'refresh' to focus on a specific area.
Share that Instagram photo
Regram is a new feature on Instagram that allows you to pass on someone else's Instagram post. It's the retweet of the Instagram world and a useful feature should you come across something fascinating.
New Live Tiles
As you can see in our lead image, you can now pin your Feed and Profiles to your Start screen, including double wide sizes. For the Feed, you'll simply see 'instagram' near the bottom with the latest photo pulled down every 30 minutes. For your feed, you get a small icon with your profile picture, your name in the low left corner and your latest image.
Overall, the update is quite impressive, although we tend to always expect these things from Rudy Huyn.
A few issues
There is a small bug though for users who need to "approve" a follower request and connecting to Facebook. Evidently it's not possible to accept that request in the app and some are having trouble with instantiating an initial Facebook connection (Facebook reportedly changed a setting, causing the issue). Fixes for both bugs are coming in version 1.5.1, which has already been submitted to the Store. Look for it real soon.
For now, head to the Store and pick up 6tag version 1.5 with all of those new features here. Windows Phone 8 only.
Thanks, Vardis V., for the tip
Windows Central Newsletter
Get the best of Windows Central in in your inbox, every day!
Daniel Rubino is the Editor-in-chief of Windows Central, head reviewer, podcast co-host, and analyst. He has been here covering Microsoft since 2007 when this site was called WMExperts (and later Windows Phone Central). His interests include Windows, Microsoft Surface, laptops, next-gen computing, and for some reason, watches. Before all this tech stuff, he worked on a Ph.D. in linguistics and ran the projectors at movie theaters, which has done absolutely nothing for his career.
Is this "regram" in the official app?

Not so far as I can tell. Neither is location :)

Hey Daniel please explain that in order to pin the new live tiles you have to be on the modern way and not Polaroid..

can you elaborate on ths? what is the modern way vs polaroid?
my live tile is not updating at all.

thanks!

not an official feature. I did it like Vine (the better way IMO): share the picture, the description and user tagged on the picture

Rudy you're the best. My nephew now has WP because of 6tag.

When are you going to tackle Facebook for WP ;)

What Microsoft has been doing with Facebook Beta is quite adequate. I think it is better for Windows Phone that Rudy spent his talents continuing to develop apps that fill gaps in the app store rather than creating redundancies (even if they are better).

How does the regram look in the official app?

Official app doesn't even have that feature

Obviously, I meant what do they see when you regram something?

it is like an original post but with written:

regram @jessicaalba
Hello every one, I'm jessica

Rudy, you should apply job at Microsoft (Windows Phone department). I'm sure they will take you and fired those lazy microsoft employees. Many years they still haven't came out with the fully working Facebook app. You should throw your windows phone straight to their face with 6tag app installed.

last i checked, facebook is working just fine....?

But it isn't still on par with iOS and Android apps, whereas 6tag is better than instagram on Android and iOS...

The ios 7 Facebook apps annoying fb beta better to me

if you haven't tried the latest version of fb on iOS its terrible. slow, laggy and poior design. Android version is currently the best with Windows Phone 2nd....

I'm afraid he'll just lazy up there... Probably something in the room that makes them mellow. :D I doubt the employees are lazy. Everything is always a reflection of the management. But I would like for Mr. Huyn to get a job at Microsoft when he's obviously excellent at what he does....before Google snatches him up. :P

rudyhuyn you're THA MAN!! Can we get a SnapChat app again. =] Keep up the great development!

hey rudy, any chance that you have any plans to develop a snapchat app for WP8?

location serves is cool for kids in high school

Does that bug affect the current privacy settings of the App and Facebook sharing? As someone who has its Instagram closed to approved people and conected to Facebook, I'm trying to understand if I should wait for 1.5.1 before update.

Not sure but 1.5.1 has already been submitted to the store, so the most you're looking at it is 2-3 days.

Ok, thanks for the answer. I think I'll wait a couple of days then ;D

Does he even sleep? I read a rumor Rudy is actually a machine from the future sent back in time like the 4400 to help WP 8 succeed.

In fairness, he did quit his full-time job to do this all the time ;)

Well then I better go buy the app to help out the dude.

in 3-4 weeks it will be the case, but for the moment i develop only the night due to a lot of conferences (7 in 15 days) and administrative stuff to do :)

For a sec. I thought this was going the way of the Stig. Some say...

I love The 4400! Just got hooked on it thanks to Netflix.

Does this fix the crashing issue?

God damn, Rudy is a beast.

Rudy, we can't thank you enough

Whoa, the app is ridiculously fast now. Like loads super quick.

Every so often an app get a live tile and I end up shifting my start around to fit it in. Today is one of those days. Oh and turning off background agents for less important apps

Very nice update. Really liking the Nearby feature

Anyone know how to get my pics searchable by hash tags again? I know this was an issue a while ago, but I still haven't resolved it

Dude, 6tag is so awesome, can't believe i spent $1.29 on instance and its not even trying

Really though? I mean if you have ever been able to spent money on the dollar menu at a fast food restaurant, there's no reason you should not be able to fork out a measly dollar to help out the guy who helps out folks like you and I in his own free time. Don't forget Daniel had the first full-fledged Instagram client on Windows Phone.

I'm checking everyday WPCentral hoping for the "6tag for 7.8 released" news. I hope to see it soon

Is the only reason I actually use instagramm.... Holy molly!!!

Still doesn't fix the black screen problem every time u open something new in the app..

Has anyone noticed that the "metro" interface has a tendency to not clear notifications after being viewed?

Yeah I've experienced this bug before. Maybe some bug clean ups will come in 1.5.1 Although I haven't gotten notifications in 1.5 just yet so idk if its been fixed on this one today.

when I open the map my phone shuts down... Lumia 720

Map icon appears grayed out for me. Anyone else have this issue?

the map icon is enabled when the phone find your gps position. check your gps settings

This is off topic, but I want to know what apps do you recommend for Halloween?
It will be nice if you write an article about ;)

I joined instagram because of this app. I'd love Rudi to tackle Facebook too.

Was very excited about being able to pin your feed as a live tile. But there is a giant camera icon blocking the pictures, is there anyway to just make it the pictures only without the icon, possibly in a future update? (great job on app though really)

i feel so jelly. ugh. when's for 7.8? huhuh

Rudy should just develop WP9 as a whole.

Does anyone else have a notification count error? it always says u have 3 notifications even if its just one.

I've seen that a few times

How do you get the live tile of your feed working? I can't find anything in the settings for it.

It only works with the modern design... That's really annoying.

This is a powerful app, it has actually became a major reason to buy a windows phone, and it's the only reason i use instagram, well done Rudy, enjoy my money :D

I remember when asking for the pin feed feature a certain Daniel Rubino started bitching (on behalf of) about people moaning (when they weren't) :)

Ps thanks rudy for awesome app and more than reasonable price tag.

The location feature is awesome!

After seeing the new map view, I want Rudy to team up with the Foundbite devs and combine them into one even more awesome app.
Hope you see this Rudy but would it be possible to add a scroll to the new feed pin like you see on apps like Weave or myTube?

tile with scrolling is named "cycle tile". They have a big big problem: you need to download the complete image in the background agent to display them, contrary to the "flip tile" that need only a URL. We are very limited in the background agent (15 seconds only, 10% cpu, etc...), I can't log in, update all the tiles, get and generate notifications, generate lockscreen ;-) and download X images for the "cycle tile", we need to make some choice sometimes

Heyy how to change 6tag icon with wallpaper? I've always blue icon static :( #sorry for my bad english :v

the tile with counter is the primary live tile (used also for lockscreen notification)

the tile with images is a secondary live tile, you can add it on the home page (application bar > menu > pin to start)

My 6tag's live tile doesn't work...

I will now be following bossbabyx3

Good work! Not sure about regram though. I hate revine on vine. When you search a person's vine and you have to scroll through 20 revines. There are people that only revine. We dont need more lazy guys on Insta. People should create their own content.
Rudy please dont kill 7.8 version cause of security concerns.

Rudy, TVShow update (option to turn off automatic time adjustment), PLEASE!; (yes this is off-topic)

It now says instagram on the live tile not 6tag.

Shhhh, keep it hush or it will be removed

MY ONLY QUALMS are The image in the live tile for my time line does not update. If i want it updated I have to remove and repin it. The regram just adds "regram" in the caption. I prefer INPIC's method in that it actually has a repost logo attached to the image so followers easily know it's a repost.

inpic doesn't include user tagged, geolocalization, description, etc... and add a big logo I make the choice to have a regram feature similar to the revine feature
In my opinion, Instagram is for pictures, beautiful pictures, add a big logo on it is not a good thing

Agreed with the "repost logo" :)

I can now stalk my crush on instagram. All thanks to rudy. You are my hero.

please someone inform the Developer that there is still a problem when you click on the search icon the people you follow don't appear unless before clicking on the search icon , click on comment on any picture and write @ then exit the picture without commenting then click on the search icon and the people your following will appear but this problem will stayif you exit the app and reopen it please some one inform Rudy

You can report this to him via the app, he may not see your comment here so advise you to relay your issues via the 6tag app

I will inform him right now

Rudy is the best
Maybe one thing: please provide a smaller "6tag watermark" on the tiles and/or not in the middle of the tiles.

Yay this update added fcking ads..... Damn it why did I update, I HATE ADS thus the reason I hate android as it is full of ads even on paid apps, please devs don't follow this trend as no ads is what makes wp8 so desirable.

Where are you seeing ads? I don't see any anywhere.
BTW - They will eventually come, as Instagram has announced they intend to add ads at some point.

it comes from instagram, it is their choices

i wonder w.e happened to daniel gary and instance lol. dude is even MIA from his twitter acc. btw rudy you're a beast!

Will there be an option to choose miles vs km?

added to my todo list, thanks !

They should rename this app 6AWESOME

Since the last update, everytime I got a notification and open the app, nothing shows up until unless I close and open it again.

I wanna be able to link my Facebook musician/band page, not personal timeline. Hopefully this is coming soon

Loving all these updates, just wish there was a fix to the hashtag issues. I run my clothing company account on there and hashtags are a key way to get new followers and customers. Don't really want to creat another account.
Any news on this issue at all?



I am having the hardest time linking my FB account this morning. I orignally got a logon box for facebook and then a message in red about a secure URL and treating it as my password after I logged in. But it just sat there with no URL present. Now all I get is the 4 rolling dots up top when I click on FB under Settings>Facebook. I was able to link Twitter with no problem so maybe it's a problem on FB's end???

Okay, they said it would be fixed in 1.5.1

the message is appearing on Tetris Blitz in my cellphone :C

Regram would be good with "regram watermark" and the original uploader's IG ID. Look more proper like how those third party apps did to repost in iOS and androids. Just my personal opinion.

Anybody know what 6Tag would be listed as in Facebook's "Apps You Use" privacy section? Every time I upload to Facebook, the pic is set to only be displayed to Me. I don't have that as my standard setting, and when I look in the apps security/privacy settings, nothing that remotely resembles 6tag or any other Rudy project appears on the list.

it uses instagram settings on facebook

Rudy, since update i can no longer upload videos from my 1020. Keeps showing a white check mark and when i hit the arrow at top loops the preview. At main picture screen just shows a red line at top.If i exit out and come back in app it asks if I want to save last creation, if I say yes it goes back to the camera screen and a white check mark. How long does it take to save a video? Thanks, pics work fine.

After the update I haven't been able to comment on my photos. Did anyone experience the same problem?

Please make 'instagram' writing with a Capital I. I think it looks slightly better! I don't know why, but it really annoys me! Thank you for keeping me ul to date with the news

Anybody see issue with battery, never had issue with my 920 battery, then something changed after the update...sound off please thanks

Yes, I've noticed since last week that my battery has been draining really quickly. 6tag seems to be the only thing I can think of that might have affected it.
Windows Central Newsletter
Thank you for signing up to Windows Central. You will receive a verification email shortly.
There was a problem. Please refresh the page and try again.