Instagram for Windows 10 Mobile updated with 'pinch to zoom' for images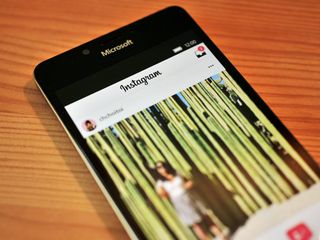 Instagram has updated its Windows 10 Mobile app, adding the highly requested feature of "pinch to zoom" for images and video in the social networking app.
Instagram first announced the image zooming addition on August 31, so it has taken close to a month for the Windows 10 Mobile version to add it to its list of features. As usual, the new version does not come with an updated change log, but we can confirm the new version also has the recently announced new settings option to "Hide inappropriate comments".
If you notice any other new additions or improvements, please let us know in the comments and we will update the post. Also, be aware that the update may take some time to roll out to all Windows 10 Mobile users.
Download Instagram from the Windows Store (opens in new tab)
Windows Central Newsletter
Get the best of Windows Central in your inbox, every day!
What is the latest app version? Mine is .2431.0 And I don't have this feature.

I have .2883.0 and I don't have it either

I realized it's just zoon in Instagram stories camera

I updated yesterday and have version 31749.0

Interesting. Is there Instagram stories in this app ? Posted via the Windows Central App for Android

Do y'all reckon this is better than 6Tag now?

It's better than 6tag NOW, because it has all the updated features and 6tag hasn't been updated in months.

Much better. 6tag is abandoned.

The whole premise behind Rudy's philosphy was to cater to the demand for popular apps when there was no official app or the official app was so subpar that even a 6 year could make one better with crayons :P. However we now have a decent osmeta port for instagram. Plus you can't expect someone to work 24/7...

Exactly. I was still using 6tag as my primary client up until about a week ago, only because the official app had some scrolling issues, etc. But I switched to the official app now because it's smooth and has all of the new features. Even though this one took about a month, I won't complain because we got it! In the grand scheme of things, a month is nothing compared to how long it took to get a decent official client in the first place.

Pinch to Zoom seems like such a basic feature. It's still awesome though. Although Microsoft seems to have secured ongoing support for Instagram (or facebook is less short-sighted than other large devs) many users including myself are moving to the official client which I think should look much better on paper. Due to official apps lacking or not being available they have no or less active users of that app. Rudy built a career on this. Our remaining users moving to the official client should make the numbers look better among devs, right? That's good for Windows Mobile.

Of course, there is no point to develop it further now that we have a decent official app. He did a very good job though when there was no official app. We wouldn't have an Instagram client if it was not him. We are grateful.

I still use 6tag to save images.

Good point, didn't think of that. That, and regraming, are probably the two things I'll still do with 6tag. To be honest, 6tag might've still been my go to if Rudy hadn't taken the nearby function away, that showed posts near your location! I loved that.

No, 6tag is still better. Easier to regram for one. 6tag also allows to save images and videos from Instagram. Not too mention the photo/video upload screen is the default WM one while Instagram's and Facebook's is a custom screen the makes it harder to find your photos/videos

Thanks everyone! I uninstalled 6Tag and now have the official app setup, very light user of Instagram. I read LOTS of reviews in the Store & it didn't sound great all-up, but we'll see how it goes.

Yes, that was added a month ago

They added this a few versions back IIRC

I haven't tried this yet but I did install the update last night.

Many times I try pinch to zoom it accidentally likes the pic. Cuz of two fingers :D

finally Story Text positioning has been fixed! Than you! Previously the written text in story had so fast pinch zoom that ended the text go bye-bye either too small or too big.. Also the color of the text is now introduced. Thank you!!

For me story teller still works awful. Drawing is extremely laggy. And the pinch zoom still is extremely fast and totally unusable

Hey what region are you using for store?

Updated, reinstalled, soft reset & open/close app multiple times. Still no pinch to zoom, production build L930. Any suggestions?

Doesnt work for me either

I had to restart the app once for it to start working. Same thing happened when they added Stories--it wasn't there until I restarted the app. Weird that it still isn't available though...

What is the app version for you now? I still couldn't get the update for some reason

9.611.31749.0
It must be a device compatibility concern as well, either that or the Osmeta porting tools they use are wonky

Yea, it could be device compatibility. Mspoweruser reported this update almost 12 hours ago. I'm still on 9.576.2883.0 with L930 :/

update not available in store !

Not showing any update for me.

Feels like Rudy has jumped the ship. Haven't heard from him for months now. Not that I'm saying he is. Just he's gone for quite a while now.

Everyone gets busy with life and plus we have a decent official osmeta port (compared to the previous app that languished in "beta" for a very long time).

I think he's coding for w10 uwp apps ;-)

6tag UWP is almost ready...he said 2% to go

They also added text colours and (THANKFULLY) improved the pinch to zoom on text in stories. It used to zoom so fast that it would disappear or become way too big.

Hey what region are you using?

I live in Canada but my region is set to US (Cortana is extremely limited in Canada).

Thanks I'll try changing regions

No update available for me

Maybe some type of glitch in App Store that we're not seeing it yet. funning thing is that I read about this update since yesterday and was looking for it in store from then.

Where the hell is this update?...

Pinch and zoom not working for me after getting the update.

i just really need lockscreen notifications for apps like Instagram, Facebook, Messenger... it was nice to know if you have a notification just by looking at your phone. And in the office is not that nice keep using your phone, my boss doesnt like that.

I agree, we should suggest these features through the apps it self

yea and options for live times on new apps.... And an option to choose on the live tile if you want just a counter or the whole package of a picture and what he said...
or facebook at least be able to clear the live tile when you open it i get stuck with someones picture for days. and i get new notifications but the live tile stays stucked. But tried to give feedback but facebook doesnt care i mean its not like the feadback hub they really dont care... :"(

They do,they actually fixed several bugs I reported..Use the feedback option on those apps to send them your feature requests or report bugs

It still crashes while posting stories sometimes :(

Still no update. What are you guys using that got the update? I'm using a 950xl on ATT with latest Redstone 2 build

Its awesome i love this feature even work faster than the last one

That thing that all 3 facebook apps even after many updates and official release still have great problems like video and gif playback for facebook since on instagram it stopped for me :P the thing that they close if you back button on the main menu... or that they are slow or that use no AU features... not even a lockscreen counter.... I mean facebook come on -_-

for me the three apps have another problem. I some point (I dont know how and when) touch stops working. I cant do anything on the screen only hide nav bar an swipe action center. I dont think its an os problem but the apps' problem. only way to fix is restart device

Dude, I was just about to write this. If I could give you more then 1 upvote I would. The app seems to freeze after about a 5-7 days of use for me and im NOT a social butterfly, LOL. I go in sparingly. Then I have to restart the phone to get it working again. New Facebook does then same thing which makes me think it's a coding with osmeta thing

Yes and Messenger too. All three apps have this problem. Pff hope they fix it

Still can't upload any video and picture quality is awful. 6tag is way better

Windows 10??????? I can upload videos and pictures are way better than 6tag

Yes, windows 10. It get stuck after I click on "post" and when it comes to pictures I have no idea what's wrong, when I choose a pic from the gallery everything is ok but once it's posted pic looks like it's been taken with idk 1mpx camera

Still no update for me using Lumia 550.. I tried changing regions from Philippines to United States to Germany but still no update. Why oh why? :(

I cant get this installed on my Lumia 830, Am running the anniversary update. Any solutions to this

This is the strangest pinch to zoom implementation I ever saw :D If I don't move both fingers exactly at the same time, the app will most likely take me to stories or direct messaging depending on where I swiped accidentally. Other than that, if I release my fingers, the picture goes back to normal and doesn't stay zoomed in :D Anyway, I'm happy seeing constant support for the W10M app from Facebook :D

Hey. What region are you using?

The accidental swipe to stories or DMs is possibly a bug, but the image not staying zoomed in is on purpose. Lord knows why they chose to do that but Oh well haha

6Tag still does things the official app doesn't. Therefore, 6Tag is still king. But the ofiicilal app isn't bad.

The only thing I still use 6 Tag for is to see if someone follows me or not since it tells you right on a user's profile. For everything else, it's the official app. Plus, the official app let's you upload videos for free as well as all the updated features

Just got the update a few hours ago. Pinch zoom doesn't work, tried to close the app and open but nothing. Uninstalled the app and reinstalled but still doesn't work. Also Instagram stories still doesn't work properly, drawing is laggy and pinch zoom the text is awful on 950xl

I already checked for updates several times today, but Instagram is nowhere in sight... Could this update be excluded from RS2 Windows Insiders for some reason?

im on the release preview ring still not getting it here either

why is it available for some people and not everybody yet?

Still no update in the UK preview build

I was updated last night in UK, RTM au. Maybe they pulled it due to issues.

Is This Update For Certain Regions... Because I'm In The US and Still no update

there's already ANOTHER update! hope it includes the lockscreen support...

Just got the update. Performance is a big improvement.

No matter what is company achieving , if their users aren't happy there is no good in company. Like me. using windows 8.1 in lumia 520 but Instagram have no support for my query or i am facing problems with application. I dislike Instagram...

Buy a new phone,even android is similar. App updates support vary with version of the OS

And still no update on my end

Update is now live! Have to reboot the phone to make it work.