Instagraph updated, adds filters, lens support and more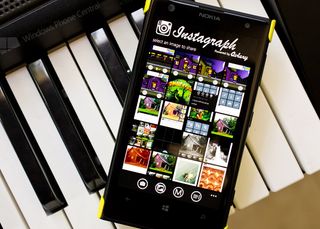 Instagraph is a popular Instagram client for our Windows Phone that was the first to allow uploads to the photo sharing network. The Windows Phone photography app was updated today to version 2.6 and adds new features to both the Windows Phone 7.x and 8 versions.
The Windows Phone 8 version gets forty-five new effects filters that are powered by Nokia's imaging SDK. Everything from an antique filter to a cartoon rendition to a lomo filter. Instagraph also gets lens support with the Windows Phone 8 version allowing you to launch the app from the camera lens selection.
Instagraph new filters, lens support and sharing features
Both Windows Phone 8 and 7.x versions get Facebook and Twitter sharing options, a minor user interface restyle and a few "under the hood" fixes and improvements.
If you're like Molly Wood and still searching for an Instagram client app for your Windows Phone, Instagraph is worth checking out.
There is a free trial version of Instagraph available with the full version running $1.29. You can find it all here (opens in new tab) in the Windows Phone Store.
Thanks, everyone, for the tips!
George is the Reviews Editor at Windows Central, concentrating on Windows 10 PC and Mobile apps. He's been a supporter of the platform since the days of Windows CE and uses his current Windows 10 Mobile phone daily to keep up with life and enjoy a game during down time.
Awesome, but does it also have the same hashtag problem like Instance?

No, Instagraph does not use any API. It is probably the most secure 3rd party Instagram uploader, it cannot be broken even by API changes :)

Still is this consider legal? Because you're still gaining access to instagram without authorization.

Currently Instagraph is the only one app compliant with Instagram ToS, point 10.

No doubts its the best instagram uploader ever released in market place.. I love this apps for 4 reasons that cant provide any othter 3rd party clients like instance, 6tag, 2insta with massive love, pictastic etc.
1. Its legal dont use instagram api. So any user can view and comment ur photo searching the has tag
2. Tagram apps is integrated so u dont even type a tag.. Just copy and paste ur photo specifoc tags
3. It has original instagram filters.
4. It support wp 7 devices as well dont forget them.. Cz still wp 7 users r too many.
Recently i contacted with ventasoft. Nd they told me in next update video upload facility will be coming too :) so instagraph rocks..
Ps. Dont compare with this with third party Clients as this is the uploader apps. Nd i like only perfect features not the gestures of an apps.. :)

Love the molly wood reference haha nice one!

Molly Wood right here...
http://www.wpcentral.com/cnet-lumia-1020-review-gets-facts-wrong

Someone needs to punch that Molly mole square in the face, "1020 41mp camera is shameful" wtf, someone needs a f@#€

I thought there was no Instagraph for Windows Phone?

Instagraph is a 3'rd party app for Instagram.

Lol❕❕❕ boy you're a tool.. You fell for that❔OK, I understand now,, this is what we're dealing with.....

What planet do you live on?

Lmao @ molly wood reference

Does anyone still use this? Instance and 6tag far superior

I use Instance/6tag/WPGram for browsing/following, but Instagraph for uploading.
It is definitively faster to open and I like its cropping and editing feature, better than all others.
Sometimes I use Aviary editor to add labels and stickers too :)

Didn't know it was faster nice to know, personally I use one app, deleted paid version of instance when 6tag released as I like to manage my memory. Full points to instagraph for breaking the code first and being first in store especially for ppl who live and breathe instagram

+1 (but I kept Instance too, waiting for V2 ;)

Only using it until 6tag comes to WP7.

I used to but since there was that delay between when it uploaded to the servers then to instagram, that meant your pictures didn't appear instantly which bugged me

We use Azure servers as a gateway to automate real-virtualized Instagram apps, to be sure not to be broken with future (if any) API changes/blacklistings.
This causes a small delay in publishing, but currently over 98,8% of uploads are under 100 seconds, so not a real issue for your followers :)

No, molly wouldn't use a 3rd party instagram app, even if it was better, like 6tag, because it needs the "Instagram" name.

Can you play/upload videos with this app?

Then this app doesn't exist, as far as I'm concerned.

Video upload will be added shortly (with an exclusive feature, stay tuned on wpcentral ;)

What is the exclusive feature :) ?????

Why would anyone still want to use this? Theres no need for this app anymore. It might sound hard but let it die.

It is the top paid social app, so I think lot of people like it for editing/uploading (me too :)

Just uploadba photo using any hashtag and tell ur friend to search ur photo using same hash tag who r not following u. Ur friend will never find ur photo in instagram server if u upload using any third party apps other than instagraph.. :) thats why im still using it.. :)

Why do you people even..you know what? No. I won't say instagram is stupid. I won't.

They really need to increase that 2 gig single file limit with these storage tiers..... I have some hd video still sitting on my media server because it is too big for skydrive (and before anybody asks its nothing illegal just some longer hd video I recorded). Actually is backed up on google drive atm because they don't have that same limitation.


I just found out my account has been disabled by Instagram. Does anyone know if any of the apps had something to do with it?

I was banned after uploading with another app (i don't remeber if it was 6tag previous version or #2instawithmaxluv..).
Then I renewed my password and now I use Instagraph only to upload.
Not a single issue with this app.

Off topic. GDR2 now available for download on my L720. India. Waiting for a wi-di network. :D Happy happy joy joy! :D

Nevermind the cool app and Molly's shameful reporting, what's the keyboard the phone is sitting on in the photo?

Does someone else having issues applying filters after the update? It shows the demo preview of the effect but it doesn't apply it to the photo. I'm on wp 7.8, LG e900.
Windows Central Newsletter
Get the best of Windows Central in in your inbox, every day!
Thank you for signing up to Windows Central. You will receive a verification email shortly.
There was a problem. Please refresh the page and try again.