6tag updated to correct Facebook connection and follower requests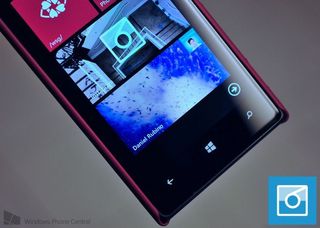 Rudy Huyn might be part machine, his apps are constantly getting new features and updates faster than we can keep track of. He's the developer behind some of the more popular apps in the Windows Phone community like 6tag, 6sec, Wikipedia, TVShow, Fuse and more. His Instagram app, 6tag, has been especially well received and an app we see updated more than others. Let's check out what's new in the latest version.
The last update for 6tag came out about 5 days ago. It brought some cool features like the ability to repost an image, view posts based on your position, new Live tiles, and a way to manage your security. Those features were very welcomed by us and the community.
However, it did contain some small bugs that might have annoyed some users. For example, accepting a friend request seemed broken and so did the connection with Facebook. Thankfully at the time we knew version 1.5.1 had been submitted to the Store to address those errors.
Today v1.5.1 is now out for all you 6taggers in the Windows Phone Store. If you had a private profile and couldn't accept new followers you should be able to now. Same goes for connecting to Facebook.
Want to get 6tag for Windows Phone? It's a free app that is ad-supported, you can pay to remove those ads and pay a bit more to unlock video upload. It's available for Windows Phone 8 devices and you can grab it in the Windows Phone Store, by using the QR code below, or swiping to the right in our app.
Thanks for the tip Giordano!
Keep it up Rudy, making the best instagram app even better!

*cough* Interview with Rudy *cough*

Are you suggestion WPCentral to do an exclusive interview with Rudy?! Because that would be awesome. Sorry couldn't hear you over your coughs. Better get that checked.

An full background interview / feature article on Rudy would be great.

Can we check Rudy's credit score and high school grades too.

And his Social Security number.

Mine still say 1.5.0 in the store

They should hire Rudy to fix the damn crappy facebook app. 3 weeks and done, boom...

3 weeks? How about 3 days. That guy is a coding robot!

No they should hire Rudy to get GDR2 on AT&T 920.

Maybe code YouTube in html5? Google would stop complaining and we all KNOW Rudy can do it no problem

Sadly, as long as Microsoft still using YouTube name, they (Google) will still try to get it down.

Looking forward to the next update

Rudy posted a picture of him with Elop on his instagram and twitter accounts. Is anything big cooking up?

Rudy, I still cant upload videos on my 1020. Still shows a white cjeckmark. it will loop the preview but never finish the render. Am I missing something?

LOL, he's already working on a version 2 times ahead of this one. He's an android. His veins pump sulfuric acid.

he's a what?! blasphemy! ;)

I wished the hash tag glitch in one of my instagram accounts would fix itself. I can't use it at all anymore. But I love 6tag

Is there a common hashtag you try to use? I'm noticing that only certain hashtags are getting the photo blocked from search... Generally Windows Phone based hashtags... Generic tags don't cause the image to get blocked...

I use the popular hash tags usually.

Still can't connect to facebook. No biggie for me though. Still a wonderful app!

Uninstall reinstall dance.

Well uninstalled and re-installed to no avail. It is giving a non trusted site warning after i try to login to facebook for app approval.

Yeah me too. It won't connect...help!!!!!

FB has changed a setting 2 hours ago. Bored about that, 1.6 will use an other method, more stable than the public version (ironic)

Follower requests still not working. When you click on the 'X' you get an error "checkpoint_required".

try to like a post, it will display you the checkpoint. 1.6 adds the checkpoint management for follower accept request

anyone else having issues uploading videos? lumia 1020...

Still having trouble with location on the photo map....

That boy is beast. Good job brother. I like people that carr about what they do and you are one of them.

Obligatory "you are the best" comment

I still can't get it working! Now I'm getting a different message altogether! Something about a lack of authentication security certificate webpage! Anyway I can share the screenshot here from the WPCentral app?

I didnt have a problem connecting to FB but now I do...

Instagram has changed its https certificate with a bad one, this is why FB has some problems, I use an other method in 1.6, no more issue with this point

Still getting a force close when I comment on something that I'm not following (using the nearby feature)

I had no issues with connecting to FB. Now I do after this update. Weird.

I talked to Rudy on Twitter I guess Instagram made some https change on their end with a bad certificate for facebook he said 6Tag 1.6 update will fix this

There's a pop up message when I opened the app stating that there's really a problem with fb connection. Let's just wait for the fix and thank Rudy for the hard work.

Still waiting on 7.8... :/

Microsoft should employ Rudy.. I don't know what his role would be but he deserves the freaking salary for his outstanding contribution to the Windows Phone community..

This is way better than the original Instagram App. Love!!!

While I did notice this issue with Facebook, it was easily corrected by deleting instagram from the Facebook apps centre and starting again.

I wish to see 6tag in dark theme, just like what Twitter for WP looked like from today's update! :)

I would LOVE to have a button that you can just hit and it will hashtag your pictures with a default set of hash tags in a list you create. Would be an incredible feature now that all the biggest bugs are handled.
Is anyone else seeing multiples of '3' when getting comments though? It shows up as a 3 when there is only 1 new one or 6 with 2 and continuing.

Anyone know why I'm being asked to pay for Ad Removal, I've already paid once in a prior version!

Had no problems with Facebook, until today.. I changed my username on Instagram and suddenly: Can't login on facebook (and that sucks bigtime)! Deleting instagram from the appslist on facebook didn't work either. Rudy, please fix this! It's no fun when you can't post your photo's to facebook (to me it isn't) And oh, if I want to see if any of my phonecontacts have instagram, it shows people I definitly do not have in my contact list!

I have the latest version but it still fails to connect to Facebook.

PLEASE FIX THE FACEBOOK CONNECTION. It is not working for me!
Windows Central Newsletter
Get the best of Windows Central in in your inbox, every day!
Thank you for signing up to Windows Central. You will receive a verification email shortly.
There was a problem. Please refresh the page and try again.