InPic updated with multiple account support and the ability to repost Instagram photos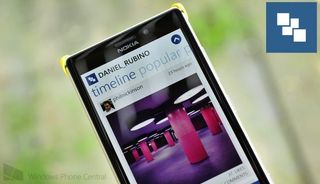 How many Instagram clients exist for Android and iOS? Just one, the official app. We may not have the official app on Windows Phone, but we do have a solid selection of alternatives to get the job done. It's hard to imagine what an official app would bring at this point besides the official seal. Today one of our apps picked up an update. Let's check out what's new with InPic.
InPic was last covered by us a little over two weeks ago. That update fixed a bug with user logins, added the ability to share to Facebook, and add integration for the Picture Hub. There was a small update between then and now that added the ability to register a new Instagram account through the app. Here's what's new in this latest update v1.2:
Add multiple accounts
Repost photos
Support for multiple accounts is a pretty straightforward concept. It's great for folks who manage company or brand accounts alongside their own personal. Reposts are a new interesting twist to the photo sharing social network. Think of them like retweets on Twitter. InPic now allows you to repost any photo to Instagram. In order to provide credit to the original account, the username stays embedded in the repost. It's a pretty nifty thing and something we haven't really seen elsewhere.
Hey Molly Wood, we've got plenty of Instagram apps on Windows Phone.
Want to get in on the InPic action? It's available for Windows Phone 8 users and is free with no ads and no trial. Just 100% free. Grab it in the Windows Phone Store, use the QR code below, or swipe to the right in our app.
Thanks for the tip Martsicky!
Wait, this is the Same app in Windows8 right?

Lol keep it coming with the molly wood references they kill me hahaha!!

I like this better than instance. A flaw that the developer may want to look into. If I find a pic in this app, click repost,then more and choose 6tag and post it, the original person who took the pic does NOT get mentioned.

Love this app, and love the multiple account support. Just one complaint that I also had with 6tag's implementation of this feature: When I share a photo from the native hub to the app it does not ask me which account I want to post from, but instead seems to just use my default account / the first one I created. Would be great if we could choose the account to post from when following this workflow.

This would be a very welcome feature and also the ability to see pics from multiple accounts in one feed, like linked email boxes.

How do you get your Instagram account back when it is cancelled because of a WP app messing something up?

STILL no @user support for commenting to someone...annoying

"she that cannot be named"

Hey @Sam Sabri,
I hate to mention this but reposting was already in #2InstaWithMassiveLove nearly a month ago.
http://www.windowsphone.com/en-us/store/app/2instawithmassivelove/6f25e648-c923-443d-a678-1daa22f57fbf

It does support Windows Phone 7 and 8 too, and I'm prioritizing updates for WP7 exclusively. Since we already have Instance and 6tag for WP8.



Is anyone having problems with Inpic right now? There are NO images anywhere when I open it up. I've uninstalled and reinstalled to no avail. This happened a couple of days ago. Help!

Sweet cover dude!! Where do I get one?

would be great if we're able to load videos from our albums...
Windows Central Newsletter
Get the best of Windows Central in in your inbox, every day!
Thank you for signing up to Windows Central. You will receive a verification email shortly.
There was a problem. Please refresh the page and try again.