Non-Lumia Windows Phone 8.1 devices can now install Lumia Camera, but it's missing the best feature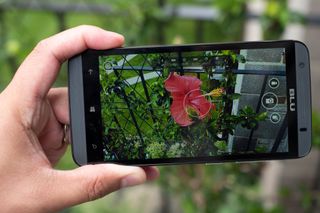 If your Windows Phone 8.1 device isn't a Lumia, it seems you can now install the Lumia Camera app. Previously exclusive to Lumia owners, we tried installing the Lumia Camera app on a BLU Win HD LTE and can confirm that it works. However, there's one catch. The Lumia Camera on non-Lumia devices is version 4.x, not the latest version 5.x that includes Rich Capture.
Rich Capture is the best feature on Lumia Camera 5.0, and it looks like that will still be exclusive to certain Lumia devices like the Nokia Lumia 830, Lumia 930, Lumia 640, and Lumia 640 XL. Rich Capture gives you access to HDR (High Dynamic Range), Dynamic Flash, and Dynamic Exposure, which allows you to take photos and edit them for the best exposure settings later.
Even though Lumia Camera 4.x on non-Lumia devices is missing Rich Capture, it is still a rock solid camera app. You can manually change brightness, shutter speed, ISO, focus, and White balance. You can get really creative with these settings or completely ignore them to use Auto mode.
While this is good news for users with non-Lumia Windows Phone 8.1 devices from BLU, HTC, LG, or Samsung right now, it'll get better when the Windows 10 Mobile comes out. The Camera app in Windows 10 borrows a lot from Lumia Camera 5 with HDR and more. If you can't wait for the official release, you can install Windows 10 Mobile preview. However, the only non-Lumia device currently supported is the HTC One (M8) for Windows.
Are you installing the Lumia Camera app on your non-Lumia Windows Phone 8.1 device or are you happy with your default camera app? Let us know in the comments!
Download Lumia Camera for Windows Phone 8.1
ATT Lumia 830 owners still cant download the app and have no features

ATT 830 users already have the app in this article.

No its doesn't work properly

Lumia Camera Classic is the equivalent of what this article is talking about.

He is referring to WC saying the 830 has rich capture

Oh you can totally download Lumia Camera 5 on the AT&T 830, it will just shut down on launch.

I'm still scratching my head wondering why v5 isn't available for the 730/735.

It would be like literally one line of code needing to be changed, since it runs on the same hardware on the 830, 640 and 640 XL already. Maybe it's a scaling issue for 4.7" ?

As they Say "hardware requirements" , though its not , they are keeping it for high end camera phones

Except the 640 isn't a high-end camera phone.

Perhaps it's only saved for Microsoft line of phones, not Nokia. I was on buying an older Nokia, but i just realized that's not the good idea. New model is a new model, they always will be priority at updates

Exactly. My 735 is begging for version 5. Basically the same processing core as the 830, but no rich capture. And the 730/735 is marketed for it's camera. And especially since the 640 gets it. Seems stupid.

The Lumia line has been a mess since the Lumia 630 and Lumia 930 launch. Hopefully things are finally taken care of this fall with the release of the new flagship.

even the lumia 1020 could use it, just cut the phone down to 16mp when richcapture is on

i do not know why by features are certain things locked, in my 820 the camera still better than what my mom have a samsung galaxy prime i didf few test and is sharper the pictures made by the 820 but brighter on the android based phone, i do not know why feature dependent if even newer models are only 1.2ghz only versus the past generation with 1.5GHZ of processor. supposing the analogy 1.5 ghz is faster than 1.2ghz for those apps of intensive calculation

My 735 needs it. At least HDR is working with W10. But I see no hardware requorements, same s400 platform and ZEISS lens of 735 are for sure more capable than one on 640.

But I can't install it on my windows 10 tp device!

Windows Camera is replacing it.

Are they leaving the Lumia name slowly as well with the write off?

That's what I don't understand, why are they updating Lumia camera if they are replacing it?

Because not all devices will get Windows 10 and some will take a long time. Posted via the Windows Central App for Android

Mark, why do you say that Lumia Camera 5 is available for the Lumia 830, when it does not work on any 830 sold on the biggest Windows phone carrier in North America (AT&T). BOTH Microsoft and AT&T share the blame for putting what essentially is a beta device into the market and then failing to give it the features that customers were promised at launch. As far as I am concerned, this software isn't compatible with the 830 until it supports all variants of t his device, and you probably shouldn't blindly repeat the propaganda that Microsoft publishes about which devices are supported without calling them out on this.

Because everywhere else in the world it does work on the 830.

Not disputing that. But you can't leave out an entire continent and say that it is "supported" without some caveat. You guys of all people should be aware of these issues that concern the worldwide Microsoft and Windows Phone community.

Stop bitching in WC comments, and go bitch to at&t And no, its not microsofts fault, the device was released and most of the world got what was promised, what didn't? The same issue as always, a us carrier decided fuck it at the last minute.

Stop thinking that USA is the only country in a WHOLE America continent!

But a few dozen people bought the AT&T 830! Posted via the Windows Central App for Android

Lumia Camera 5 requires Denim right? Isn't the AT&T one the only one without Denim?
So it does support all 830's, they just need Denim. Posted via the Windows Central App for Android

Yep something that can be fixed by cross flashing the device with either rogers rom or unlocked but branded rom

Crashes on my win HD lte sometimes though

They need to do this with more apps like that exclusive lumia town buildergame so people with other brands don't suffer

Downloaded on my HTC one and will see how it turns out.

Does your camera make windows and white things look negative?

First of all they ruined Nokia and now giving others the uniqueness of Nokia like some of the cool apps of Nokia. I think Nokia must return to the Android in next year otherwise Microsoft will never let Nokia to do the best.,,.

I think its sad we have to lose our apps in favor of the OEMs who don't even factor into one million windows phone devices.

I think its stupid that you guys are getting butthurt because more phones can now use the apps you still have access to..

I know right, Why are you guys bitching about this? This is good news for other phones that aren't Nokia/Microsoft Posted via the Windows Central App for Android

It sucks because lumia were a standard above the rest and now we are at the same level

Don't blame MS for the fall of Nokia. Nokia ruined itself. Nokia failed to adapt to the smartphone age, was unable to market WP and the Lumias as a worthy alternative to Lagdroid and made many hare-brained decisions which brought them crashing down from #1 within 2-3 years. And FYI, Lumia apps are now owned by MS, so they have all the right to release them for all WP handsets.

Downloaded and installed, but will not open on my Samsung ATIV S NEO.

The same here...
I'm using Ativ S (Windows Phone 8)

On my Ativ S it also crashes instantly every time i try to open it :(

I think you guys were trolled by Microsoft. :P

Installed in htc 8x but I noticed that you cannot set it as a default camera.

Oh great, our favorite Windows site is now serving ads for a questionable "PC scanner" program disguised to look like a legit Windows pop-up window.

Seems to work on my HTC one m8 windows, but crashes when I try to adjust shutter speed and focus manually.

Same with mine though the shutter speed worked but not focus. both on mine and a friends device we both sport HTC M8 for Windows.

Rich capture never produces a better picture than a standard capture for me. So I wouldn't say its the best feature.
The pictures always seem washed out.

There goes Lumia exclusivity smh. Microsoft really does make it difficult for you to support them when they are giving away exclusive OS features. Now apps to lesser OEMs. I wonder what cool features Lumia will have now to differentiate.

Microsoft wants the user to be able to pick up any windows phone (no matter what OEM) and be able to use it with the same apps. It's the whole point of one windows.

True then again Android...

Why would mcirosoft WANT first party device esxclusive features? If they didn't need too, MS wouldnt even be making phones, MS doenst care about the profits they make with their phones, they care about how many companies they can get on board, if microsoft keeps exlclusive apps to their first party phones that discourages other companies from joining in.

None of those other people actually can sell windows phones so again why would they matter since almost no one buys them.

I get your point Micah. I agree with you pretty much. I have been the die hard windows phone fan. But now, one by one, the exclusive features are being taken away. And some of them, directly in android. In fact on most of the occasions, the Microsoft apps on Android are way better than on their own windows. I love windows, and will always do, and I'll support it. But now I feel they don't want me to do that. They are testing the patience of people like me. I have decided it now. The day Lumia camera comes to android or ios, I will quit windows. And who knows, this might actually happen. SMH till it starts spinning and I fall down. -_-

Crap now closed for downloading

Welcome to Lumia camera app

Might as well put Halo on PS4 while you're at it /S Oh wait...

Is there a way to set Lumia as the default camera app so I can access it from the notification center (Blu Win HD wp8.1 GDR2)?

Go to settings, swipe over to Applications and look for photos+camera, you can set the default camera app there.

It doesn't work well. Using an HTC M8 for Windows the app crashes when you use the focus option. it did it on mine and a friend of mine who runs the same device.

Same. ManFocus option crashes the app on my M8 also.

I have Lumia 625 and my version of lumia camera is 4... Only few new phones can have v5...

How can I download Lumia Moments on my Windows 10 Lumia 1520? For some reason, it's not available on the store

I want my Lumia camera app back for Windows mobile 10 preview. Those of us who bought a Lumia phone should have the option to use the Lumia Apps that came with our phone. I'm not a fan of the new camera app.

I'm glad to see feature parity coming to Windows phones. Slow down the fragmentation as much as possible

Ive been using the microsoft camera for a long time now. Uninstalled the lumia cam. Havnt really missed it.

I'm not gonna complain about my Lumia 1020 which was developed just in-between a tech gen-gap, no, not at all.

I use this app ONLY when I I need zoom in/out while recording. 928

Is it true that Lumia Camera for Android has even more features than on Windows?

Awesome! I'll take it for my M8.

Not that I would ever use it but I can't download it on my M8 with Win10.

You should. It might make the camera on the m8 slightly less crap

Yea, my pictures are so crappy. That's exactly why everyone who sees them on instagram and facebook are so impressed and ask what I used to take it. Why don't you head back to whatever stock room you were in for your summer job and give your mom her laptop back.

It works on HTC 8x,but I think it need some fixes overall.
For example when I try to focus it crashes :)),but I guess its fine than nothing

Yesss I'm on 8x and same problem :(...

Somebody remember a war about hardware drivers between Linux and Microsoft? The funny was and still is that nearly all these drivers was created for Windows by the Linux :D Non compatibility hardware's for Linux users.

Linux drivers suck. They cant play their cards right. Also Linux performance is bad.

I have a 640, and apart from having the v5 Lumia Camera, I can now even install the v4 for my phone.. :/
Though it has nothing so special that I'll want to have it over v5..

OK i'm not impressed, after all the talk about how great Lumia camera is I downloaded it today on my HTC M8 ( and don't give me the grief about how bad the M8's camera is, it is not that bad ) I took a bunch of Pictures on both the HTC camera app and the Lumia app the HTC app blew the lumia out of the water, it wasn't even close.

I know HTC One is the only supported model for the moment but on my Ativ S, it doesn't open at all (I could install it anyway)

I think that they should be happy that can use app so I don't think that they even don't deserve that feature, buy Nokia Lumia or Microsoft Lumia phone and you will have it!

Wen in Lumia W10 Mobile? Crappy Microsoft Camera is not worthy replacement for Lumia Camera.

They will take all the features of Lumia Camera and essentially just rename it...so come down man...

If that's the plan why did they not just rename Lumia Camera already? Now crappy Microsoft Camera is built from the scratch to get it, hopefully someday, on par with Lumia Camera.

That's good news for non-Lumia WP device owners like myself, but there are already other good camera alternatives for us such as OneShot.

Lumia camera won't work on Samsung Ativ S, USA lang. region or SERBIA lang region. https://youtu.be/x6IlAPa2ozY
Windows Central Newsletter
Get the best of Windows Central in in your inbox, every day!
Thank you for signing up to Windows Central. You will receive a verification email shortly.
There was a problem. Please refresh the page and try again.