The Camera app in Windows 10 borrows a lot from Lumia Camera 5.0 with HDR and more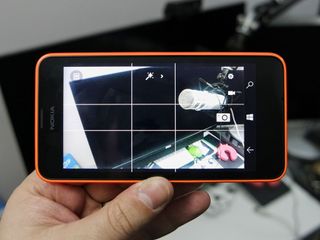 Does your phone not qualify for the Lumia Denim update with Lumia Camera 5.0? No worries, as Microsoft is evidently cherry picking some choice features from Lumia Camera 5.0 and adding them to the Camera app in Windows 10.
Loading up the new Camera experience, and you get a mishmash of Lumia Camera features in the default app. For instance, there is now the magic wand from Lumia Camera 5.0's Rich Capture option.
However, instead of the full suite of Rich Capture features, you just get HDR. Still, that is a big deal for the Lumia 635, which does not normally get that camera option.
Additionally, the previously taken photo icon now takes you directly to the new Photos app in Windows 10. Previously, Windows Phone 8.1 and lower would keep you siloed in the camera app with a pseudo photo catalog experience. Now, this goes right into the Photos app and lets you edit photos directly, including using the new 'Enhance' feature. This is all part of the more unified app experience in Windows 10.
Finally, you can also now hold down the camera button (if your phone has one) to record video. Alternatively, you can set it to photo burst or disable.
Windows 10 for phone still has a long way to go, but it is exciting to see the Camera app pick up some of those Lumia Camera features.
Daniel Rubino is the Executive Editor of Windows Central, head reviewer, podcast co-host, and analyst. He has been covering Microsoft here since 2007, back when this site was called WMExperts (and later Windows Phone Central). His interests include Windows, Microsoft Surface, laptops, next-gen computing, and arguing with people on the internet.
Just letting ya'll know that I am the first commenter here. And it should also be visible in India as well, no need to ask.

Usually, I have to scroll down a little before I spot a stupid comment..

Which means update already hit many people :-P

All hail the legendary hero !!

Somebody give this guy a trophy!!

*insert Lumia fan boy rage comment because OMG, THE UI SHOULD BE EXCLUSIVE TO LUMIA*

Give it a while, Micah should be here any moment now...;P

LOL, by the way what's your opinion on Nokia possibly selling their HERE maps software?

Already wrote it on Android Central ;) In resume: I've heard that rumour way too often before. HERE is a profitable company. There's absolutely no reason for Nokia to sell it.

Oh I haven't gone on there today, I'll check it out. For the record I can't see Nokia doing this, especially since they will sell phones next year.

There has been no announcement that they will sell phones. Testing and making mock-ups is not the same as deciding to go to market.

They get their rights back in 2016, right? It's possible they will.

They had job postings in LinkedIn last year looking for software engineers in camera software for Android, I would be very surprised if they didn't sell phones in 2016.

I'd be surprised if they do. A hiring ad doesn't mean a hire was made and a hire doesn't mean a phone is coming. Maybe that hire helped with the tablet that isn't in wide release. Maybe they are building a camera app...Android needs better cam apps. Maybe they hired him, and others and made a prototype that will never get made. Maybe they are advancing photo tech to license to others. Lots of possibilities, but I see them shying away from the consumer front. If they indeed sell HERE, I'd be shocked if they made a phone.

Selling HERE while it is profitable means they will get a better price. If they are changing the course of their business to be more backend-network based, then this makes sense. Companies spin off profitable divisions when focus is the goal.

Oh, they're making losses. Let's see what DJCBS has to say about it.

Except they not only aren't, they've just secured massive deals with the BMW and Volkswagen groups (along with other big European car brands) to equip their cars with HERE as the GPS solution. They've also entered a partnership with Mercedez-Benz to develop self-driving cars. All three Nokia divisions (Networks, HERE and Technologies) all profitable with increasing profits forcasted.

I was going to post this exact same thing haha

I don't really care about the UI. And I'm over the it should be exclusive thing lol. Whatever helps the 2% feel relevant I guess is good.

Its not anymore its published under the Microsoft corporation label on wp8.1

that shit is exclusive to NEWER lumias so even lumia fanboys will celebrate here, stupid nokia planning as you see, finally ms is inserting some common sense

It's fast like the old Microsoft Camera app.

Please bring on the multitasking and resuming bug fixed or not too.

Haha....so much for the exclusiveness :)

When you have a 2.2 Ghz quad core with 2 Gigs of Ram (read 930) and still native apps like Skype say resuming when switched to, it definitely is.

Skype is a very peculiar case. It's an app written in Silverlight to my knowledge, as the VoIP API for Windows Phone is only for Silverlight, not WinRT. They've done a lot to make it run faster over the years, but it's still using the old coding language and so fast resuming isn't as easy.
However this may have changed recently or will change for Win10.

Haha, nice one Chemilinski.

What about Aeries written on WinRT as far,as I know, 6 sec buy Rudy, One Drive. Infinite number of examples this thing can have. 60% of apps (90% when using a 830) cannot be crippled.

lol you just mentioned the shittiest app ever made, that's a godsend exception to any rule, all we can do is hope Microsoft makes a real native Skype app

And we still can swipe on settings

I don't think they're cherry picking, I'm guessing all of the features wil be there, they're just not done yet.

Hey Daniel, can you do a comparison with another 635 without W10 to see if the algorithms are improved

Confused. What if I were to use the Camera app on my Lumia 1520. Does it still take Rich Capture (dynamic HDR/Flash)?

Yes but only if you open Lumia Camera instead of the Camera app.

How is the image quality on the 1520 with Windows 10? On par with 1520 with Denim?

No answer for you man. Haven't installed.

Thanks. I'll try it out tonight.

Question: does this add HDR to the likes of the 1020?

I mean, if it added to a Lumia 635, why wouldn't it for the 1020?

"Older hardware" yada yada yada, you know the excuses given with Denim to not add a single thing to the 1020. Hence the question ;) If it adds it, In that case, I think I will revert my previous statement and try this on the 1020.

What makes you think the 635 will be any better than the 1020. Lenses matters the most here I think. Or not..?

It's not that. With Denim, Microsoft basically ignored the Nokia 1020, Windows Phone de facto imaging flagship. They didn't even add HDR or anything AT ALL, to it. The excuses given were that it had older hardware than recent low cost phones. As such, and because Windows 10 will NOT be the same on older hardware as it is on new hardware, and given the fact that they had abandoned the 1020 before, it wouldn't be weird to see Windows 10 also leaving these kinds of features out of the 1020.

Not to mention that the Lumia Camera Beta had Living Images in the 1020 working, but were than removed just "because".

It might be that, they were aiming to improve all their device's cameras at once via Windows 10. So 1020 would've been extra work for them, at that time.

does it support full resolution for true Pureview cameras (20+ MP)?

Quad core vs Dual core. The 635 could have two thread handling post processing while the other two are processing shot to shot. This would likely have less impact on performance versus using a single core to post process and the other to process shot to shot. I believe that was the hardware limitation they were alluding to in a simple explanation on why Lumia Camera 5 wasn't going to come to the dual core variants.

L820: can't focus, no HDR... no love for the worst WP ever :(

Not working here on 720....

No, as far as I can see on my 1020 the Camera app is exactly the same on Win 10 TP as on Win 8.1. No new features or so. I don't buy the excuses about older hardware, there is other non-free apps in the store which handles HDR just fine on the 1020. And wasn't the 1020 marketed with a dedicated "photo-CPU" so it would be able to handle 40 MP RAW files? Why couldn't this processing power be used for running Lumia Camera 5.0?

Still waiting on my 635. Connection error still

I got GDR2 instead of Windows 10.

Did you call 911....? You have been cheated..!! In the name of 10, you got a GDR 2.

Is that a joke? Should I laugh?

Yup, certainly it's better than yours.

Well I didn't but nice try dude ;)

Same here. After that comes W10 alpha build. Lumia 630.

And im waiting here for the ability to install wp10 tp....

Daniel... The TP is back online... Mine is working.. 1520 US.

Installing in the daily driver..?

If I can find a workaround with OneNote....
......
It's working now, but I haven't gone through with it yet.

Try Perfect Note or Note Plus. HTH

Thanks... I'll see if they work.

On your 1520?!! You're braver than me lol. I may install it on my 1020 since I use the 930 now

No. The thing is, you can't install it on your 930. Lol.

I wouldn't even if I could it seems to be too buggy right now. I'll wait for the developer preview.

Man, the WP8.1 DP was seriously buggy... Remember❓

I might do it... Doesn't seem to be causing anyone else issues.... As soon as someone with a att 1520 says theirs works I'm doing it.

On an article posted earlier today someone said he installed it on his 1520.

Just read the list of bugs.... The only thing that really bothers me is the failure to upload pictures from the camera roll... Oh well, they store on SD, so no biggie...

Finally, at 3:30AM GMT, my 730 is getting the update.

Abhi tak ni aaya. Mera '4G' thoda slow hai na. /$\

Clearly not GMT ;-) Since I'm posting this from the UK before 1am!

You understand, I think. +5:30GMT :P

They just have to delete the default camera app just cause is pointless. Along with maps. Here maps drive and lumia camera should be the only ones installed. It is juat pointless to have more apps doing the same thing.

They are doing this the other way round. Integrating Lumia Camera into the stock camera app and then will probably discontinue Lumia Camera.

yea finally some common sense

Does holding down cam button for video always record 4k or just whatever your max RES settings are set to?

Wow my 920 just started the update.

Camera app is super fast to open up on Lumia 635 now. It only takes 1 second.

Managed to get Windows 10 installed after updating to 8.1 update 2. The new default camera app is messed up. It shows several small windows of the same object (like a series of frames of the same photo) I am aiming at instead of one large rectangle. They are located on one side of the lcd with an overlay of setting choices. Not useable to frame a photo. Switching to the old camera app works but really want to try out the new Windows camera app. phone is a 925.

YES SIR! Same here, 925 too, Indonesia build. Exactly as you described. Lumia Camera works well, unable to turn ON the cellular data ( I don't mind with it staying at on position, but mine's at OFF all the time! it's frustrating! is it like this on yours?

Hell Yeah! Mine too! 920 here, the Camera has a massive bug, I also can't seem to get the cellular data toggle on....

Settins so inconsistent. Some have a new bar while some are from WP8.1 some of them are just simple.

It's really cool.....em gonna try soon :) :) Thanks microsoft nd Wpcentral :)

This Camera app doesn't display properly on my 920. I've had to use the Lumia Camera instead. This is what get: http://1drv.ms/1aheLqW

same here dude 920, did u fix it ?

Nope. There's no feedback option on the Camera app either.

Haven't read much, but will the final (ish) build of W10 merge the Lumia Camera and Microsoft Camera once and for all? And will that mean that we can finally use the manual controls of the Lumia Cam with the speed of Microsoft Cam?

I have not had a chance to try the camera app on my 920 after getting TP. I hope it makes the great low light picture taking off the 920 even better. I was extremely disappointed in the 1520 low light pictures after having the 920. I may keep the 920 just for night or low light pics.

i have i gug in the camera app, i can see multi scrrens of the camera on top and nothing down black

Same here!!! I can't take pictures. The preview window shows only small squares on the top, everything is black. How this even passed QA!!! Use your feedback app and add your vote. This is already reported as on issue but needs more votes, so Microsoft will start paying attention ⚠

same problem dude, ya i allrady did that dude thanks :)

Someone answer me please! I have a Nokia 830 and I want Lumia Canera instead of Nokia camera. I downloaded Lumia camera but it says I need Demin, I went to the about and it says I have Demin. What is the deal?

Windows phone 830 is doing good.with

no hdr for L920 and bugged viewfnder. i hope we'll get hdr finally.

So which camera app is better on the 635 the lumia camera or the new default win10 camera?
Windows Central Newsletter
Get the best of Windows Central in in your inbox, every day!
Thank you for signing up to Windows Central. You will receive a verification email shortly.
There was a problem. Please refresh the page and try again.