INSTEON for Hub universal Windows app released for home automation fans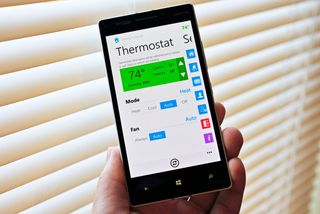 As promised last month, the home automation company Insteon (www.insteon.com) has released its Windows Phone 8 and Windows 8.1 apps, designed to give its users an easier way to control their lights, home security systems and more in combination with Insteon's hardware.
The app is designed to connect to Insteon devices in the home so that users can control when lights turn on and off for better energy efficiency. The app can also alert users if there are any water leaks in the home.
In terms of home security, the Insteon universal Windows apps also can send out email alerts if motion sensors are tripped or if any doors or windows are open. The app can be connected to any wireless cameras inside the home so that their images can be viewed from the smartphone. Finally, the app also allows users to connect even more smartphones to the account so that others can gain approved access to the energy and home security options. All of this comes with no monthly fees.
You can download the Insteon for Hub Windows Phone 8 app for free right now and grab the Windows 8.1 app here from the Windows Store (opens in new tab). Also, Microsoft Store locations in the U.S. will begin selling Insteon hardware products with special Windows Phone and Windows 8 branding in early July.
Anyone have plans to pick this up? What's your experience been with Insteaon? Help us out in comments!
Thanks to David Strait for the tip!
Windows Central Newsletter
Get the best of Windows Central in your inbox, every day!
Thanks for the tip!. I've been waiting for them to get a WP app. Use their devices to control my home and business as well as cameras.

Speedy delivery!! Needs smartwatch integration!

Oh, and as far as your request for comments on Smarthome's Insteon products; They are very good. Been around for many years and in this 3rd or 4th generation they now works on a dual band system using the homes wiring system to blast signals to devices, as well as RF. This makes the success rate almost perfect for controlling devices at the far end of a house or on a second phase of a 220v service panel. Also, their support for devices besides light switches has expanded to now include almost everything you can think of. Devices are not cheap ($30-$50 each) but are high quality and durable.

$30 - $50 actually sounds reasonable and cheap... But then again, my only point of comparison are things like Phillips Hue and Nest thermostats.

I'm thinking about using this. ADT went up on their monthly fee for the second time in a year.

I use Vivint and couldn't be happier. There are a lot of Z-wave modules for home automation available. And I can control it all from my Windows Phone.

ripping out my Chamberlain MyQ and Honeywell stuff and replacing it with Insteon. I ordered most all the Insteon products the day after the announcement, its been sitting in boxes waiting for the app. I will update with my experience in about it a week. it will take me that long to install everything.

where can you buy the insteon stuff ? I want to do my garage door opener and front door

From SmartHome or https://www.windowscentral.com/e?link=https2F%2Fclick.linksynergy.co... SmartHome: http://www.smarthome.com/_/INSTEON/_/23b/land.aspx http://www.windowscentral.com/e?link=http2F%2Fclkde.tradedoubler.com... http://www.microsoftstore.com/store?SiteID=msusa&Locale=en_US&Action=DisplayProductSearchResultsPage&result=&keywords=insteon

I have over $20k invested in lighting controls and am waiting for Lutron to come up with a WP app. Lutron lighting and HVAC control worked great on the iPhone and iPad, but since I switched away from Apple, I really miss the control. I may consider Insteon for security cameras that I was thinking of installing. I know that Insteon sells security cameras. The article says that Insteon support "any wireless cameras" - does anyone know this to be true, or do the cameras have to be purchased from Insteon?

I'm in the same boat and have invested an obscene amount in Lutron & Crestron at home. As far as I'm aware they don't have any WP apps, so I'm using their native web interface and going straight to the Lutron processors IP address to control lights, blinds and windows etc

Can you please give me informaton on Lutron access? I'm using Lutron Radio RA2 for ligting and HVAC. I'm using RTI for home theatre control. Thanks.

Insteon wireless cameras are rebranded foscam so you can find the foscam ones for cheaper. I use the foscam ones with the insteon stuff and the app for ipad no problem. So with the windows app it shouldnt be a problem either. I can't test till I get home though.

Thanks for the info. Let me know how your test goes.

No it is not true from what I have found first hand. I've never gotten this new Insteon Hub and its software to recognize anything but Insteon branded cameras and the white labeled Foscam cameras they are based on. Their Houselinc software works fine with other cameras so I'm assuming this new Hub platform just needs to mature. Insteon operates like Microsoft. Throw it out there half baked and finish it later. I'm sure 6 months from now it will work with other cameras

I'm waiting for the hardware to become available at the Microsoft Store and will then be laying down some dollars. Was hoping hardware would be available in June when the app came out but looks like I need to wait another month. :(

you can buy all the insteon products at smarthome.com, you don't have to wait for MS stores to get a few devices with Microsoft branding.

I bought a starter kit (hub and two light controls) at Best Buy after the announcement. I played around with them using the Insteon Windows 32-bit client while waiting for the Windows Phone app to come out. I don't think there is any difference between the products they have at other retailers and what will be in the box at the Microsoft Store except for the branding on the box. In fact, you may save some money getting them elsewhere as well. I will be registering my INSTEON hub with the app tonight when I get home.

You can order some of the Insteon products from Microsoft's online store today. http://www.microsoftstore.com/store?SiteID=msusa&Locale=en_US&Action=DisplayProductSearchResultsPage&result=&keywords=insteon

Beautiful user interface, the Win 8 UI is so fluid and alive.This is a big win for Insteon and MS. Finally, a great home control solution on the Windows 8 platform. I installed the app this morning on my phone and it worked right out of the gate. Looking forward to NEST support and future updates. I think I'll finally mount an 8" tablet for always on access. Microsoft did a great job on development, this is the best implementation of the Insteon Hub app.

These apps take my Insteon installation to the next level. Love that I can use my Windows Phone now. Now I want to see keyless door locks on Windows Phone. Maybe Insteon should partner with those manufacturers to integrate it in this app.

To those of you who have installed the apps: 1) Can you login in the Windows 8 app? If yes, did you already have an INSTEON account or did you create a new one? I cannot login, I get the error "Get hub information failed" and judging from messages on the INSTEON Forum several other people have the same problem 2) What functionality the Windows Phone 8 app has? I can see my house configuration, but if I try to access sensors or switches I get the message "Feature Coming Soon"

Already had an account and it logged right in. I can access all devices on my Insteon network (switches and sensors). Have not seen a "Feature Coming Soon" message yet.

Updated versions have been released today. Now they work fine. I guess the very first release yesterday had some glitch. I'm a happy home automation user now :-)

Goodbye, Nest (Google) - Hello, Insteon.

To be clear this is an app for the Insteon Hub and not one of the ISY controllers which are more expensive and have way more funtionality. So if you are using a HUB you are good to go if you are using one of the ISY994x don't bother. Insteon products are great and I have been using them since December. I've replaced the devices in my entire house except for two bedrooms. The great thing about Insteon is you can deploy them at your own pace and there are no monthly fees. For basic use, grab a Hub to facillitate control to your Insteon Devices however if you are looking to do advanced Home Automation controlls such as having a Bathroom fan light turn off after 10 minutes of use, or when the bathroom light is turned on during overnight hours only go to 50% you will need the more expensive controller called the ISY. By the way for ISY controll there is an app in the Windows Phone and 8 store called Snap Switch that works great.

I have a year free of Nexia with my new home, which luckily they put out a WP8 app out for. But once that's up I might upgrade some devices and switch to this. Looks nice, and has a good target for MS acquisition on its back.

Now Microsoft buys this thing and makes it Xbox friendly with all possible sensors and switches being plug and play and we can see Google and Apple bosses walking around in circles screaming at their employees

The Windows 8 app seems to be giving people problems. I created an account on my WP8 just fine and was adding devices, creating rooms and scenes. When I installed the Windows 9 app I get an error "Get hub infomation failed". I see on the Insteon forums that other users are reporting this issue as well. This is disappointing.

I only have a couple of Insteon devices so I removed all of my devices using my WP8 phone and then deleted my Insteon account. I then performed a factory reset on my Insteon hub to start with a blank slate. With a fresh hub I opened the Insteon for Hub app on Windows 8 and created my account. The app connected to my hub and looks good. I then logged into my account from my WP8 phone and it also connected to the hub. I haven't added any devices back yet but so far so good. When I bought the starter kit a couple of weeks ago I downloaded the Houselink 32-bit Windows program from Insteon so I could play around with the hub and my switch devices. I wonder if something the Houselink program did messed up the hub? I uninstalled Houselink since I won't be needing that anymore. If I run into any issues now that I have factory reset the hub I will let you know.

I have been using Insteon since the day Smarthome invented it starting with the 2442 SignaLincs over 10 years ago. Now I sell the stuff as a professional Home Automation retailer in my store at HA World Online. Love Insteon and love to help new customers! Please feel free to contact us anytime for product information or just general help on Insteon on your Windows Phones. I think its a great boost to the HA industry and especially the DIY HA industry now that companies like Microsft and Insteon are working together.

I am new to home automation and Insteon. Tried this with the new app. It is working great on Win 8.1, and WP 8.1. I am now controlling thermostat, camera, lights, motion sensor and light switches. All were easy to install, and connect. Great experience.