Intel announces new 11th Gen desktop 'Rocket Lake-S' processors on the same 14nm process
Meet Intel's new desktop-class CPUs using the same manufacturing process we've all come to know and love.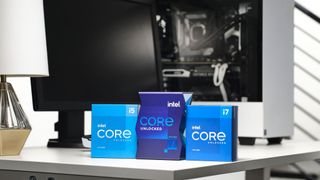 (Image credit: Intel Corporation)
What you need to know
Intel announces 11th Gen 'Rocket Lake-S' desktop-class processors.
Intel is making use of 10nm designs upscaled to a 14nm manufacturing process.
The new 11th Gen Intel processors are available today, starting from $182.
Intel has finally announced its new 11th Gen desktop family of processors, previously known as Rocket Lake-S. What's interesting about this latest generation is not the manufacturing process, as that's still on 14nm, but Intel is debuting Cypress Cove through some very clever backporting.
Now, what does all this mean? Intel is essentially backporting some of the new technology used in Willow Cove and the company's 11th Gen 10nm laptop processors (known as Tiger Lake) to its 14nm desktop line-up. Still following? Good, because this is starting to get real messy and we're only just beginning.
Because the Willow Cove designs are actually meant for 10nm processors, Intel is having to limit the number of physical cores it can cram in when scaling everything up slightly for 14nm. On the flipside, Intel is pretty good at making processors and has been for many decades. The company promises some considerable gains over 10th Gen CPUs with a 19% instructions-per-cycle (IPC) improvement.
That is until you gaze at the new processor list. Let's start with the Core i5.
Swipe to scroll horizontally
| Header Cell - Column 0 | i5-115400T | i5-11400F | i5-11400 | i5-11500T | i5-11500 | i5-11600T | i5-11600 | i5-11600KF | i5-11600K |
| --- | --- | --- | --- | --- | --- | --- | --- | --- | --- |
| Cores | 6 | 6 | 6 | 6 | 6 | 6 | 6 | 6 | 6 |
| Threads | 12 | 12 | 12 | 12 | 12 | 12 | 12 | 12 | 12 |
| Base clock | 1.3GHz | 2.6GHz | 2.6GHz | 1.5GHz | 2.7GHz | 1.7GHz | 2.8GHz | 3.9GHz | 3.9GHz |
| Turbo clock (all cores) | 3.3GHz | 4.2GHz | 4.2GHz | 3.4GHz | 4.2GHz | 3.5GHz | 4.3GHZ | 4.6GHz | 4.6GHz |
| TDP | 35W | 65W | 65W | 35W | 65W | 35W | 65W | 125W | 125W |
| Unlocked | No | No | No | No | No | No | No | Yes | Yes |
The best value entry point to this family is the Core i5-115400 with 6 cores and 12 threads at base and boost clock speeds of 2.6GHz and 4.2GHz, respectively. The best of the bunch is the Core i5-11600K, replacing the Core i5-10600K, coming in with the same cores and threads, but a bump in clocks speeds at 3.9GHz and 4.6GHz for the boost.
Swipe to scroll horizontally
| Spec | i7-11700T | i7-11700F | i7-11700 | i7-11700KF | i7-11700K |
| --- | --- | --- | --- | --- | --- |
| Cores | 8 | 8 | 8 | 8 | 8 |
| Threads | 16 | 16 | 16 | 16 | 16 |
| Base clock | 1.4GHz | 2.5GHz | 2.5GHz | 3.6GHz | 3.6GHz |
| Turbo clock (all cores) | 3.6GHz | 4.4GHz | 4.4GHz | 4.6GHz | 4.6GHz |
| TDP | 35W | 65W | 65W | 125W | 125W |
| Unlocked | No | No | No | Yes | Yes |
It's a similar story with the new Core i7 range, starting with the Core i7-11700T with its 8 physical cores and 16 threads. Base and boost clock speeds come in at 1.4GHz and 3.6GHz, respectively. Topping the charts is the Core i7-11700K, which comes with the same threads and cores, but a 3.6GHz base and 4.6GHz boost speeds.
Swipe to scroll horizontally
| Spec | i9-11900T | i9-11900F | i9-11900 | i9-11900KF | i9-11900K |
| --- | --- | --- | --- | --- | --- |
| Cores | 8 | 8 | 8 | 8 | 8 |
| Threads | 16 | 16 | 16 | 16 | 16 |
| Base clock | 1.5GHz | 2.5GHz | 2.5GHz | 3.5GHz | 3.5GHz |
| Turbo clock (all cores) | 3.7GHz | 4.6GHz | 4.6GHz | 4.7GHz | 4.7GHz |
| TDP | 35W | 65W | 65W | 125W | 125W |
| Unlocked | No | No | No | Yes | Yes |
Finally, we have the Core i9 hub, which holds the Core i9-11900K with its 8 cores and 16 threads and a base clock speed of 3.5GHz that can hit 4.7GHz. Intel states that the Core i9-11900K outperforms AMD's Ryzen 9 5900X in a variety of titles, but only by a small margin.
This is still a considerable feat given we're still technically talking a 14nm process. Other notable improvements to the 11th Gen range include enhanced overclocking support, additional PCIe 4.0 lanes (totaling 20), DDR4-3200 RAM optimized support, and Thunderbolt 4.
The new 11th Gen processors are available starting today. We'll hopefully get our hands on them soon enough to see if they're among the best processors (CPU) for your custom PC.
Senior Editor, Laptop Reviews
Cale Hunt is a Senior Editor at Windows Central. He focuses mainly on laptop reviews, news, and accessory coverage. He's been reviewing laptops and accessories full time since 2016, with hundreds of reviews published for Windows Central. He is an avid PC gamer and multi-platform user, and spends most of his time either tinkering with or writing about tech.
But when will Intel announce a roadmap for a HEDT successor to LGA 2066 / Cascade Lake-X?

I want a good reporter to do a deep article or book on why Intel is stuck at 14nm for its desktop processors. It must be one of the most fascinating business and technology secret stories in the history of the tech industry (or massive incompetence, but Intel seems too smart for that). Plans on top of plans must have all failed for Intel. Imagine being the VP responsible for reporting that you failed to shrink the die, again, or the CEO reporting to the board, or the engineers working on this using processes that had worked reliably for decades. There are quantum physics effects as you get small enough, but others have all solved these for chip fabrication, so why couldn't Intel's greatest minds? Intel created the Tick-Tock approach -- Tick shrink the die, Tock improve the chip at the current fab scale, repeat forever. Also strange, but somewhat easier to explain, why are they making laptop processors on 10nm fabs, but not desktop processors? They obviously now do have the ability to do denser chips, but are choosing not to. Why?

I know the the desktop/laptop difference came down to production scale issues. The fabs couldn't push out enough for both laptops and desktops at 10nm so they opted to use 10nm for the lower wattage chips for laptops since it offers more power efficiency and less thermal output. The desktop chips can just consume more power and throw out higher thermals and let a desktop's greater cooling capacity take care of it. That said, I have no idea why they were having so many QC issues getting down to 10nm in the first place. They've let AMD embarrass them.

Indeed. I hope the competition from AMD, ARM, and Apple's M1 result in Intel shaking the rust off and making some big leaps forward with their chips. They've done it before: Intel had been struggling to make a decent 64-bit mainstream chip (they had 64-bit chips, like Itanium, but they weren't properly compatible with 32 bit x86 code), until after AMD created the AMD64 architecture, but then Intel came back and resumed dominance. The competition would be great for us as customers, but with Intel practically out of the game, we're seeing slower innovation, at least with the x86/x64 chips.

@GraniteStateCollin - Anandtech / Dr. Ian Cutress has covered this already. Best place if you want the real nitty gritty details.

Intel is still sticking with locked and unlocked SKUs.... massive opportunity missed as all AMDs Ryzen SKUs are unlocked. Not to mention the performance gains of faster RAM speed support via D.O.C.P (XMP) and manual tuning. Going to wait for reviews and testing done to see if Intel's claim hold up to scrutiny.
Windows Central Newsletter
Thank you for signing up to Windows Central. You will receive a verification email shortly.
There was a problem. Please refresh the page and try again.