'I'm a Mac' guy swaps to PCs in Intel's latest set of attack ads
Justin Long has swapped sides to Intel in a new series of ads.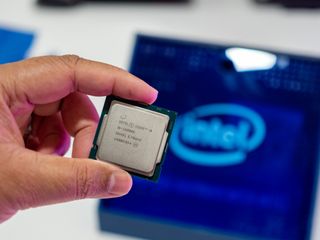 (Image credit: Harish Jonnalagadda / Windows Central)
What you need to know
A new series of ads from Intel attacks Apple's MacBooks with M1 chips.
The ads feature Justin Long, who starred in Apple's old "I'm a Mac, and I'm a PC."
Some Apple devices still use Intel chips, but the company is moving to its own silicon.
Intel continues to campaign against Apple's MacBooks. In February, we saw a series of Twitter ads advocating Intel PCs over MacBooks. Now, a series of video ads featuring Justin Long compares Intel PCs to Macbooks in several areas (via iMore). Long famously starred in Apple's old "I'm a Mac, and I'm a PC" ads.
Intel's ads specifically go after Apple's new MacBooks with M1 chips inside. Even though many Apple devices run on Intel chips, including some devices still being made today, Apple is moving over to its new silicon. Intel seems to be taking the approach that since the bridge is already burning, it might as well torch it to the ground.
The ads start out with Long saying, "Hello, I'm a ... Justin," which is a nod to the old Apple ads. One ad highlights face unlock on an ASUS laptop powered by an Intel chip. Long then moves over to the MacBooks and is disappointed by their color options.
Another ad points to a more notable difference. Intel-powered Windows 10 PCs can connect to multiple monitors. Apple's M1 MacBooks only support one external monitor. Long, again, is disappointed by Apple's offering.
A third ad shows the flexibility of Windows 10 2-in-1s, flipping a device between a laptop and a tablet. Long then moves over to the MacBooks and is handed an iPad and other devices.
A final ads has Long use the touch screen on a Windows laptop and then Apple's Touch Bar, much to Long's disappointment.
Ads like this aren't rare. Paul Marcarelli, known for his "Can you hear me now" ads for Verizon, later featured in ads for Sprint. Comedian Dave Chappelle has joked about how he's done ads for both Coca-Cola and Pepsi.
News Writer and apps editor
Sean Endicott brings nearly a decade of experience covering Microsoft and Windows news to Windows Central. He joined our team in 2017 as an app reviewer and now heads up our day-to-day news coverage. If you have a news tip or an app to review, hit him up at sean.endicott@futurenet.com (opens in new tab).
The dumb part of this is that most of the 'disappointments' have little to do with there not being 'Intel Inside' the Macs. Intel Macs didn't come in multiple colors, have touch screens, fold into tablets.... I'd venture to guess that Apple Silicon not supporting multiple monitors is not going to last long. We all know this is the first iteration of Apple Chips to land in Macs, and it was applied to the more entry level models. All this is going to do is light a fire under Apple to produce silicon that can support more professional devices which will handle multiple monitors, still won't come in lots of colors and have touch screens, but will blow Intel out of the water with performance.

Intel will continue to make sales as long retailers keep hiking up prices on Zen 2 mobile APUs. A major retailer (Argos) in the Uk is still selling Zen + 3000 APUs at a premium. The only comparable offering in that price (or cheaper) bracket offered is 11th gen Intel.

What fire?
The one i'd burn my tech service employee if they ever came to me for an apple PC park swap... who the heck wants to waste money? I mean the biggest problem with mac for business unless you are in specific sector like graphic sound etc you have no reason to spend the extra cash on an apple computer to do some regular office jobs... so yeah not happening unless apple wants to reduce their margins

Attack ads do show some insecurity, but at least they are pointing out truths about things Macs can't do or don't do well. Aside from pulling the spotlight away from synthetic benchmarks and shining it on what Mac lacks it does paint a picture that Intel wants to keep offering things that are more than just a Mac. Time will tell.

If Apple wanted touch screen Macs, they would have made them a long time ago. I do not know if this is by choice (keyboard and a mouse is what people will use) or ability (the MacOS cannot be adapted to use a touch screen without a lot of backward engineering on applications, drivers, etc.). Clearly, Apple knows its customers and clearly, customers are still buying Macs. I know my college-age daughter likes her Mac and hates my touch screen Surface. Why the M1 and why the low end of the performance curve for Macs? Because it is a first-gen chip, and they have a long road map on the technology. That does not mean Intel does not have a long road map as well. Apple will do Apple. Intel will do Intel. WinTel and MacOS are two different ecosystems with two different target customers. In the middle of this is Microsoft and lots of other software vendors. What does cloud computing mean for devices? What does 5G mean? Will your device merely be a screen, mouse, keyboard, speaker, mic, and modem? Will all the computing be done in the cloud? Who knows. A Mac is a Mac, and a PC is a PC. This does not even address the issue between iOS and OSX. Windows Mobile failed, but Windows 10 is still strong. How silicone works with software will be pursued by tons of people that will insert their ideas into one or both ecosystems.

Hey Intel, if I wanted a PC I'd buy one with an AMD processor!! LOL
You made your bed now time to lie in it!

I really don't mind the ads. But they should've done a video comparing prices to show how expensive/overpriced apple is.
Windows Central Newsletter
Thank you for signing up to Windows Central. You will receive a verification email shortly.
There was a problem. Please refresh the page and try again.